As I inched my way along a dirt track on a remote high hill, I watched for one of the newly fledged Red-tailed Hawks and Western Kingbirds I was monitoring in this rural area, although to the west I could see the distant skyscrapers and a bit of the urban sprawl of Los Angeles. Little did I imagine that as I eased my work pickup round the corner that a bright blue flash would reveal not one, but two species of birds rarely encountered, much less so close. I have long hoped for an opportunity to get photos of a couple azure-colored birds – a Blue Grosbeak and a Lazuli Bunting – but never would I have imagined individuals of both species eating grass seeds right outside the window of my vehicle at the same time!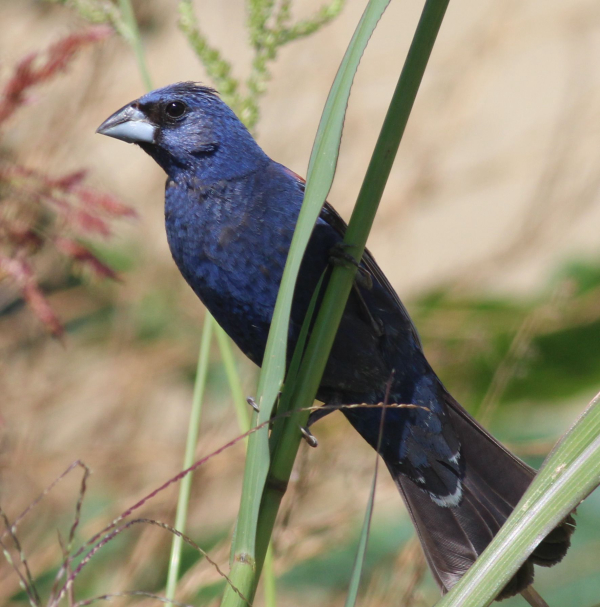 The surprise flashes of blue and the close proximity of the male Blue Grosbeak permitted a detailed image of its face and large beak (Gros means large or big in German).

The birds mostly took turns feeding on the newly mature grass seeds with the larger grosbeak taking precedence over the bunting, which allowed me to more easily concentrate on one bird at a time. I marveled at these beautiful songbirds that add vivid shades of blue to our world. All other Lazuli Buntings and Blue Grosbeaks I have encountered have been impossibly wary, so to take photos of them that show the details of the birds' eyes and individual feathers as they ate minute grass seeds was a real breakthrough – how lucky could I be?
The adrenaline-induced energy provided during such epic photo encounters is a product of experiencing nature in an intimate way, so I reveled in the ensuing minutes through the viewfinder of my camera, steadying my lens on the window frame and calculating every held breathe as I documented the two seed-eater's activities – the best action I could hope for on a quiet Monday morning.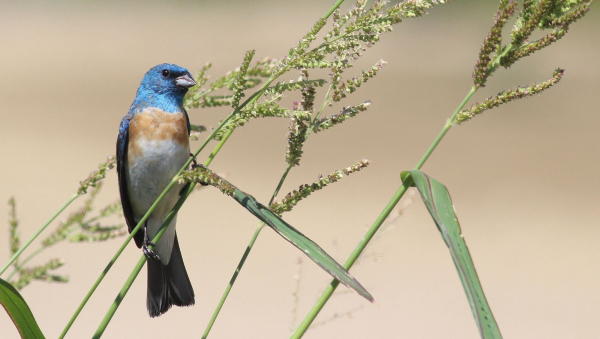 A Lazuli Bunting is a very small bird, about half the size of a Blue Grosbeak. Paul composed this portrait to show the bird in its element while positioning the bird to one side of the image.

Talk about being in the right place at the right time, when I quickly hit the brakes and turned off the ignition the sun just happened to be positioned behind me that would permit me to photograph the birds with optimum light, color, and shutter speed. This natural moment makes me smile whenever I think about how lucky I was, and how much fun I had.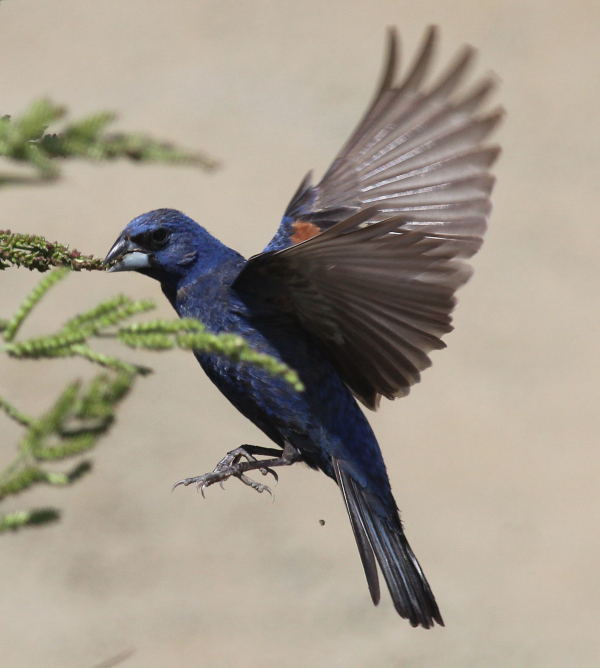 The Blue Grosbeak provided opportunities for in-flight photos when it hovered a number of times to strip seeds from grass stalks.

The keys to this photo session already noted or implied were:
* I was in a mobile blind, slightly elevated
* I turned the ignition off to stop any vehicle vibrations
* I was aware of potential traffic, even on the isolated track
* There was fine lighting with the morning sun angled low from behind
* I was positioned far enough away from the birds so they continued to actively feed
* I was positioned close enough to get intimate photos of the birds feeding on grass seeds
* I braced the camera lens on the window frame to steady the camera
* I held my breath while taking individual photos
* The birds were trusting – two remarkable species of birds, rarely encountered at close quarters
* I watched for opportunities to take action photos
* I was able to use a fast shutter speed to take stop-action photos
* I enjoyed the opportunity, while considering the options and variables, and ensuring safe conditions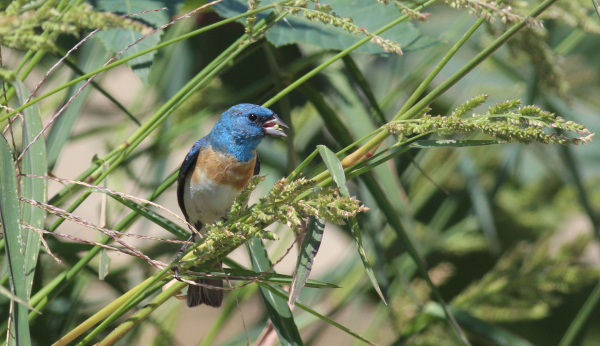 The opportunity to photograph the male Lazuli Bunting feeding with such detail as to see individual seeds in its mouth was unprecedented.

Sometimes, when you least expect it, you turn a corner and your tranquil morning instantly transforms into a unique and memorable birding episode that was unimaginable in advance, and unduplicated since: The combination of the two seed-eating species, both feathered in beautiful shades of blue.
Add a little nature to your week – and enjoy the first days of summer to the fullest!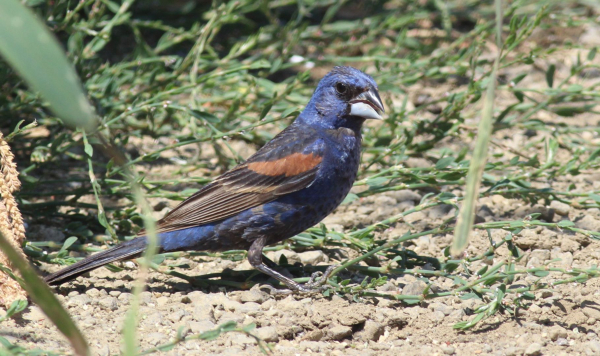 The Blue Grosbeak also gleaned seeds from the ground, where its brown wing bars were evident.

Article and photographs by Paul Konrad
Share your bird photographs and birding experiences at editorstbw2@gmail.com
(Permalink)