Some Lesser Scaup are still forming pair bonds.
As spring migration provides exciting looks at birds just traveling through, some species may only be present for a couple days. The rarest migrants may only stop in the area every couple years. For birders with cameras, this makes bird photography even more interesting and exciting! Sometimes you get one spring opportunity with a species – or one missed opportunity. But some springs are special, and they provide surprises with payback for a few days, or a week or more.
Depending on the day, the entire area can be filled with a variety of photo opportunities, or you may find yourself focusing on one species at one location. However it plays out, spring migration photography is exciting; things happen quickly, and photo opportunities are ever-changing. One moment I may be concentrating on photographing a group of Lesser Scaup drakes displaying to a female on the edge of lake ice, then following their display flight; only to be distracted by the sudden appearance of a regal pair of Canvasbacks; just before a flight of Snow and Ross's Geese passes overhead, flock after flock after flock commands my attention – all while parked on the edge of a prairie marsh Saturday evening.
During early spring, I find that the photo techniques I use most tend to fall into three categories: 1) Covering a lot of landscape to get a feel for what birds are in the area and what locations pose the best options, while taking advantage of the best photo opportunities along the way. 2) Finding a hotspot and staying in the best location to take advantage of the action and the sunlight. 3) Hiking along an established trail through attractive habitat that promises interesting birds and photo opportunities.
I get the most action by being mobile and using my vehicle as a blind along the way. I am always super careful when I'm on any road and always pull off the road so passing cars can pass by unimpeded and without gathering too much attention. (Usually, the only concern is when a driver stops to make sure I'm not having vehicle trouble, or when a friend happens by during their farm or ranch activities.) I almost never get out of my vehicle when I'm pulled over; that's when wildlife becomes extra on-guard or flushes or ducks away. Use your vehicle as a mobile blind whenever you can; and if you need to or want to reposition a few yards to get a better view or improve your angle, that's pretty easy in a vehicle.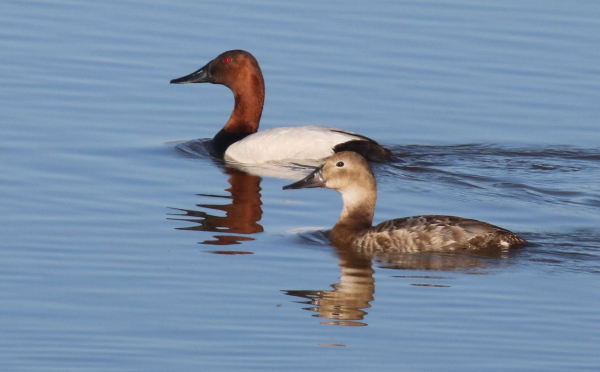 A beautiful pair of Canvasbacks breaks the calm water of early spring.
While photographing from your vehicle, you can make the most of some of its simple features, primarily to rest or brace your camera and telephoto lens on the window or window frame. Your vehicle can provide some shade, and you can turn on the heater or air conditioning in a pinch; then turn the vehicle off when a photo op presents itself. (While I touch on it, always turn your vehicle off when you're photographing to avoid the shake created by the running engine.)
Being mobile allows you to check out a hotspot, park if it shows promise, or keep moving if not. Sometimes a location is hot for a short time, other times it can be good for days, but the thing about spring is that it is ever-changing, and there are no two springs that are alike.
When I decide to photograph on foot, I put exercise on a level second to photography. I try to stop periodically to listen and permit birds to resume activities my advances may have disturbed. When an interesting bird appears, allow it to show you what it's doing and get used to your form nearby before beginning a stalk to get into a better position for photos. Maybe the bird will even move closer to you without a stalk.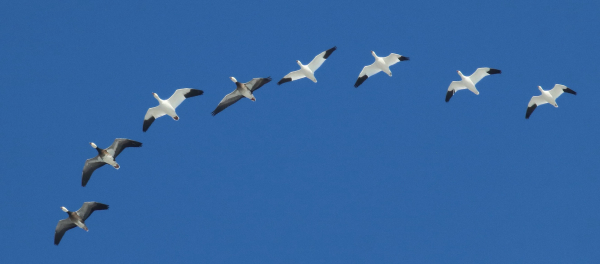 A mixed flock of Snow Geese and Ross's Geese. The four Ross's Geese on the right side of the flock can be hard to differentiate in the field, but they are a bit easier to see in a photograph (note their smaller size, especially their head and bill).
When walking, watch your steps; try not to step on twigs and dry leaves; move slowly and deliberately, and watch for any movement in the trees, bushes, sky, and ground. Your ears will also serve you well as you listen for movements and identify birds calling in the area. Most of all, be aware of where your light is coming from. Keep the sun behind you and your shadow in front of you to try to ensure the best lighting under given conditions. Be on the alert, be resilient, and take lots of photos to review and edit, because you know your best photos will be sorted out during your photo editing process – enjoy that process too.
Article and photographs by Paul Konrad
Share your bird photographs and birding experiences at editorstbw2@gmail.com
(Permalink)
Apr. 10 - Apr. 17

Lesser Prairie Chicken Festival

Woodward, Oklahoma

Apr. 15 - May 15

Great Texas Birding Classic

Texas statewide

Apr. 15 - May 15

Tucson Bird Count

Tucson, Arizona

Apr. 17 - Apr. 23

Godwit Days Spring Migration Bird Festival

Arcata, California

Apr. 24 - Apr. 27

Spring Chirp

Weslaco, Texas

Apr. 24 - Apr. 28

Birdiest Festival in America

Corpus Christi, Texas

Apr. 25 - Apr. 27

Great Dismal Swamp Birding Festival

Suffolk, Virginia

Apr. 25 - Apr. 28

Stikine River Birding Festival

Wrangell, Alaska

Apr. 25 - Apr. 28

Verde Valley Birding and Nature Festival

Cottonwood, Arizona

Apr. 25 - Apr. 28

Balcones Songbird Festival

Marble Falls, Texas

Apr. 26 - Apr. 28

Verde Valley Birding and Nature Festival

Point Reyes Station, California

Apr. 26 - Apr. 28

Hatchie BirdFest

Brownsville, Tennessee

Apr. 26 - Apr. 28

Birds of the Hill

South Bloomingville, Ohio

Apr. 26 - Apr. 28

Spring Migration Celebration

Duluth, Minnesota

Apr. 26 - Apr. 29

Spring Delmarva Birding Weekend

Del Marva Peninsula, Maryland

Apr. 26 - Apr. 29

South Llano River State Park Birding Festival

Junction, Texas

Apr. 27

Thornapple Woodpecker Festival

Middleville, Michigan

Apr. 27 - Apr. 28

Migration Celebration

Brazoria, Texas

Apr. 27 - Apr. 28

Spring Fling at Whitefish Point

Paradise, Michigan

Apr. 29 - May 2

Birding the Hills with Texas A&M University

Fredericksburg, Texas

Apr. 29 - May 4

New River Birding & Nature Festival

Fayetteville, West Virginia

Apr. 29 - May 4

Little St. Simons Island Spring Birding Days

St. Simons Island, Georgia

May 1 - May 4

Southwest Wings Spring Fling

Sierra Vista, Arizona

May 1 - May 20

Festival of Birds at Point Pelee National Park

Leamington, Ontario

May 2 - May 5

Copper River Delta Shorebird Festival

Cordova, Alaska

May 3 - May 4

Wings and Wetlands Birding Festival

Great Bend, Kansas

May 3 - May 5

Grays Harbor Shorebird & Nature Festival

Hoquiam, Washington

May 3 - May 5

Bird of Prey Days at Braddock Bay

Rochester, New York

May 3 - May 12

The Biggest Week in American Birding

Oregon, Ohio

May 4

Wings Over Weston

Weston, Missouri

May 4 - May 7

Red Slough Birding Convention

Idabel, Oklahoma

May 4 - May 12

Delaware Bird-A-Thon

Delaware (statewide)

May 5

May 6 - May 12

Wings Over the Rockies Festival

Invermere, British Columbia

May 8 - May 12

Ute Mountain Mesa Verde Birding Festival

Cortez, Colorado

May 9 - May 12

Kachemak Bay Shorebird Festival

Homer, Alaska

May 10 - May 12

Festival of the Birds at Presque Isle

Erie, Pennsylvania

May 10 - May 12

Creson Valley Bird Fest

Creston Valley, British Columbia

May 11

World Series of Birding

New Jersey (statewide)

May 11 - May 20

Prince Edward Point Spring Birding Festival

Prince Edward, Ontario

May 15 - May 18

Festival of Birds

Detroit Lakes, Minnesota

May 16 - May 18

Chequamegon Bay Birding & Nature Festival

Ashland, Wisconsin

May 16 - May 19

Twin Cities Urban Birding Festival

St. Paul, Minnesota