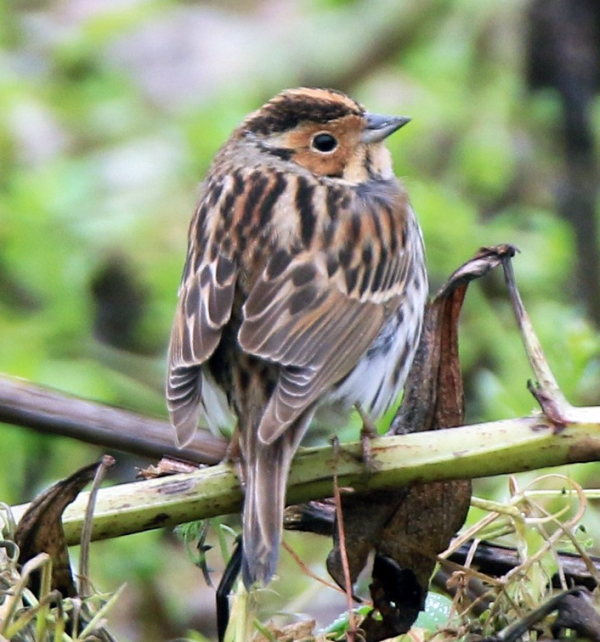 Pensacola, Florida must be among the least likely places in America to find a Little Bunting, but last week's super-rare sighting created a First State Record (photo by Allen Lyu).
The identification of a Little Bunting in Pensacola, Florida created a First State Record and represents the first record of this species east of the Rocky Mountains. Native to Asia with a limited range in Europe, almost all records of vagrant Little Buntings in the Western Hemisphere are from the Bering Sea Islands of western Alaska and a few mainland Alaska cities, along with a few additional sightings in Pacific Coast states and one in Arizona. A male Tufted Duck, another widespread Eastern Hemisphere species, was photographed in West Virginia to document that First State Record sighting. Among the other rare birds sighted, the real standouts were a Crested Caracara in North Carolina, a Tundra Bean Goose in southern California, and a Band-tailed Pigeon in Minnesota.
STATE & PROVINCIAL RECORDS
First State Record Little Bunting – Pensacola, Florida
First State Record Tufted Duck – Alpine Lake, West Virginia
Second State Record Glaucous-winged Gull – Cleveland, Ohio
Third State Record Crested Caracara – near Lumber Bridge, North Carolina
REALLY RARE BIRDS
Tundra Bean Goose – near Cotulla, California
Band-tailed Pigeon – near Brownsville, Minnesota
Limpkin – Arkansas Post National Memorial, Arkansas
CONTINUING REALLY RARE BIRDS
Gray Heron – Nova Scotia
Red-flanked Bluetail – California
Blue Bunting – Texas
Brown Jays – Texas
Common Crane – Washington
Whooper Swan – Washington
Common Shelduck – Pennsylvania
Bahama Mockingbird – Florida
LaSagra's Flycatcher – Florida
Streak-backed Oriole – California
For more information, refer to the American Birding Association's Rare Bird Alert at Rare Bird Alert: March 10, 2023 - American Birding Association (aba.org) Special Thanks to the ABA, and Nate Swick, who does such a great job of compiling the ABA's Rare Bird Alert, which we use to prepare this weekly replay.
You can often find more info about individual rare bird sightings from the state rare bird alert listserves that you can access at http://birding.aba.org/ or at https://www.facebook.com/groups/ABArare/