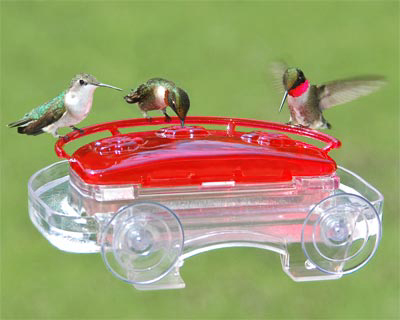 The Jewel Box Window Hummingbird Feeder.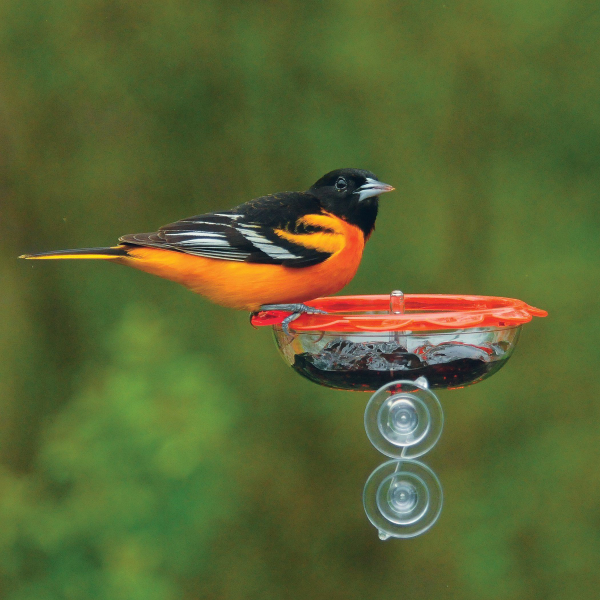 The Marmalade Oriole Window Feeder.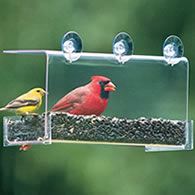 The Cardinal Classic Window Feeder.
Spring is a great time to add a window feeder or 2 to complement your feeding station. You can get any number of different kinds of small window feeders made especially for hummingbirds, orioles, suet eaters, seed eaters, and there are even some window water dishes. It's especially fun to add a window feeder to a kitchen window, an office window, or anywhere – because you get such a close look at the birds that are attracted to your offerings. A window feeder can also help to spread out the birds that visit your yard, which can be especially helpful if you have some highly territorial hummingbirds chasing and sparring.
To give you some idea of the window feeders available, we offer a selection of specialized window feeders below, one example from each company, although each of these companies has a selection of window feeders that may interest you:
The Jewel Box Window Hummingbird Feeder is a popular window feeder at Best Nest: https://www.bestnest.com/bestnest/RTProduct.asp?SKU=ASP-407
Duncraft offers the Gem Window Hummingbird Feeder among their selection of window feeders at https://www.duncraft.com/The-Gem-Window-Hummingbird-Feeder
Perky-Pet has a new plastic window mount feeder for hummingbirds that holds 8 ounces of nectar; see https://www.perkypet.com/perky-pet-window-mount-plastic-hummingbird-feeder-217
See Droll Yankees' Marmalade Oriole Window Feeder at https://morebirds.com/products/droll-yankees-bos-marmalade-window-oriole-feeder-5-oz-capacity-bo-wm
To offer seeds at your favorite window, learn more about Duncraft's Cardinal Classic Window Feeder at https://www.duncraft.com/Duncraft-Cardinal-Classic-Feeder
And whether you want to offer seeds, orange halves, or peanuts, Wild Bird Centers offers a Cedar Window Platform Feeder at https://www.wildbird.com/wild-bird-centers-cedar-window-platform-feeder/
You should also take a look at Wild Birds Unlimited's window seed feeder at https://www.wbu.com/products/window-feeders/
We are sure you will enjoy any of the above window feeders adhered to your preferred window feeding location; and remember, you can easily move a window feeder to another location whenever you wish. We think if you try a window feeder this spring, you will certainly want to add another, so keep this list of companies handy for future reference.
Share your backyard birding experiences and photos at editorstbw2@gmail.com