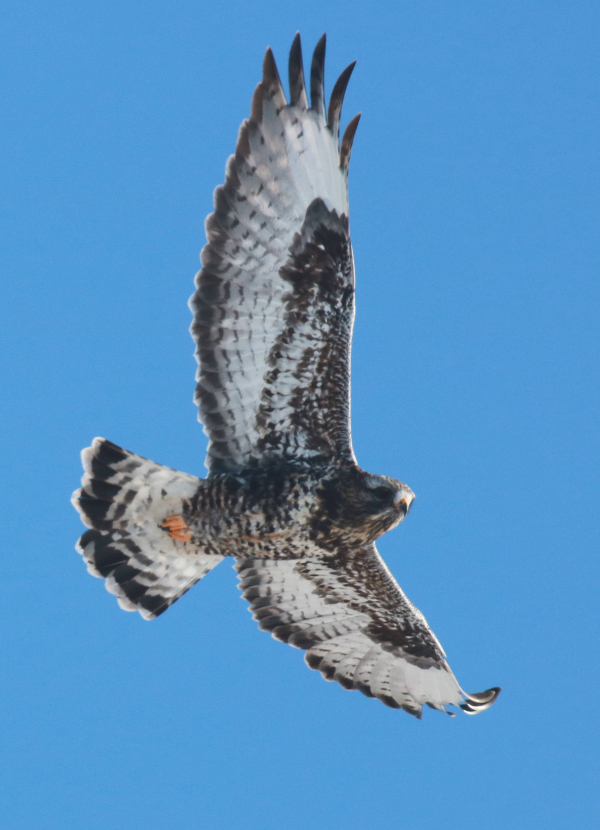 A beautifully marked male Rough-legged Hawk hunting near the northern end of the SoDak route.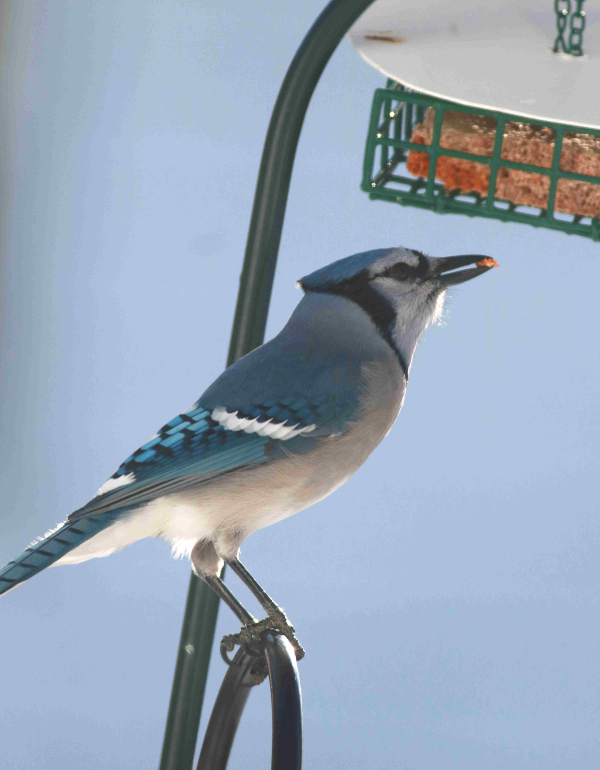 The Blue Jay feeding at the upside-down suet feeder.
The northern limit of wintering birds of prey in the Great Plains provided another exciting overnight trip to the heart of my SoDak winter hotspot, which revealed some familiar faces along with many new birds to dazzle my senses. These birding trips certainly underline my belief that "timing is everything," and when birding, "you never know what's around the next corner," or down the road a piece. My cue to head to SoDak is when at least two consecutive sunny days are predicted, hopefully with the least amount of wind possible – that's when the eagles, falcons, and hawks provide the best winter birding around Dakotaland.
I covered the same roadway transects each of the two days afield, although I traveled them at different times of the day. For the most part, the locations I traveled through first on the first day, I traveled through last the second day – further emphasizing that timing is everything. Timing also related to whether a raptor or other species crossed my path at a given moment, or revealed its position as I scanned the open prairie for feathered beasts (and others).
My first day's tally was excellent, and I had a dramatic photo opportunity with an absolutely beautiful young Golden Eagle as it hunted in flight, and a similarly attractive dark morph Rough-legged Hawk. Unfortunately, neither photo op yielded a good photo, but I'll relate more about that in next week's Bird Photography article. The other excitement for the day included 4 Golden Eagles, 23 Bald Eagles, 13 Rough-legged Hawks, 14 Red-tailed Hawks, 1 Cooper's Hawk, 1 American Kestrel, and 3 Prairie Falcons (59 raptors total)! The latter two species were the first falcons I've seen this winter, and the Prairies have been much-anticipated in the SoDak winter raptor hotspot centered in the capitol of Pierre.
My second day of birding along my SoDak transect yielded surprisingly even better raptor totals, along with another much-anticipated species – two Ferruginous Hawks – although no flacons showed (timing?). Second day totals included 8 Golden Eagles, 39 Bald Eagles, 19 Rough-legged Hawks, 15 Red-tailed Hawks, and the 2 Ferruginous Hawks (85 raptors total). Again, timing is everything; take the eagle totals as examples: I observed twice as many Golden Eagles the second day, and of the 39 Bald Eagles I found the second day, 31 were in the area below the Oahe Dam, where the first day I only sighted 10 there.
The Ferruginous Hawks were especially interesting because they were perched close to one another, perched on adjacent poles on each side of the road – a smaller first-year male on the west side and a big adult female on the east side. Both Ferrugs had extended crops indicating they ate well that day, and the circumstances suggested they were associated together in mid-December, possibly with family ties.
Beyond the raptors, other birds sighted included 2 solo Northern Shrikes, a couple big flocks of Greater Prairie Chickens, smaller flocks of Ring-necked Pheasants, a winter flock of American Robins, plus widely scattered small flocks of Western Meadowlarks and Horned Larks.
With all this action to begin my holiday birding action, my ensuing birding experiences seemed pretty lax thereafter. To share my holiday birding meanderings, I thought I'd list a daily list of species and individuals per day, sparse as they may be:
Dec 17 and 18 – The above SoDak hotspot observations.
Dec 19 – A first flock of 20ish Snow Buntings 4 miles north of my office.
Dec 20 – A flock of 50ish Snow Buntings at the same location 4 miles north.
Dec 21 – A lone Golden Eagle about 6 miles south (a rare sighting in this area).
Dec 22 – A flock of 5 Sharp-tailed Grouse feeding about 11 miles south and 1 male pheasant less than a mile south of my office.
Dec 23 – On the way to Grandmother's house, I observed 3 Bald Eagles in southeast North Dakota, including a pair near the James River; a few Blue Jays scattered in wooded areas in the southeast corner of the state along with one American Robin. After crossing the Red River into the state of Minnesota I observed 2 more Bald Eagles and more Blue Jays. Upon reaching the northwest suburbs of the Twin Cities, Red-tailed Hawks and Mallards were surprisingly common, and I sighted a few more Blue Jays and widely scattered American Crows.
Dec 24 – Red-tailed Hawks and Mallards were especially common in Minnetonka, a western suburb of Minneapolis where my Mom lives, with widely scattered American Crows along the way.
Dec 27 – One striking Great Horned Owl was perched and hunting at sunset 14 miles northeast of home.
Dec 30 – After two days of blizzarding, I was excited to see 5 Blue Jays assembled in the tree next to my feeding station at once (3 is the most I've ever seen at once here); unfortunately, I can't distinguish between the different individuals.
Dec 31 – Driving along the Missouri River road from about 60 miles south of Bismarck to the state capitol I was happy to see more wintering birds than usual: A hen Ring-necked Pheasant, a distant Bald Eagle, 3 Horned Larks, about 35 Wild Turkeys feeding, and the last avian excitement for 2019, a female or first year Taiga Merlin!
Jan 1 – A big flock of about 110 Snow Buntings about 6 miles south of home – 1 sighting, 110 Arctic buntings – the first birds of 2020!
Jan 3 – Grouse to the south, pheasants to the north: I intercepted a Sharp-tailed Grouse flying less than a mile south of my office, the closest I've ever seen one to my abode; and another flying 7 miles south. Two cock pheasants flew low in front of my vehicle about 8 miles north and a male and female were observed near my friends Dave and Carol's farmstead about 10 miles north.
Woodpeckers & Jays – To complete my holiday observations, I'm surprised by the variations in the frequency (and infrequency) of visits by area woodpeckers at my feeding station, as well as the jays, although the nuthatches seem to be pretty regular day to day. It's also interesting that although I now have two suet feeders stocked, one normal cage suet feeder and one upside-down model, the Hairy Woodpeckers have switched to feeding on shelled sunflower seeds and peanuts at the platform feeder, and sometimes grabbing the same from my hopper feeder. But the Hairys don't feed at either suet feeder any more. Downys use the hanging suet cage, but no bird feeds on the upside-down suet feeder yet – except a Blue Jay, which I expect is the same one considering its unique and continued manner of reaching the upside-down suet.
During these northern days of mid-winter, a single bird sighting can make a person's day, and sometimes that's all I see away from my bay windows. As the Jimmy Buffet lyric suggests, it may be time for "changes in latitude, changes in attitude …;" birds do it all the time. Enjoy January birding in all the best ways!
By the way, Saturday I enjoyed a special surprise during an expedition into the wide open spaces of a far-away land, which I'll share with you next week . . .
Article and photos by Paul Konrad
Share your bird sightings and photos at editorstbw2@gmail.com