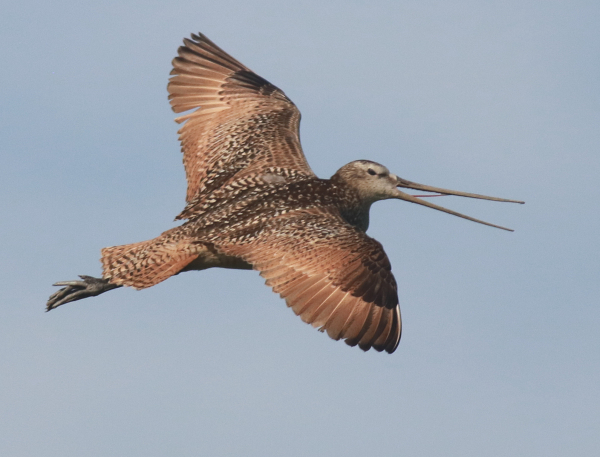 Marbled Godwits are among the 32 species of shorebirds that rely on northern California's Humboldt Bay (photo by Paul Konrad).
The Western Hemisphere Shorebird Reserve Network recently upgraded Humboldt Bay in coastal northern California to a site of Hemispheric Importance. Recent research shows more than 850,000 shorebirds including 32 species utilize this exceptional wetland annually. A majority of the Pacific American Flyway populations of Western Sandpipers and Marbled Godwits use the Bay, and expansive nutrient-rich mudflats of Humboldt Bay have special importance to other species including Dunlins.
Biologists found that an estimated 176,000 shorebirds used the bay during summer and fall as a stopover during the pre-fall migration period, with an estimated 54,000 shorebirds present during winter, and 622,000 shorebirds using the Bay as a stopover site during spring migration.
Conservation relies on accurate descriptions of wildlife diversity and abundance over the annual cycle at a given location, and this research data provides a basis for conservation measures to ensure the protection of these valuable natural resources. For information about conservation concerns for Humboldt Bay, see https://www.audubon.org/news/new-study-finds-humboldt-bay-among-most-important-places-entire-hemisphere and for more information, you can also refer to this research publication: https://www.waderstudygroup.org/article/14584/