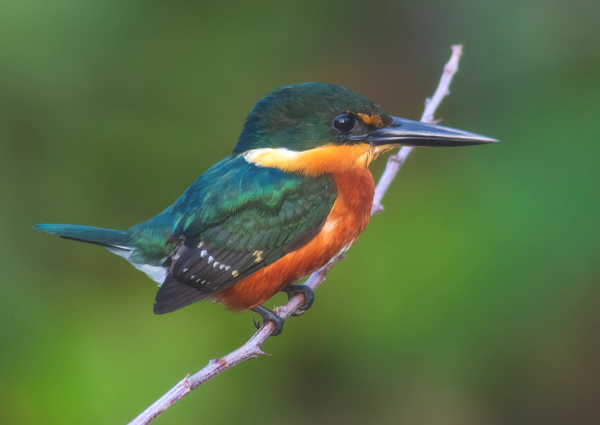 American Pygmy Kingfisher photo by Francis Canto Jr, July eBirder of the Month.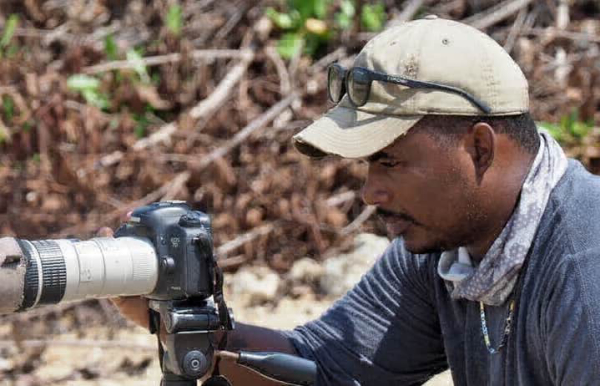 Francis Canto Jr, July eBirder of the Month.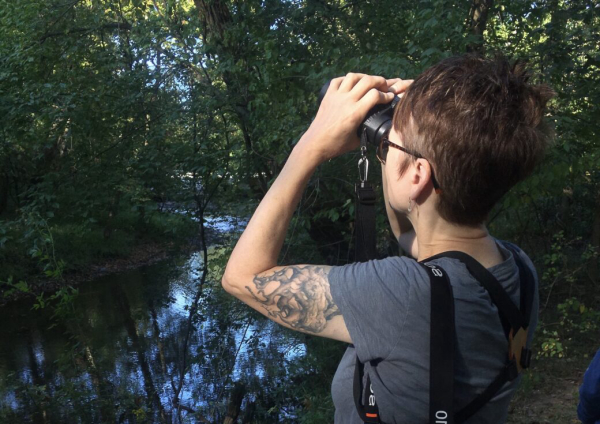 Kim Tomko, August eBirder of the Month (photo by Chris Scroggins).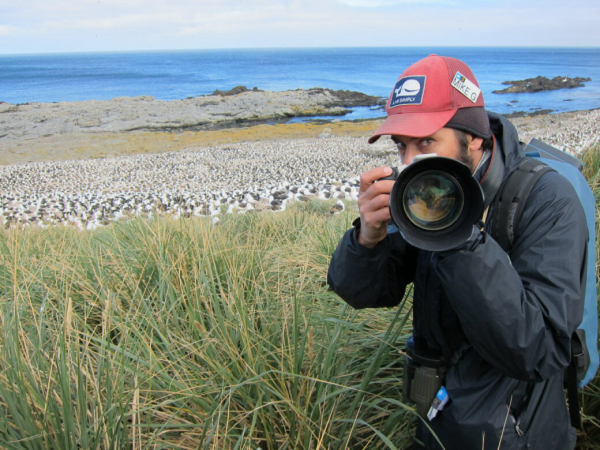 Mike Greenfelder, the June eBirder of the Month.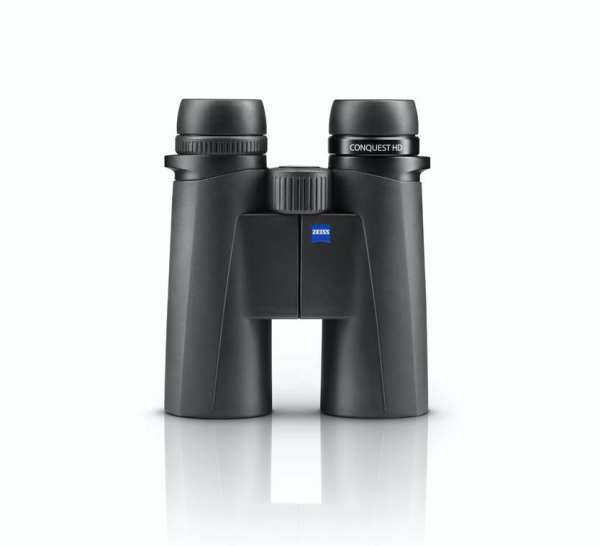 The Prize: The Zeiss Conquest HD 8×42 Binocular.
Part birder, part citizen science contributor, part luck of the draw, each month one of the thousands of eBird participants from around the world is drawn randomly as the eBirder of the Month. As far as we're concerned, anyone who contributes to eBird is a birder of the month, but Zeiss Sports Optics makes it more interesting by offering a great incentive to set a month-long goal for enthusiastic birders. Actually it's not a real competition, but it's close enough to interest some of the most enthusiastic birders in the United States and distant corners of the world.
Each eBirder of the Month receives a new Zeiss Conquest HD 8x42 Binocular for their eBirding efforts from Zeiss Sports Optics, the official optics sponsor for eBird. eBird was created and is managed worldwide by the Cornell Lab of Ornithology.
Because each eBirder of the Month is drawn randomly from thousands of eBirders who submitted a given minimum number of checklists, they provide something of a cross-section of active birders who enjoy birding at home and in the field. Each one offers some interesting biographic information, so let's meet a few of these interesting eBirders of the Month:
Francis Canto Jr, July eBirder of the Month – Hailing from the small Central American nation of Belize, Francis Canto's name was drawn randomly from the 4,781 eBirders who submitted at least 31 eligible eBird checklists in July. Although he began birding relatively recently, in 2015, Francis quickly became an avid birder and photographer, and now he is a birding guide. He uses the eBird app daily to submit his sightings, whether from his backyard in Belize City or the foothills of the Maya Mountains. But Francis also pointed out that eBird has become a necessity, because "I use it to plan my birding trips around the species I need for my life list or birds I want to photograph. eBird makes it so easy! With just a few clicks I can see observations from all over the world, right at my fingertips."
Francis pointed out that "Birding has completely changed my life; I've traveled all of Belize and a few places in neighboring Guatemala and Mexico in search of birds. I have met many friends and clients through my profile on eBird and I've photographed over 500 species of birds. Now I serve on the Board of Directors for the Belize Audubon Society, and I've participated in numerous big days and other birding events. All of this is in part thanks to eBird!" To read more about Francis Canto Jr, the July eBirder of the Month, see https://ebird.org/news/francis-canto-jr-july-ebirder-of-the-month
Kim Tomko, August eBirder of the Month – A resident of Baltimore, Maryland, Kim's name was drawn randomly from the 2,865 eBirders who submitted at least 20 eligible eBird checklists for August that included species comments. Kim explained, "One of my favorite eBird lists to keep is my yard list. I read somewhere that you are the only one who can count the birds in your yard, so that makes the data valuable. Over the years I've planted lots of native plants for the birds and eBird helps me keep track of just how many birds are visiting my little sanctuary." Some of her favorite yard visitors are the flocks of Cedar Waxwings that descend on her serviceberry bushes in June, along with the Orange-crowned Warbler that stayed in her yard for a month one winter.
A few years ago Kim joined a September birding walk at the Patterson Park Audubon Center, when the park was full of warblers. She decided "I need to do this more often! During the walk, another birder kept mentioning eBird. I had never heard of eBird but checked it out when I got home." At first Kim used eBird to find new places to go birding, but she explained that eventually she worked up the confidence to start submitting her own checklists. "What a difference from when I first started birding 20 years ago, when you had to call and listen to a recorded message to find out about rare bird sightings. eBird makes it so easy to find birds and it even helped me get to know other birders in my area."
This year Kim is participating in the Maryland & DC Breeding Bird Atlas, and in October she helped to lead a few birding walks for the Patterson Park Audubon Center's Birding Weekend fundraiser. This time it was her turn to enlighten a fellow birder about the benefits of using eBird! For more insights shared by Kim Tomko, the August eBirder of the Month, see https://ebird.org/news/kim-tomko-august-ebirder-of-the-month
Mike Greenfelder, June eBirder of the Month – Mike's name was drawn randomly from the 2,838 eBirders who submitted at least 20 eligible checklists from one eBird location in June. Hailing from Ohio, Mike has been working in the expedition cruise industry for Lindblad Expeditions for the past 17 years, traveling around the world in the process. Mike shared that as a birder, biologist, and naturalist guide, eBird has become a very important part of his life. From a personal and professional standpoint, eBird is his go-to website when he's planning for a new adventure or returning to see old favorite locations. What started as a way to keep some personal bird lists evolved into a place for Mike to keep his birding data and memories, and so much more.
Mike explained: "Trying to find island endemics, some critically endangered, is a passion of mine. Studying seabirds and filling in many gaps on location maps is also something that cruising throughout the oceans allows. Professionally, I am able to use eBird to look ahead to upcoming destinations as well as document what we have encountered. Whether it is to target species on certain islands, analyze migration patterns, or review seabird ranges, I try to utilize eBird's Science section as much as possible."
Since the covid virus has mostly halted travel, Mike explained that he has been enjoying local birding around his family home in Ohio. "Being in a rural area has allowed me to safely get out and experience a localized spring migration, something international travel usually doesn't allow. eBird helped facilitate this as I used sightings, range maps, and alerts to support my field trips." After spring migration, Mike transitioned to studying nesting birds in the area along with species that visited his feeders. "It has been a joy to find nests of many species and watch 3 Red-shouldered Hawks fledge from a nest, as well as to see House Wrens and Carolina Wrens and Carolina Wrens battling over nesting territories right on the front porch."
"I have many fond memories of birding and exploring worldwide, and eBird helps me keep track of all the different species and locations, plan for the future, and contribute information to science and other birders at the same time." To read more about Mike Greenfelder, the June eBirder of the Month, see https://ebird.org/news/mike-greenfelder-june-ebirder-of-the-month
To learn more about how you can participate in the eBirder of the Month activities with the potential of winning a Zeiss Conquest HD 8x42 Binocular, see https://ebird.org/news/november-ebirder-of-the-month-challenge-2020
There is even a Help Center webpage that includes information and answers to potential questions you may have about eBirder of the Month challenges at https://support.ebird.org/en/support/solutions/articles/48000948757#anchorEoMchallenge
Share your birding experiences and photos at editorstbw2@gmail.com