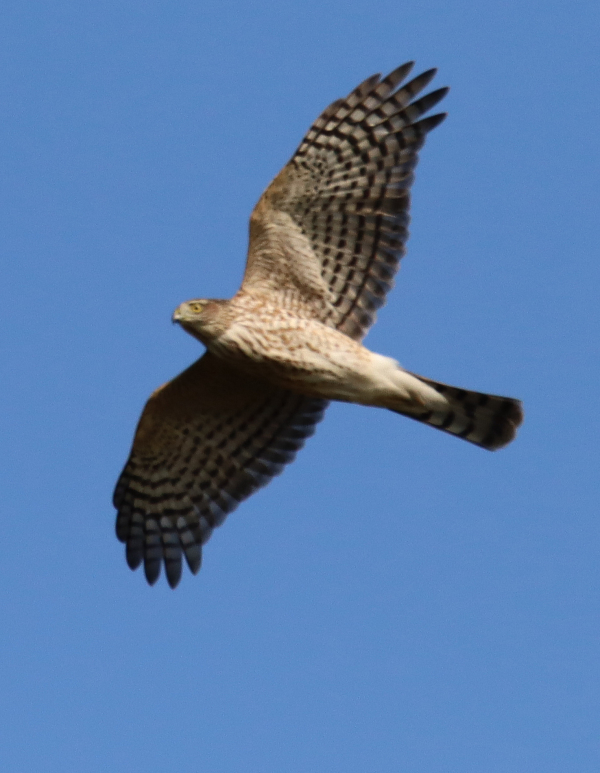 Sharp-shinned Hawks provided migration activities throughout the day at Hawk Ridge.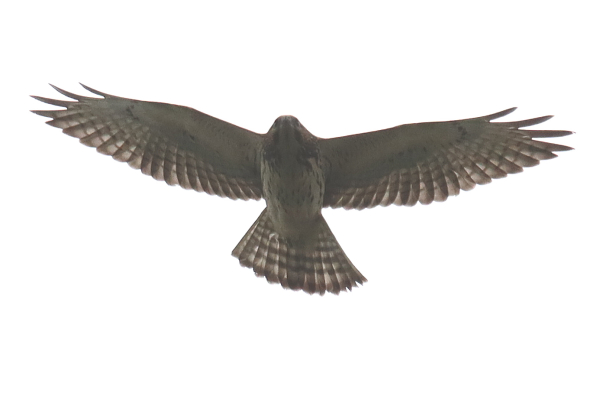 Broad-winged Hawks began migrating high overhead after noon. This soaring Broad-wing provided a backlighted "Buteo" silhouette.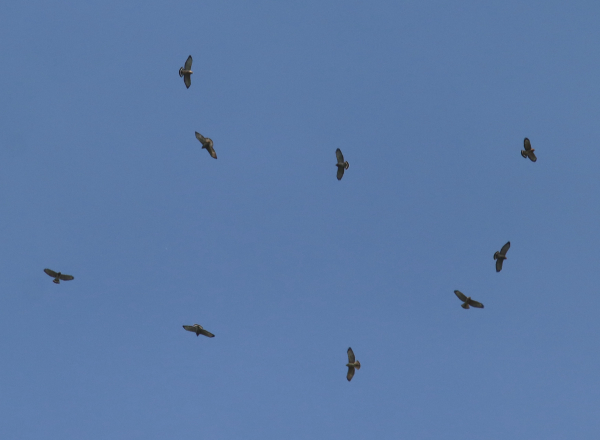 "Kettles" of migrating Broad-winged Hawks soared together in a thermal of rising hot air above the Ridge, often showing up as mere specs on the move. Soaring high within a thermal, then gliding forward for miles without flapping a wing, they repeated the process throughout the afternoon as they migrated south.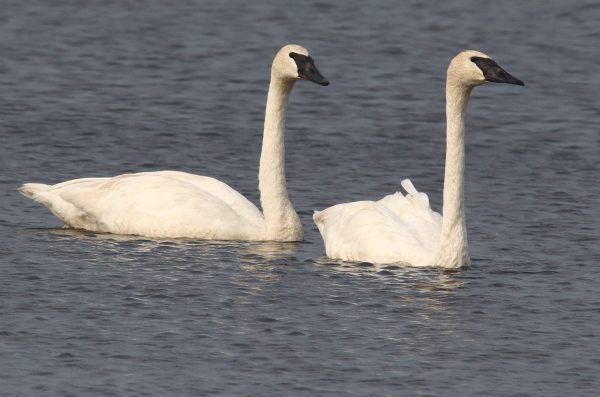 A pair of Trumpeter Swans provided a memorable sighting in central Minnesota.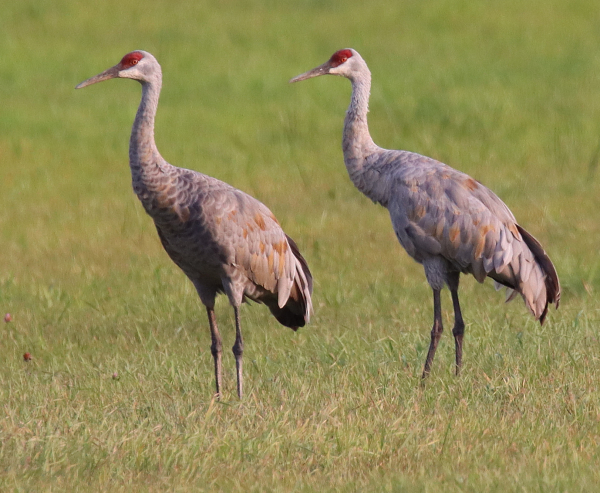 Surprised to find a pair of Sandhill Cranes apart from the usual fall flocks, a half-hour later there was a flock of at least 160 Sandhills.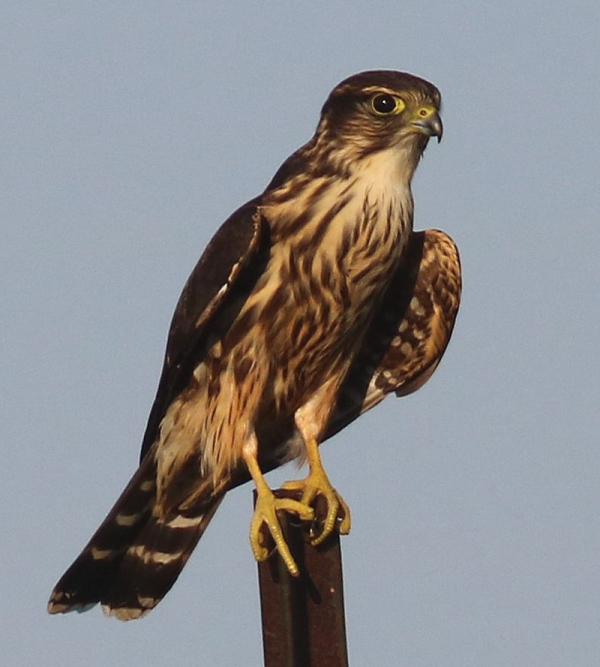 An especially dark-colored Merlin was the gem of Sunday's local birding drive.
8,066 birds of prey were counted last Tuesday at Hawk Ridge in Duluth, Minnesota – and I was there to witness that remarkable migration day! It was a beautiful blue sky day with temperatures averaging about 70, and the sky was alive with the flights of a variety of raptors, geese, and songbirds – what fun! The migration excitement was fueled by a big push of Broad-winged Hawks in the afternoon, numbering 7,196, mostly in groups of less than 25. Other raptors included 585 Sharp-shinned Hawks, 97 American Kestrels, 73 Bald Eagles, 60 Northern Harriers, 24 Red-tailed Hawks, 8 Ospreys, 3 Peregrine Falcons, 3 Merlins, 1 Northern Goshawk, 1 Cooper's Hawk, and 1 Swainson's Hawk!
An amazing 4,528 Blue Jays also passed by the count station, along with 823 Cedar Waxwings, 1,491 Canada Geese, 134 Sandhill Cranes, 86 White Pelicans, and at least 30 more species of birds including 8 species of warblers – 42 species total including the 12 species of raptors. Unlike most raptor counting stations, Hawk Ridge staff count all species observed, which adds a great deal more to the information provided daily and throughout the fall migration season.
Only 4 other birders were on hand when I started my personal observations; but numbers of birders steadily increased and probably peaked at about 40 enthusiastic observers by early afternoon, with a number of Hawk Ridge staff members and volunteers providing information and answering questions. I stood at a favored viewpoint for the first few hours, walking a bit occasionally, eager to see the next hawk or flock of jays fly into view above the surrounding forest. Eventually, I found a comfortable rock on the edge of the ridge to sit on while continuing to enjoy the show from one horizon to the next. The woods were changing colors with yellow, gold, and red leaves breaking through, and the view to the east revealed the top of the extensive urban forest of Duluth stretching to the western edge of Lake Superior, the largest freshwater lake in the world. What a wonderful setting during perfect early fall weather in the Northwoods.
How impressive was the day's migration count of 8,066 birds of prey? During the work week, the other daily totals were 401 Monday, 108 Wednesday, 24 Thursday, and 0 Friday when it rained throughout the day. It's all about timing and weather when it comes to migration, and after Tuesday rainy weather to the north really dampened or stopped the migration. On a national scale, raptors migrating past Hawk Ridge far outnumbered all hawk counting stations Tuesday. (If you would like to learn more about Hawk Ridge, there are links at the bottom of this page.)
Minnesota Bound
For some time I was tentatively planning a trip to Hawk Ridge, and as mid-month approached I began watching weather forecasts for mid-week, but it didn't look promising. Broad-winged Hawk migration usually peaks about September 14th or so, although last year the high count was on September 21, so I was interested in making a trek to Duluth 1 of those 2 weeks. Then, after seeing the September 11th count of 1,520 Broad-wings, I knew the following 10 days would have potential high counts – depending on the weather. The weather forecast looked poor for Wednesday and terrible for Thursday, but Tuesday had great promise before a low front pushed through the Duluth area and points to the north. I realized all this Monday afternoon …
Normally, I publish The Birding Wire at the end of the work day Tuesday for a Wednesday e-mail delivery to you; but I decided I was ahead of my usual production schedule and decided I could get everything ready Monday evening – a rare opportunity. So I took off about midnight with the idea of driving east as far as possible before stopping to nap, then resuming my drive east to Minnesota and across the entire state west to east until I reached the shore of Lake Superior at Duluth and Hawk Ridge. That's almost a 400 mile drive, so no small undertaking, especially when you take to the road sooo late. With a lot of personal excitement, the help of a jammin' radio station, and a steady stream of caffeinated drinks, I never did get tired, and only stopped for gas once before I parked at Hawk Ridge – wooo! – that's a first! And the reward was the best fall migration day I've ever experienced – what fun!
Homeward Bound
After a deep sleep, Wednesday was very cool and overcast with a wind in the opposite direction, out of the east, which made the scene at Hawk Ridge very different: All the birders were bundled up with a minimum of enthusiasm – me included. After about an hour in my winter coat I decided a daylight trip across Minnesota would provide some interesting observations and perhaps some photo ops if the sun broke through the clouds. Indeed, after leaving the Lake Superior weather realm, the clouds began breaking up and sunshine brightened my happy spirit even more.
Raptors were few and far between as the road bisected the Northwoods, but I counted 3 Bald Eagles, 2 Red-tailed Hawks, a Merlin, and an American Kestrel. I also sighted 3 Turkey Vultures, 2 Blue Jays, and stopped to photograph a pair of Trumpeter Swans in a tranquil pond. Not long after that I stopped to photograph a pair of feeding Sandhill Cranes, but they made me wonder why they hadn't joined a flock by this time of fall. And as if to underline that point, my next sighting quite a distance away was a big feeding flock of Sandhills, which numbered at least 160. It was great fun to hear their combined crane calls piercing the quiet evening, which I count among my favorite sounds of fall.
Local Yocals
Thursday and Friday were cool overcast dreary fall days in Dakota (and Minnesota), followed by periods of light rains, but I ventured into the wilds a few miles south and north of my office to assess the avian realm. Just a half-mile south about 100 Franklin's Gulls were spread out across Melody's Marsh with many feeding as the swam upon the water's surface. Along my drive there was a scattering of Great Egrets, 2 small groups of White Pelicans, and obvious flocks of American Coots, but ducks seemed to be poorly represented in area wetlands. Raptors included a young Northern Harrier, a Red-tailed Hawk, and a Bald Eagle.
My biggest interest in this abbreviated birding drive was to check on the Swainson's Hawk family group on territory 6 miles south, but found not a one. It is within reason to believe they may have vacated their post-fledging range to begin their migration to Argentina. But I did check back again Sunday and found a fledgling on territory, and Monday I photographed the rufous female, her mate, and one of the male fledglings as they hunted. You can see something of a "family album" of photos I've taken of these interesting hawks in this issue's Bird Photography feature.
At home, Northern Flickers were most obvious in my neighborhood, and while watching 4 flickers feeding on ground-dwelling ants in my backyard, I was surprised to see a Brown Thrasher pop out of the cover of my chokecherry bushes and wild plums to forage in the open. Later in the day I heard a flicker calling nearby, and moments later a young flicker backed down the ash tree trunk next to my feeding station – a rare sighting outside my bay windows. Soon thereafter I also heard a White-breasted Nuthatch, but didn't see it. The last Ruby-throated Hummingbirds appear to have evacuated the north of Dakota this week; I saw my last feeder visitor last Monday (September 12). To be honest, my feeding station has been remarkably vacant this week, but as migration taketh away, migration brings new birds too – soon I hope.
Saturday to Bis
After overnight rain and during occasional sprinkles, I kept track of birds during my drive to Bismarck Saturday afternoon. It was a bit surprising to see good number of hawks – 14 Swainson's Hawks (including 2 recent fledglings) and 14 Red-tailed Hawks. I also saw a couple Northern Flickers, a Turkey Vulture, and a flock of a dozen Wild Turkeys. About 45 minutes north of home there was a big concentration of as many as 200 Greater Egrets, Snowy Egrets, White Pelicans, and Double-crested Cormorants spread across a couple neighboring wetlands where they apparently found shoals of small fish.
Sunday Sunshine
A windless sunny afternoon provided a perfect opportunity to check avian activities after the cool rainy low front moved through the past 3 days. The gem of the day was a very dark, almost black Merlin aside from its whitish breast. I've only seen one dark Merlin like this before in this area, and only one before that in southern California. Throughout my late afternoon drive I counted raptors again, finding 7 Swainson's Hawks (1 recent fledgling), 5 Red-tailed Hawks, 5 Northern Harriers (1 male, 4 immatures), 2 American Kestrels (males), and the dark-colored Merlin: 20 raptors total. In addition to the regular birds I see in the region, I appreciated a Belted Kingfisher sighting.
Obviously, my trip to Duluth and observations at Hawk Ridge were the highlight of the week, and if you would like to learn more about the Hawk Ridge HawkCount and the Hawk Ridge Bird Observatory, which is celebrating its 50th Anniversary this weekend, September 22 to 25, you can refer to HawkCount and Hawk Ridge Bird Observatory In the meantime, tomorrow (Thursday) is the first official day of fall, so I hope you enjoy some special birds to start the new season with in your yard and in the great outdoors.
Article and photos by Paul Konrad
Share your bird sightings and photographs at editorstbw2@gmail.com