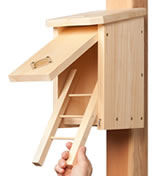 The Duncraft Convertible Roost House can be converted into a nest box during the spring and summer nesting season.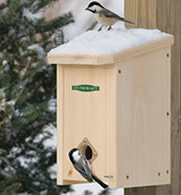 Cold, windy nights rob birds of calories and energy; in fact, during a cold night, birds can lose 12 to 15 percent of their body weight. You can help small cavity-nesting birds like chickadees, bluebirds, titmice, nuthatches, or small woodpeckers stay warmer and conserve winter energy by providing the Duncraft Convertible Roost House. This Convertible Roost House provides wintering birds with a wind-free shelter, where they can escape from wet, cold, windy conditions – and it doubles as a Nest Box during spring and summer!
Because the entrance is at the bottom of the roost box, the warm air rises to the top where birds can huddle together to conserve body heat. This allows birds to save energy during a cold winter night. And next spring, you can simply convert the Roost House into a Nest Box by taking out the ladder and flipping the front panel so the entrance hole is positioned near the roof. Made from Eastern white pine, this convertible roost/nest house measures 7 x 9 x 13 inches and comes with the convertible front panel fitted with a 1½ inch entrance hole that has a metal protector.
Available exclusively at Duncraft, you can learn more about the Duncraft Convertible Roost House at Duncraft.com: Duncraft 1555 Convertible Roost House