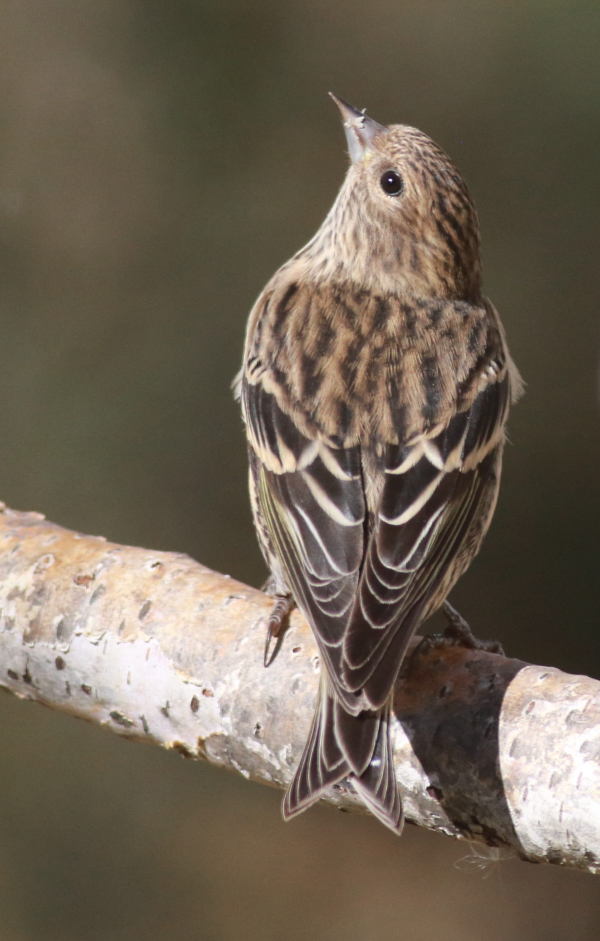 A favored Pine Siskin photo taken at Paul's feeding station Monday, where he took a variety of photos of siskins, Red-breasted and White-breasted Nuthatches, and Dark-eyed Juncos.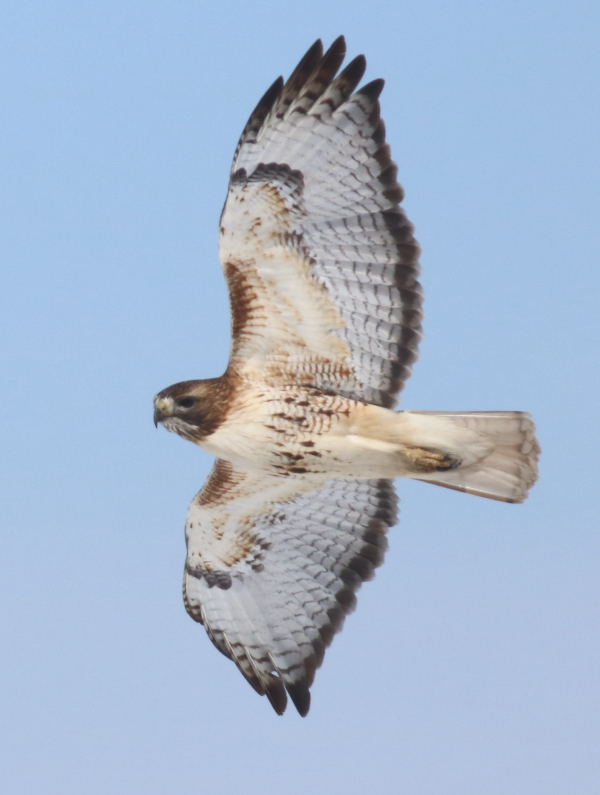 Aside from water-oriented birds, Red-tailed Hawks have been the dominant birds migrating through the area in recent weeks.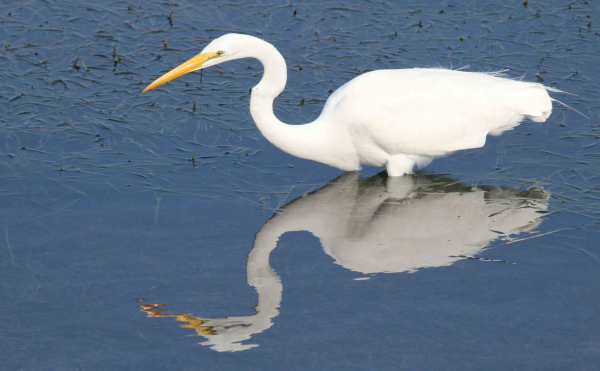 There are still some Great Egrets lingering in the northland, this one hunting about as deep as it dares to wade, as it isn't likely to tread water or swim – ha-ha.
Notable last week were the variety of native sparrows filtering through the area, including a first of fall Harris's Sparrow, White-crowned Sparrow, American Tree Sparrow, and Lincoln's Sparrow – the latter two are rare in this area. Feeder visitors included at least 2 Red-breasted Nuthatches, a female Purple Finch, and a foursome of Blue Jays. It's also interesting to note that while Thursday morning only the 2 nuthatch species were present at my feeding station, that afternoon there was another influx of Pine Siskins with 4 and more at a time, along with a male Hairy Woodpecker.
Friday, there were more Pine Siskins, new House Finches, and the male Downy Woodpecker, plus Blue Jays and Dark-eyed Juncos. And for the only time this season, a White-breasted Nuthatch opted for suet instead of seeds. Saturday the siskins were no shows, probably gone, along with the Purple Finch; no juncos appeared; but a couple American Robins did, along with the rest of the gang. That said, a few siskins and juncos were present Sunday, punctuated by a short visit by an American Tree Sparrow. Another young Harris's Sparrow perched above my feeders Monday, along with a constant flow of nuthatches, siskins, and House Finches.
While adding a new birch branch perch to my feeding station, both Red-breasted and White-breasted Nuthatches came to the seed feeder while I was standing next to it, installing the new perch. The little Red-breasted Nuthatch came within 8 or 10 inches a couple times, and while I was bent over working, I could hear them above me. I slowly turned my head to look up, only to see one of each species perched directly overhead on the shepherd's hook that holds the hopper feeder. I guess I can photograph these fast-moving feeder birds without a blind, I thought, as I did with the hummingbirds last month.
In fact, Monday I followed through and photographed nuthatches, siskins, and juncos at my feeding station while the October sun was bright. I was delighted to get my best photos of juncos, and used one of them in this week's Backyard Birding article. The nuthatches are so quick, they seemed to rival the hummingbirds at times. My favorite Pine Siskin photo of the photo session illustrates this article, and I'll definitely be doing more photographing at my feeding station in days to come – what fun!
Birding Among Friends & Family
Ya know, it's been tough birding alone since February, unable to share an outing now and then with a friend, family member, or other birders at birding sites and events during this covid-dominated year. A couple weeks ago I related how much I enjoyed the chance to share an afternoon outdoors at a distance with my friend Jennifer, and last week I was thrilled to host my great friends Scott from Houston, and Dwight and Michelle from Portland. Birding drives were at the top of their wish lists, so it was a fun opportunity to share my favorite local birding areas with them!
We didn't have any unusual or rare bird sightings, but in this area the regular birding fare is pretty exciting. At the same time, for Scotty and Michelle, it was a first look at this wild prairie region dotted with marshes and lakes, and with the peak of fall colors it was fun for us all. Dwight was a repeat birding companion – he's actually been on many birding trips with me from Alaska to Central America to Europe. Plus, this is where Dwight grew up as my cousin and lifelong friend, and he enjoys seeing all the old haunts and new ones I share periodically. Scott and I have been friends since Bismarck High School where he was a star athlete, and he's still a NoDak outdoors enthusiast when he has a chance to come back.
Michelle was new to birding adventures, but seemed to become a bit of a convert. The next day she was excited to tell me about the Red-tailed Hawks she had identified, and especially to describe the Ring-necked Pheasant that flew low in front of the BMW as she was driving. I gave Michelle and Dwight a copy of a field guide to the birds of the Pacific Northwest, and Scott received a Texas field guide. I explained that it's best to use these state and regional books with a North American field guide, and that these two books will serve them well when they return home. I bet Scott's wife Mary Jane will use the Texas field guide as much as he does too.
A Unique White Black Bird
The evening after the fun people left, I lamented to myself that I hadn't been getting many photo opportunities lately, even though I was covering a lot of landscape, looking for any large or small birds along the way without much luck. And that trend continued Friday evening until, as the sun was setting, about 8 miles south of town I was about to make a U-turn for home when I noticed a white flash among a large flock of Red-winged Blackbirds and Common Grackles that flushed from a roadside cattail marsh. I pulled over and saw a white bird in the midst of the big flock of black birds flying just above the cattails.
I looked with binoculars to make out what looked like a mostly white partial albino grackle! Hmm; now I had a remote chance of documenting a mostly white Common Grackle. That's when an insightful photo episode began, and I tell the rest of the story in the Bird Photography article at the end of this issue of The Birding Wire, complete with some documentary photos.
Overall, there has been an abundance of birds in the area, and a steady migration of birds in and out of the region. But Monday I realized that for the past 3 weeks, there have been few changes in species composition. Soon though, in the next week or so, a big change will take place: Flocks of Arctic-nesting geese will begin to appear in the area, and their numbers will increase into huge flocks week after week. Other waterfowl will follow, including "northern" ducks, and most notably Tundra Swans. Once they arrive, the diverse and super-abundant waterfowl will dominate the rest of the fall until freeze-up, which can happen any time during November here. Aah, I can't wait to hear goose music fill the air again!
Article and photos by Paul Konrad
Share your bird sightings and photos at editorstbw2@gmail.com