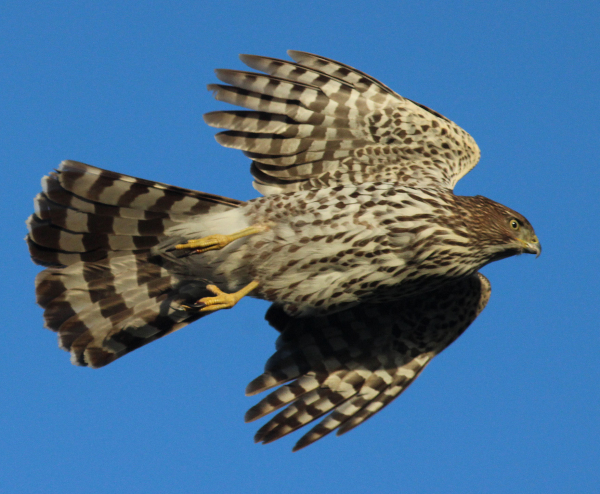 Cooper's Hawks will be among a range of raptors migrating during the coming weekend that will be identified and counted by birders during the GREAT Great Lakes Hawkwatch (first-fall Cooper's Hawk photo by Paul Konrad).
This weekend you can participate in a dispersed hawkwatch event that will unify the birding and hawkwatch communities as everyone from novice birders to expert hawkwatchers are welcomed to count migrating birds of prey from their location of choice, and enter their counts directly into hawkcount.org. The goal of the GREAT Great Lakes Hawkwatch is to organize and support community biologists in conducting standardized raptor migration counts outside the traditional hawkwatch sites. Interested birders are invited to count either day, or both days!
The over-arching goal of the project is to create an inclusive annual raptor migration count across a patchwork of currently undescribed locations, to improve our understanding of raptor movements. In an effort to help raise a collective voice for raptor conservation, the Hawk Migration Association of North America (HMANA) has partnered with the Toronto Ornithological Club, the Ontario Field Ornithologists, the Niagara Peninsula Hawkwatch, Holiday Beach Migration Observatory, Hawk Cliff Hawkwatch, Hawkwatch International, and Birds Canada to support and recruit participants for the GREAT Great Lakes Hawkwatch, the upcoming 2-day dispersed hawkwatch event on September 18 & 19 from 9am to 5pm.
Additional project goals are to:
1) Describe "smaller" raptor migration corridors in comparison to long-term monitoring sites.
2) Improve knowledge of species-specific migration corridors.
3) Improve understanding of raptor migration under varied weather conditions.
4) Create an annual community-science project, to mobilize and educate the public about raptor migration.
5) Invite a more diverse community into hawkwatch data collection efforts with the hope of improving inclusivity among hawkwatchers.
To learn more, see https://www.hmana.org/great-great-lakes-hawkwatch/
and you can register to participate at https://secure.lglforms.com/form_engine/s/Moxk-zoZm85D8loRJPm66Q
To review the daily HawkCount migration tallies, along with monthly and annual migration data from established raptor count sites across North America, see www.hawkcount.org