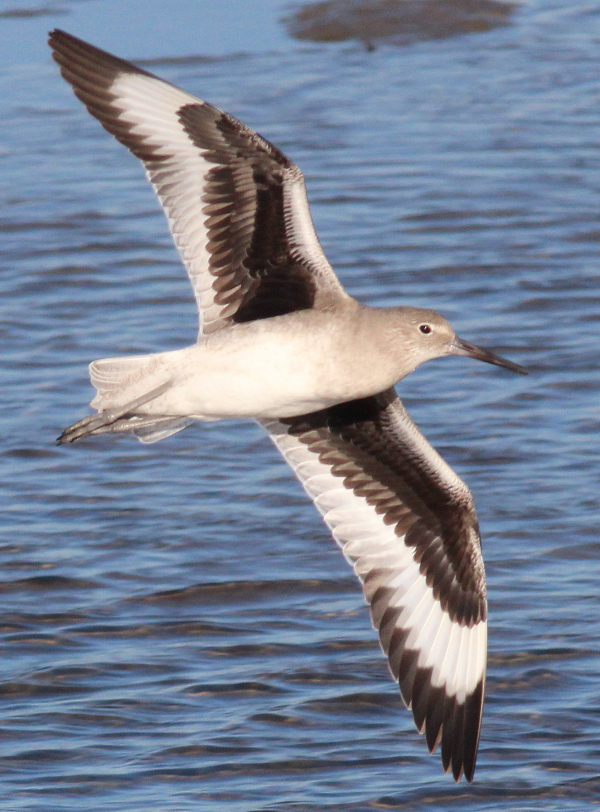 One of a number of filed photos that were re-visited and edited from a "historic" January 13th birding hike in southern California, this Willet photo shows its boldly colored underside plumage as it took a flaring turn in flight.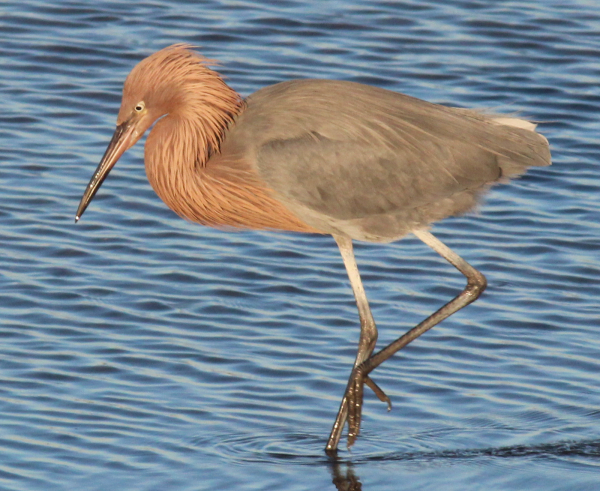 The stars of the show that day were 2 different Reddish Egrets photographed about 40 minutes apart, one using a stealthy hunting method, the other a much more animated hunting style (see the Bird Photography feature in this issue).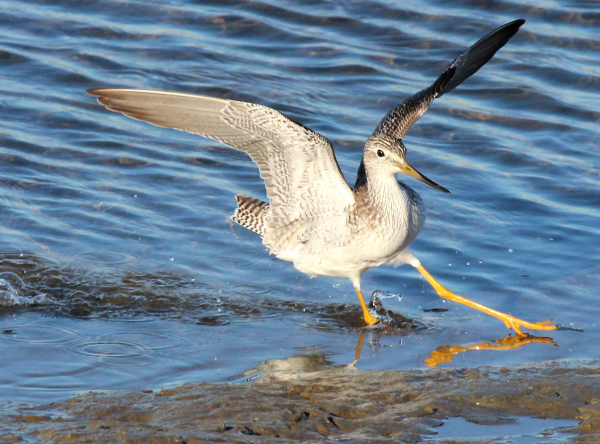 A slippery landing provided an interesting image of a wintering Greater Yellowlegs skidding to a halt.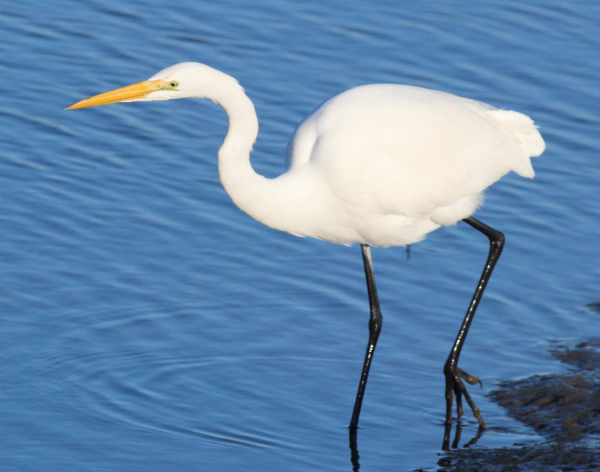 The coastal wetlands provided rich food resources for a variety of birds, this Great Egret among the largest of the species.
Little did I know how January 13th would turn into a special day to remember: With such exciting birds as Reddish Egrets, Willets, Black-bellied Plovers, Long-billed Curlews, and many other wintering birds along the hiking trails that follow the edges of Bolsa Chica coastal wetlands – a favorite neighborhood birding hotspot – even a Peregrine Falcon circled low overhead! There were hundreds of birds present that warm sunny January afternoon, probably more than a thousand. Wintering birds from the Arctic, birds from the tropics, and birds from all points in between.
What an enjoyable and memorable day in 2014, and I was able to revisit the couple hours I spent last week when I "re-found" the one-day photo file I made with the many photos I took that day of birds, mostly along the water's edge, wading in the shallows, and flying by. Actually, I was looking for the original photo a favorite ibis image a couple weeks ago, and happened upon some "sleepers" in a photo file named "January 13 – Bolsa Chica killa." Although I named it a "killer" collection of photos, almost all of the true killas were left unedited, hidden away for 9 years. That changed last week when I selected a dozen photos to copy from the originals, crop, name, and refile them in my "Best of 2014" file.
I share a few of those images here, but the day was really punctuated by a couple Reddish Egrets that afforded 3 close encounters for me to photograph these impressive wading birds. In addition to the photo included here, I share 6 more Reddish Egret photos with you and a more technical description of the photography behind taking them in this week's Bird Photography feature, along with some more info about other birds I observed and Bolsa Chica overall.
This year on January 13th, last Friday, Friday the 13th, I ventured south with a check point in mind – the location I observed a Bald Eagle twice the week before. Although I didn't see an eagle or any pheasants at that location, these birds could have been just out of sight, or re-located – hard to say. Along my route I began seeing Snow Buntings, which became a recurring theme for the hour-long drive. Last week, I noted that I hadn't seen Snow Buntings in my home region – within 20 miles or so, and imagined they had been pushed farther south by heavy snow accumulations. But Friday, it was obvious there was a new influx of Snow Buntings, with 8 groups numbering 4. 13, 1, 8, 2, 2, 2, and 1.
Conversely, I'm not seeing pheasants where many were present a couple weeks ago, which is a bit concerning, or should I say perplexing; but after my Snow Bunting remarks last week, I'll keep my pheasant thoughts to myself for now, aside to say that I only saw 1 male Ring-necked Pheasant Friday, and that was a bit of a revelation. Birds are certainly few and far between – having only seen 2 species for the day.
During my drive to Bismarck last Wednesday, the numbers of songbirds observed obviously improved from the week before, with a fairly rare covey of 9 Gray Partridges to start with. Overall I had 3 sightings of Horned Larks (5, 4, and 1 – the first larks I've seen in many weeks), in addition to more Snow Buntings (3, 35, 7, and 3), but only a single flock of 9 Ring-necked Pheasants. Wednesday I took a different route to the capitol city that took me through 2 birding hotspots, not to mention pheasant hotspots – Long Lake National Wildlife Refuge and the greater McKenzie Slough area – but during depths of winter, I observed no birds at either location.
Saturday afternoon the sun broke through the morning cloud cover, which inspired me to take a longer birding drive than usual, working my way north through the hilly landscapes along the east side of the Missouri Coteau on the way to Jamestown. A flock of 9 Snow Buntings broke the ice, so to speak, followed by a flock of 6 Horned Larks. At a particularly remote area I spied 3 Sharp-tailed Grouse on the crest of a prominent ridge, and while checking the other side of the ridge, I noticed a flock of 5 grouse standing atop a hill about a quarter mile to the southwest.
A male Ring-necked Pheasant flushed from one side of the road and flew across my windshield view into the cover of a farmstead, and a group of 3 pheasants were feeding in a snow-covered harvested field. The last birds of the day were the same as the first – Snow Buntings – but this was a big flock of more than 50 that provided impressive views when they repeatedly took flight en masse with their white plumage and black-and-white wings highlighted by the low sunlight against the blue sky. But wait, the buntings weren't the last birds of the day. During my return from Jamestown, just after sunset, a surprise Hairy Woodpecker flew by, headed for a wooden power pole positioned far from any trees. It was an unusual location to intercept a woodpecker at this time of the year, but I was glad to add it to my list of 5 species – tops for this week.
Enjoy the birds around you, and if you are living, wintering, or vacationing in one of the central states, along the coasts, or in the Sunbelt, appreciate the wealth of wintering birds and birding locations you have nearby by spending a little more time seeking out some of the gems of the avian winter. Good Luck!
Article and photos by Paul Konrad
Share your bird sightings and photographs at editorstbw2@gmail.com