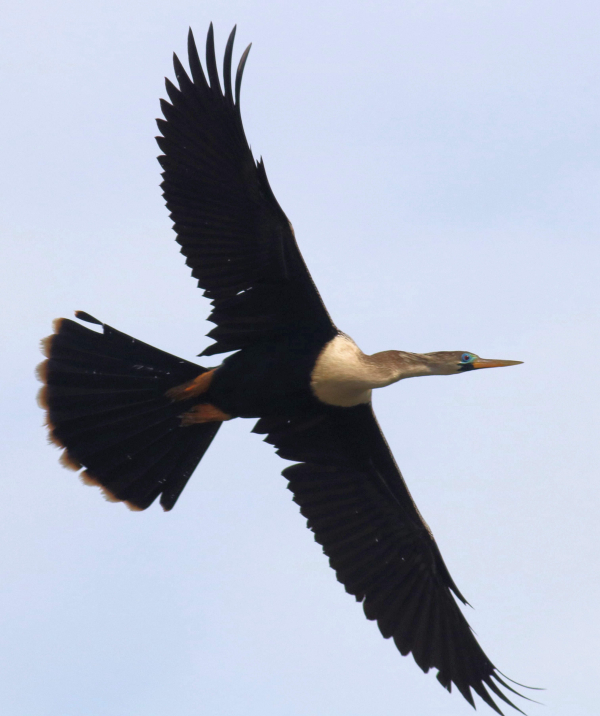 Birders documented the First State Record of an Anhinga in Indiana last week.
It was a real record-breaking week with 4 First State Record birds documented, along with 3 Second State/Provincial Records! First State Records included the sighting of 2 Anhingas in Indiana, a Cassin's Sparrow in Montana, a Cassin's Kingbird in Wisconsin, and a Limpkin in Kansas. The Second Provincial Records were an Orchard Oriole in Alberta, with a Rock Wren in Quebec, and birders documented a Second State Record of Black-bellied Whistling Ducks in Vermont. Also, slightly north of the Mexican border birders are still seeing a Yellow Grosbeak.
STATE & PROVINCIAL RECORDS
First State Record Anhingas – Sugar Ridge Swamp, Indiana
First State Record Cassin's Sparrow – Bowdoin Refuge, Montana
First State Record Cassin's Kingbird – near Colby, Wisconsin
First State Record Limpkin – Marais des Cignes Waterfowl Area, Kansas
Second Provincial Record Orchard Oriole – Lethbridge, Alberta
Second State Record Black-bellied Whistling Ducks – near Ferrisburgh, Vermont
Second Provincial Record Rock Wren – Rimouski, Quebec
Fourth Provincial Record Scarlet Tanager – Vancouver, British Columbia
Fifth Provincial Record Scarlet Tanager – Vancouver, British Columbia
Seventh State Record Tricolored Heron – near Dubuque, Iowa
REALLY RARE BIRDS
Yellow Grosbeak – Pena Blanca Lake, Arizona
Long-toed Stint – Gambell, Alaska
Varied Thrush – Jacksonville, Florida
Black-bellied Whistling Ducks – Armour, South Dakota
Indigo Bunting – Quesnel, British Columbia
Sandwich Tern – Magdalen Islands, Quebec
Loggerhead Shrike – Fitchburg Airport, Massachusetts
CONTINUING RARE BIRDS
Pine Flycatcher – Arizona
Garganey – Montana
Garganey – New Jersey
Bahama Mockingbird – Florida
LaSagra's Flycatcher – Florida
For more information, refer to the American Birding Association's Rare Bird Alert at Rare Bird Alert: June 10, 2022 - American Birding Association (aba.org) Special Thanks to the ABA, and Nate Swick, who does such a great job of compiling the ABA's Rare Bird Alert, which we use to prepare this weekly replay.
You can often find more info about individual rare bird sightings from the state rare bird alert listserves that you can access at http://birding.aba.org/ or at https://www.facebook.com/groups/ABArare/