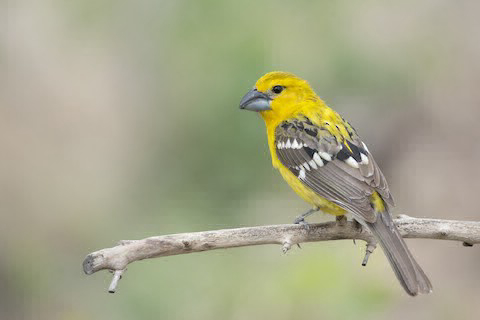 One of the 6 First State Record birds located last week, a male Yellow Grosbeak was found at a feeding station near Colorado City, Colorado (photo by Johanna Beam).
Last week birders established 6 new First State Records and 5 Second State Records, along with even more rare bird sightings! The First State Record birds included a Yellow Grosbeak in Colorado, an Arctic Loon in Wisconsin, a Limpkin in Minnesota, a Broad-billed Hummingbird in Missouri, a Bell's Vireo in Wyoming, and what appears to be an interstate traveling Heermann's Gull in New Jersey. Second State Record birds included a Steller's Eider, Black-bellied Whistling Ducks, a White-tailed Kite, Common Black Hawk, and a Pine Warbler.
STATE & PROVINCIAL RECORDS
First State Record Yellow Grosbeak – near Colorado City, Colorado
First State Record Arctic Loon – Lake Superior shore, Herbster, Wisconsin
First State Record Limpkin – Hugo, Minnesota
First State Record Broad-billed Hummingbird – Kansas City, Missouri
First State Record Bell's Vireo – near Lusk, Wyoming
First State Record Heermann's Gull – Cape May, New Jersey
Second State Record Steller's Eider – Point-des-Mont, Quebec
Second State Record Black-bellied Whistling Ducks (6) – Woodbury, Connecticut
Second State Record White-tailed Kite – Point-des-Monts, Quebec
Second State Record Common Black Hawk – Wichita Mountains Refuge, Oklahoma
Second State Record Pine Warbler – Primm, Nevada
Fifth State Record Arctic Tern – Waconda Lake, Kansas
Tenth State Record White-rumped Sandpiper – Edmonds, Washington
REALLY RARE SIGHTINGS
Pallas's Bunting – Gambell, St. Lawrence Island, Alaska
Little Egret – near Rachel Carson Refuge, Maine
Fork-tailed Flycatcher – near Kennebunkport, Maine
Fork-tailed Flycatcher – Townville, South Carolina
Vermillion Flycatcher – Dorothee, Quebec
Cinnamon Teal (2) – Cape Hatteras, North Carolina
Tricolored Heron – Cape Freels, Newfoundland
Hooded Oriole – Cache Creek, British Columbia
Glossy Ibis – Lordes de Blanc Sablon, Quebec
CONTINUING RARE BIRDS
Black-faced Grassquit – Florida
Tufted Flycatcher – Arizona
Berylline Hummingbird – Arizona
For more information, refer to the American Birding Association's Rare Bird Alert at https://www.aba.org/rare-bird-alert-june-4-2021/ Special Thanks to the ABA, and Nate Swick, who does such a great job of compiling the ABA's Rare Bird Alert, which we use to prepare this weekly replay.
You can often find more information about individual rare bird sightings from the state rare bird alert listserves that you can access at http://birding.aba.org/ or at https://www.facebook.com/groups/ABArare/