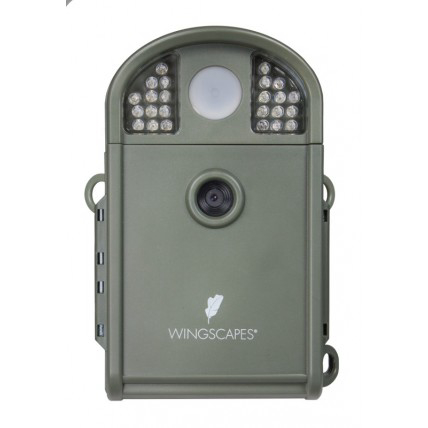 The Wingscapes BirdCam Pro
The Wingscapes BirdCam Pro digital camera is designed to give you candid, up-close photos and videos of birds in your yard or at your favorite birding sites that are easy to view and share with friends and family. The BirdCam Pro is durable, weatherproof, motion-activated, and loaded with special features. This 20 megapixel camera takes crystal-clear still photos and HD videos of birds on the move, and you can view, send, and manage images from your computer, tablet, or cellphone using Moultrie's free mobile app.
Monitor birds as they visit your feeder, water feature, or bird house, and enjoy enhanced resolution and improved motion detection in a new compact housing. An adjustable lens offers controlled subject clarity while a motion sensor with selective sensitivity is designed specifically for photographing birds with accuracy. Simple to set up and easy to operate, the BirdCam Pro features variable focus, a flash for nighttime photos and videos, intuitive navigation menus, and a 2-inch TFT color preview screen.
Download images directly to your computer using a USB cable or Wi-Fi SD card. A flash equipped with 24 white LEDs illuminates wildlife up to 25 feet away in total darkness for maximum brightness and beautiful images. Manage image quality and storage with four resolution settings, from low (2115 x 1188p) to enhanced (6080 x 3420p), and take 1080p HD videos in 16:9 aspect ratio.
Special Features – Smart Sensor technology ignores false triggers like feeder movement to minimize "empty" frames while an adjustable focus delivers fine-tuning clarity and subject detail. A Time/Date/Location stamp allows you to track the timing of bird activity. Programmable features include time lapse, delay, the number of images per event, and sensor sensitivity.
The Wingscapes BirdCam Pro is compatible with the Moultrie Mobile Wireless Modem MV1, which permits remote access to your BirdCam via the Verizon Wireless network. You can view, send, and manage images from your PC, tablet, or mobile device using Moultrie's free mobile app, and receive email or text alerts when new images are recorded.
A compact rugged case with a weatherproof plastic exterior comes with a standard ¼ inch tripod mount compatible with the mounting bracket. Back slots for use with an included weather-resistant nylon strap or Python lock cable permit tree mounting (sold separately).
The BirdCam Pro works with SD/SDHC Class 4 cards or higher and can handle up to 32 GB, and also supports Wi-Fi SD cards. It uses 8 AA batteries to run an average of 6 months, but it's compatible with any Moultrie 12-volt DC external power source, and supports AC power mode.
For more information about the Wingscapes BirdCam Pro digital camera and other similar Wingscapes products, see https://www.wingscapes.com/wingscapes-birdcam-pro-1