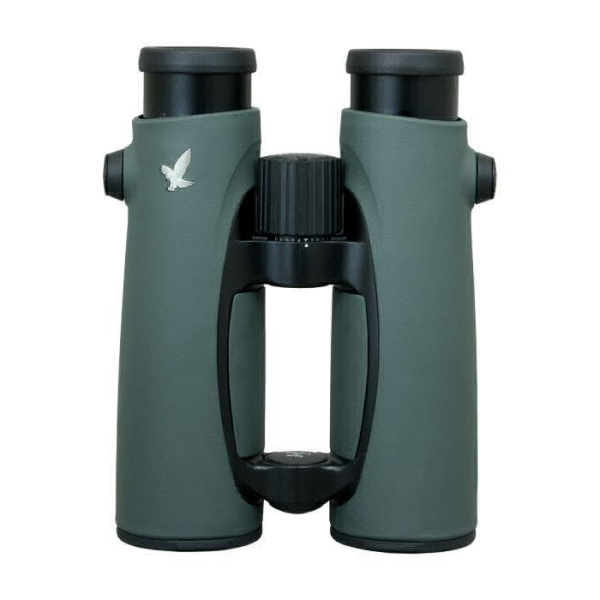 The Swarovski EL 8.5x42 Binocular.
Long considered an industry standard of quality, the Swarovski EL 8.5x42 Binoculars provide a slightly higher magnification with a broad field of view (400 feet at 1000 yards). The beauty is in the details when it comes to the legendary SwaroVision, and Swarovski's use of fluorite glass results in images that are sharp and crisp with virtually no chromatic aberration. The phase-correcting coatings provide enhanced contrast, brightness, and rich color fidelity. Field flattener lenses deliver a completely distortion-free view – right up to the edges. The 42mm objective lenses provide maximum 90 percent light transmission and low-light performance while feeling comfortable and lightweight in your hands.

Combining optical quality and ergonomics make the EL an impressive binocular for any birder. The optics of the Swarovski EL Binoculars are impressive, but so is their ease of use. The large slip-resistant focus wheel is easy to turn, even in cold or wet weather. The rapid focusing mechanism allows you to make quick transitions between near and far subjects, making them a perfect choice for birding when birds are moving quickly through vegetation or on the fly. The exceptional eye relief of 20mm reduces eye strain and provides comfortable viewing when wearing glasses.
It's no wonder the EL Binocular has long been called "The Legend" for the optics and quality it showcases – Swarovski thought of everything when designing the 8.5x42 EL. Their performance has been proven by the test of time, and they are considered one of the greats of the optics industry.
For a limited time, you can save up to $400 on all Swarovski EL 42mm Binoculars – it's time to take home The Legend. You can learn more at Land Sea and Sky, where you get Free shipping in the Lower 48 states with a 90-day return policy on this model at Swarovski EL 8.5 x 42 Binoculars from Land Sea & Sky (landseaskyco.com)