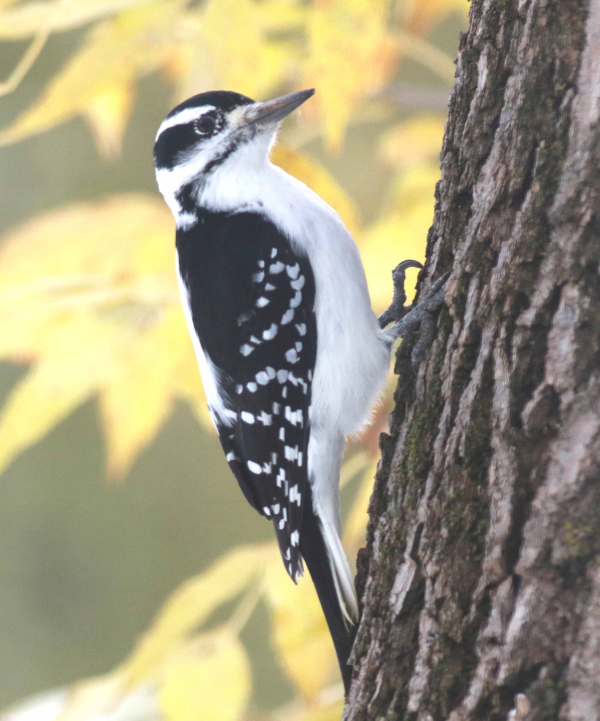 A Hairy Woodpecker was photographed among fall leaves on an ash tree adjacent to Paul's feeding station Sunday.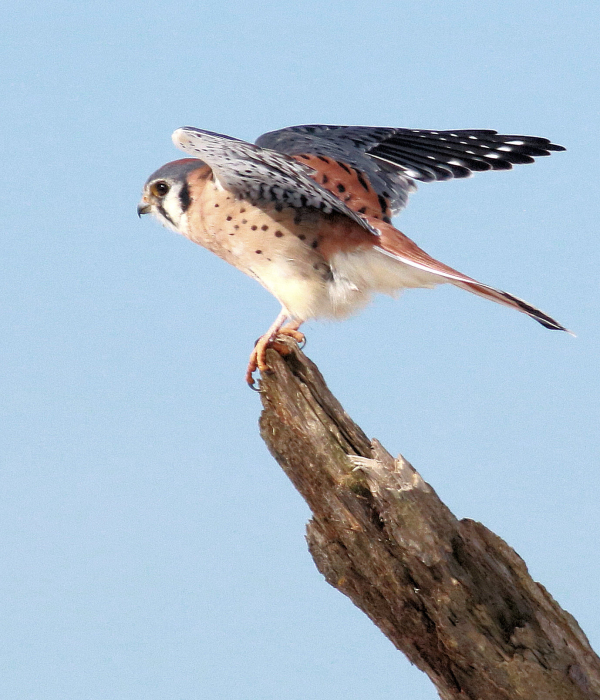 A male American Kestrel was photographed testing the wind Monday afternoon.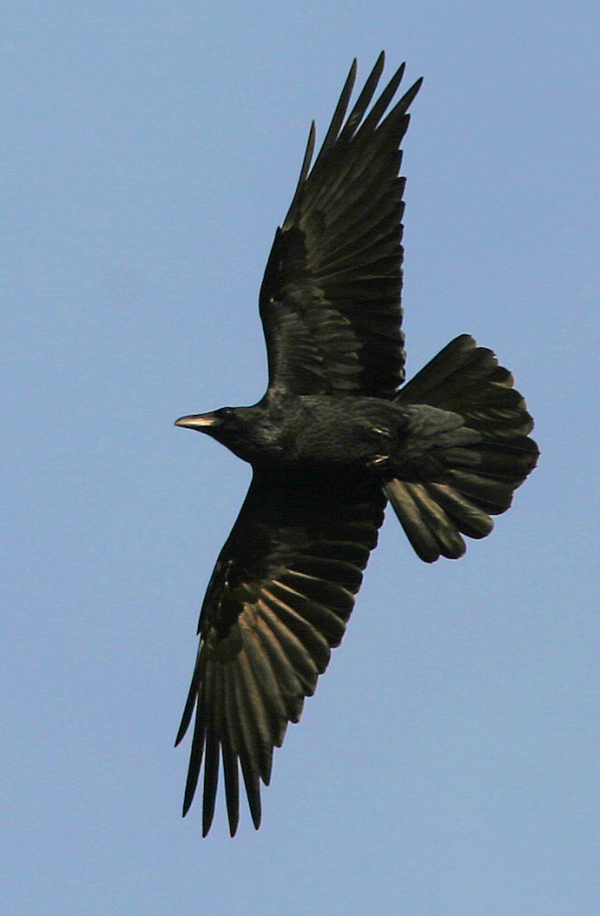 A Common Raven is a very rare bird in the Great Plains, so rare that the raven sighted last week represented a first of state sighting for the author.
Last week I made two trips that collectively took me from the Missouri River to the Mississippi River, covering the eastern half of the Northern Great Plains and skirting the western edge of the eastern forest. One of the first birds of the week was a first state sighting for me – a Common Raven that I was very surprised to see about 25 miles northwest of my office, on my way to Bismarck. I've seen hundreds of ravens in their usual forest, mountain, and desert habitats, but I've never seen one on the open plains before. I also sighted two other rare black birds – dark morph Harlan's Red-tailed Hawks, right on time for their rare fall appearances this far east of their normal migration paths.
Again, there was an abundance of Red-tails along the way to the capitol city, and they displayed a variety of color patterns, but most were darker birds with belly bands that indicate they originated their fall migration from the northern forests of Canada. I also enjoyed a quick sighting of another Merlin, but couldn't get any color details to ascertain its sex, age, or subspecies. There was an obvious migration going on among some Harriers and Red-tails, and I stopped to photograph a three-some of young harriers that were obviously on a migration flight southbound.
Alas, this summer-like day would be the last of the season, with a big snow storm on the way for Thursday thru Saturday, which will disrupt migration in a big way, although the expansive flocks of four species of Arctic-nesting Geese are sure to arrive soon thereafter, although depending on the time the snow persists on the ground, the area may or may not be attractive to the Snows, White-fronts, Cackling, and Ross's Geese, along with Canada Geese. Time will tell, I thought at the time.
Wednesday, as the big storm approached, during a cool drizzle a male Hairy Woodpecker fed at my suet feeder; the only real highlight of that dreary day. Thursday I would drive eastward into the heart of the storm, headed for Minneapolis to help celebrate my niece Katy's wedding to my new nephew Jeff Jacobson. It could be interesting to drive through the storm, then out of it on the leading edge of the Arctic blast.
Escape to Minnetonka
Thursday morning, all was white with a few inches of snow covering everything and a horizontal wind blowing the cold snowfall sideways. I checked the weather radar, that showed the snow turned to rain just 20 miles east of home, so I prepared for the wedding trip and took off across the great white plains to escape the northern blizzard that was building. The first bird of the day was a silver male Northern Harrier, seemingly headed south, but the abundance of Red-tailed Hawks to the east acted like this was just another rainy day as they perched in sheltered and not so sheltered trees.
I'm sorry to report that the long drive didn't yield any out of the ordinary birds, but the fall colors were beautiful and I was glad the white landscape was behind me. One of the adult Bald Eagles was perched next to its nest as a passed Eagle Lake on the northwest edge of a Minneapolis suburb. These eagles remain on or near this territory year-round and they nest much earlier than the Dakota eagles, a testament to the stark differences in climate and landscape between the two locations. Friday, in the wooded suburbs surrounding Lake Minnetonka, there were plenty of Red-tailed Hawks, American Crows, Blue Jays, and Turkey Vultures to be seen (some may have been migrating), plus I sighted a flock of Wild Turkeys, a Cooper's Hawk, and a female Northern Cardinal among colorful fall leaves.
Post-Storm Report
Back home Sunday, as the foot of snow that accumulated during my absence began melting, it was obvious that new flocks of waterfowl had arrived – probably after the blizzard – Saturday or earlier Sunday. Just south of home, more than 300 Gadwalls were feeding in Melody's Marsh, and in a series of three other wetlands from 9 to 11 miles south, Canvasbacks were the kings, with a flock of about 100 at one marsh; Cans were rare sightings in the area before that. There were also two female Hooded Mergansers and a few scattered first of season Buffleheads on these marshes.
Along the way, several smaller wetlands had a perimeter of ice on them, which was quite a surprise, and Sunday night's predicted windless low temperature of 20 degrees would probably leave some of these wetlands ice covered until weekend highs in the 50s revive them from their solid state. On my way back north, I sighted my first flock of Snow Geese this fall, numbering about 60, and about four miles north of home I sighted the second flock of about 30 Snows that I stopped and listened to – goose music.
During this drive I also saw a Great Horned Owl perched cryptically on a low snow-covered branch of one of the gnarled willow trees where the owl family I monitored last spring and summer lingered as the fledglings learned to fly and hunt. There were several Red-tailed Hawks in the area, and I observed two individual Northern Harriers, one a sleek silver male hunting close to my position at the time. The last bird of the day, while afield, was a first-year Bald Eagle winging southward.
At home, the usual feeder visitors continued after the blizzard, with the addition of a young Dark-eyed Junco. A short distance away, an ever-moving foraging flock of at least 40 American Robins were working an area of trees and muddied roads, with a concentration under a crabapple tree. I'm betting that during the coming week, there will be new feeder station visitors as an effect of the expansive blizzard footprint from the boreal forest across the northern plains.
Monday morning was thankfully sunny after five days of cloud cover, but all but the biggest deepest lakes were ice-covered, but when I took a drive later in the afternoon most ice was melted by 44 degree temps, along with lots of snow. There were additional flocks of ducks in the area, mostly Lesser Scaup, and when I observed four Tundra Swans flying about four miles south of home, I wished to check Dittus Lake to see if there was a buildup of waterfowl.
Sure enough, a series of flocks of Snow Geese were shuttling from the big lake to feed in a harvested wheat field nearby. I estimated several hundred Snows, probably joined by a percentage of Ross's Geese, all of which may number close to the first thousand to reach this area. There were also three widely spaced pairs of Tundra Swans present, but I was a bit surprised there were not more – but it's early, even with the very early Arctic blast.
On the way home, I enjoyed the chance to photograph a male American Kestrel perched on a snag with its wings raised in the light wind, or hesitant to take flight at my approach. I also photographed a lone American Avocet feeding in the slush on the edge of melting ice in the shallows of a marsh – a reflection of the weird weather.
When I parked in front of my house, I noticed a Blue Jay feeding at my suet feeder, so I added some unsalted nuts and a fresh corn cob to a feeding dish I placed atop my frozen birdbath. One or more Blue Jays called loudly as I attended the feeding station, and I wondered how long it would take them to react – nine minutes was the answer.
Earlier, a quick wave of migrating songbirds swung by my feeding station, led by a couple Yellow-rumped Warblers, joined by several handsome adult Dark-eyed Juncos and an Orange-crowned Warbler; and then they were gone. I'm excited about the promise of exciting birds arriving and migrating through the area during the coming week. Enjoy your mid-October birds!
Article and photos by Paul Konrad
Share your bird sightings and photos at editorstbw2@gmail.com