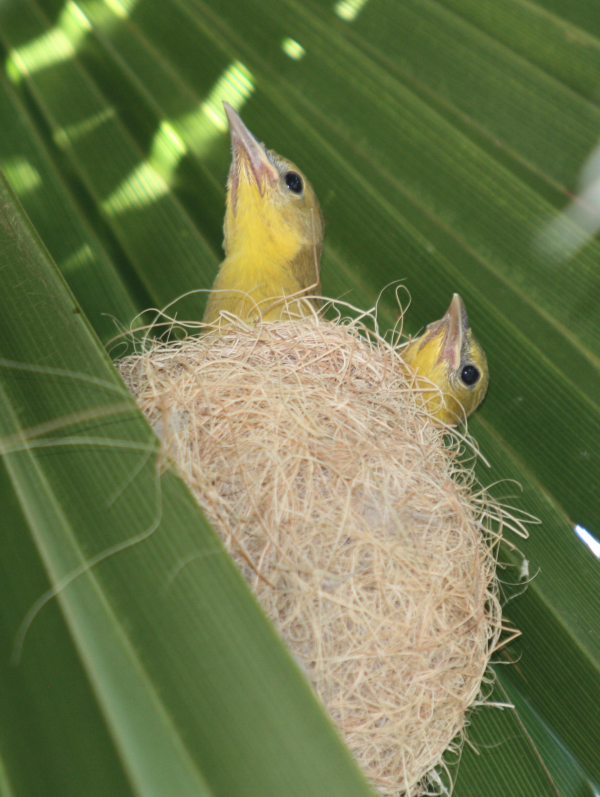 It may take a combination of observing and searching to find bird nests in your yard. This Hooded Oriole nest was built under a frond on a palm tree (photos by Paul Konrad).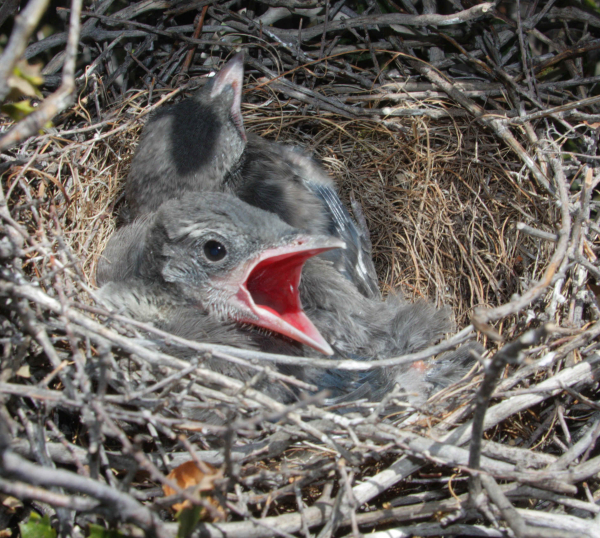 You never know what kind of birds will find your yard attractive for nesting; perhaps a pair of scrub jays will build a nest and raise nestlings.
As we've been enjoying the variety of birds that spring migration brings to our yards, some local favorites have begun nesting, ranging from robins to wrens to House Finches, chickadees to Wood Ducks to hummingbirds. The landscaping in your yard, ranging from lofty trees to manicured bushes, provides potential nesting habitat for a variety of birds. Likewise, when we provide bird houses we attract cavity nesting birds. It's especially exciting when we find birds have adopted our yard to build their nests, lay and incubate their eggs, and raise their nestlings.
Throughout the spring season, and throughout previous years, we've provided a variety of articles about landscaping your yard to provide an area of nesting habitat for birds, along with valuable information about bird houses, big nest boxes, and nesting shelves to help you attract nesting birds to your yard. This provides a mini-habitat for birds, that when combined with the efforts of millions of birders who have committed space and created nesting habitat on a grand scale continent-wide, it becomes a huge urban, suburban, and rural contribution to bird conservation of our remarkable native birds. Great job everyone!
Now, it's time to enjoy the nesting season, to watch for telltale signs of nesting behavior within your yard and yard-based views. Watch for birds collecting and carrying nesting material – sticks, grass, and other plant material. Watch for regular visits to a certain location in a tree or bush, or even under the eves of a building. And of course, watch for action at any nest boxes you may be providing for cavity nesting birds in need. Watch too for birds taking food to a potential nest site – caterpillars, insects, or earthworms perhaps. Nesting wrens and robins will serenade you, orioles and hummingbirds will delight you, and your yard will be all the more productive while it supports these valued birds.
Nesting Info Resources
You can learn more about the nesting birds you see by referring to the best single resource of information about the birds we share our yards with, Birds of the World. In fact, now you can use Birds of the World for 30 days Free by accessing Try Birds of the World - free for 30 days - editorstbw2@gmail.com - Gmail (google.com) Near the end of that 30-day period, you can either cancel your free subscription, or opt for a monthly or annual fee to access the most comprehensive library of information about all the world's species of birds – including those in your yard and neighborhood.
Another source of Free information about the birds in your yard and far beyond it is All About Birds, which provides accurate information in a more digested form at Online bird guide, bird ID help, life history, bird sounds from Cornell All About Birds
Just type in the full name of the bird in the black box where it says "Search." For example, if you want to learn more about American Robins, go to American Robin Life History, All About Birds, Cornell Lab of Ornithology
If you have the chance to keep a record of any nesting birds in your yard, you may be interested in reporting your nest records to NestWatch, which is also a good source of information about bird houses and other nesting structures and the birds that use them; see NestWatch | NestWatch - Where Birds Come to Life
All 3 of the above authoritative resources are products of the Cornell Lab of Ornithology, the world's leading center for information about birds.
Planning for Nesting Birds
Although it's probably too late to provide any new elements in your yard for nesting birds to utilize this season, it's a good time to consider how you can add another element to improve your yard's nesting habitat. Start with a look at your landscaping and considering how you can improve or increase nesting habitat for birds. Then there is the nest box option, to add a specific bird house for wrens, chickadees, or bluebirds; or it's always exciting to try adding a big nest box to benefit nesting Wood Ducks, Hooded Mergansers, or one of the species of small owls, including screech owls. Then too, don't overlook the addition of a nesting shelf that robins and phoebes will utilize.
As we improve our yards for birds, and especially nesting birds, we each become a valuable part of the overall effort that birders are making to provide our native birds with nesting habitat and nesting sites, thereby contributing to a continental effort to provide backyard habitat for birds in need of a little help from their friends. Enjoy all the birds that visit your yard this week, and throughout the summer!
Share your backyard birding experiences and photos at editorstbw2@gmail.com