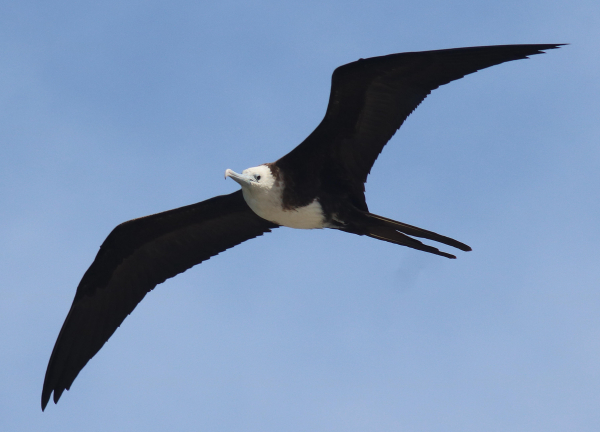 Far from an ocean, an immature Magnificent Frigatebird was observed on both sides of the New Mexico–Arizona border, just north of the border with Mexico – a true border bird.
The first week of spring brought word of a Fourth State Record Scott's Oriole visiting a feeder northwest of Little Rock, Arkansas, and an unusual borderline sighting of an immature Magnificent Frigatebird far inland on both sides of the Arizona–New Mexico border, not far from the Mexican border. Three Old World species were reported: A Barnacle Goose in Quebec, a Eurasian Wigeon in Colorado, and a Great Cormorant on the shore of Lake Erie in Cleveland. Rounding out the newest rare sightings last week was a Red-shouldered Hawk in Denver and a Wilson's Plover in Rhode Island. Did we mention the exciting find of a Latin American species – a Fork-tailed Flycatcher – north of McAllen Texas?
STATE RECORD
Fourth State Record Scott's Oriole – northwest of Little Rock, Arkansas
REALLY RARE SIGHTINGS
Magnificent Frigatebird – south of Apache, Arizona and Rodeo, New Mexico
Fork-tailed Flycatcher – north of McAllen, Texas
Barnacle Goose – St-Blaise-sur-Richelieu, Quebec
Eurasian Wigeon – near Marino, Colorado
Great Cormorant – Cleveland, Ohio
Red-shouldered Hawk – Denver, Colorado
Wilson's Plover – Scarborough Beach, Rhode Island
CONTINUING RARE BIRDS
The recently static but exceptionally exciting list of rare birds that were reported in earlier Rare Birds articles and continue to be observed by birders includes:
Thick-billed Vireo – Long Key, Florida
La Sagra's Flycatcher – Everglades National Park, Florida
Siberian Accentor – Woodland, Washington
Garganey – Colusa and Salton Sea, California
White Wagtail – Austin, Texas
As spring migration progresses, be vigilant for wayward birds everywhere you go.
For more information, see the American Birding Association's Rare Bird Alert at https://www.aba.org/rare-bird-alert-march-20-2020/ Special Thanks to the ABA, and Nate Swick, who does such a great job of compiling the ABA's Rare Bird Alert, which we use to prepare this weekly replay.
You can often find more information about individual rare bird sightings from the state rare bird alert listserves that you can access at http://birding.aba.org/ or at https://www.facebook.com/groups/ABArare/