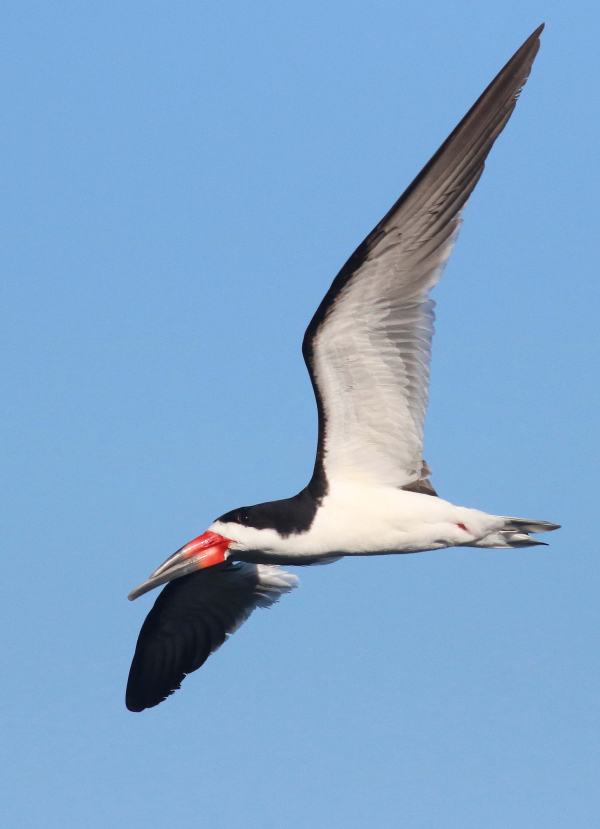 Michigan's first Black Skimmer was observed and photographed near the Canadian border on the south end of Lake Huron.
Two First State Records were reported last week, a first Black Skimmer for Michigan and a first Scarlet Tanager in Washington. The biggest excitement may have come from Big Bend National Park in Texas, where a Slate-throated Redstart was sighted. There was also a Tricolored Heron found by birders in Newfoundland, a Neotropic Cormorant in Missouri, and a Brown Booby in Pennsylvania. Also, a most impressive list of very rare birds continue to be seen in Arizona.
STATE & PROVINCIAL RECORDS
First State Record Black Skimmer – Port Huron, Michigan First State Record Scarlet Tanager – Camano Island, Washington
REALLY RARE SIGHTINGS
Slate-throated Redstart – Big Bend National Park, Texas
Tricolored Heron – Forteau Bay, Newfoundland
Neotropic Cormorant – Schell Lake, Missouri
Brown Booby – Van Sciver Lake, Pennsylvania
CONTINUING RARE BIRDS
Continuing rare birds in Arizona include the male Eared Quetzal, which is still being seen near Portal, as are two Crescent-chested Warblers and one or two Flame-colored Tanagers that continue to be reported near Sierra Vista. The Berylline Hummingbird can be seen in Madera Canyon, and the Common Crane remains at Mormon Lake.
Near Marathon, Texas, the Streak-backed Oriole is continuing to wow birders; the Black-faced Grassquit is still reported in Everglades National Park, Florida; and the Little Egret continues to be reported near Portland, Maine. It will be interesting to see what rare birds are found during the first full week of summer!
For more information, see the American Birding Association's Rare Bird Alert at https://www.aba.org/rare-bird-alert-june-19-2020/ Special Thanks to the ABA, and Nate Swick, who does such a great job of compiling the ABA's Rare Bird Alert, which we use to prepare this weekly replay.
You can often find more information about individual rare bird sightings from the state rare bird alert listserves that you can access at http://birding.aba.org/ or at https://www.facebook.com/groups/ABArare/