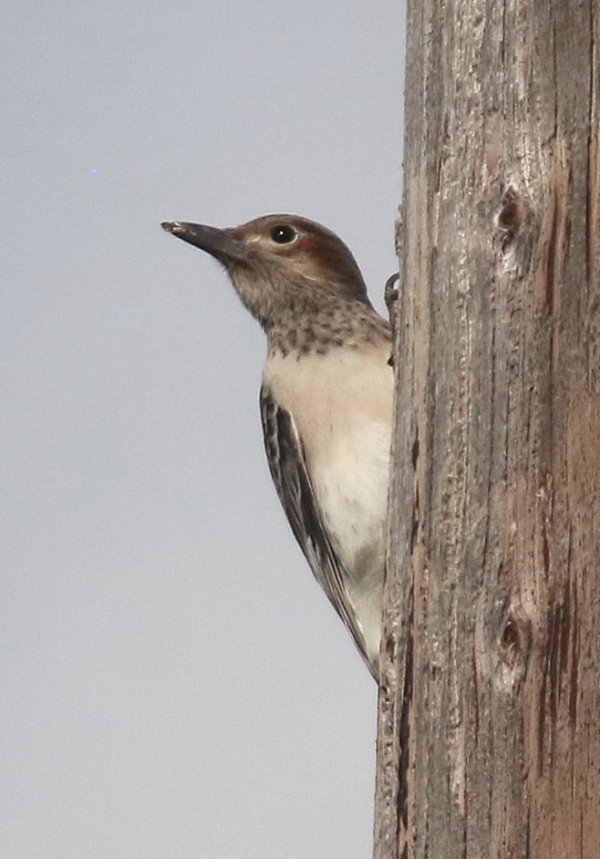 Paul's latest photo of a fledgling Red-headed Woodpecker shows he's making weekly progress.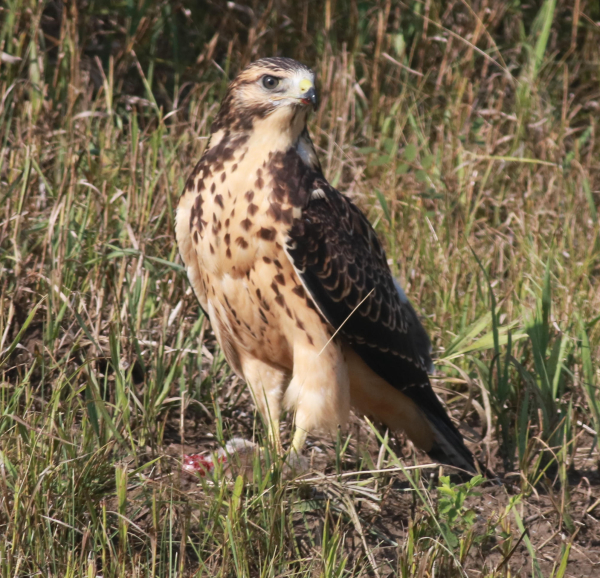 The first Swainson's Hawk fledgling of the year was a beautifully colored hunter.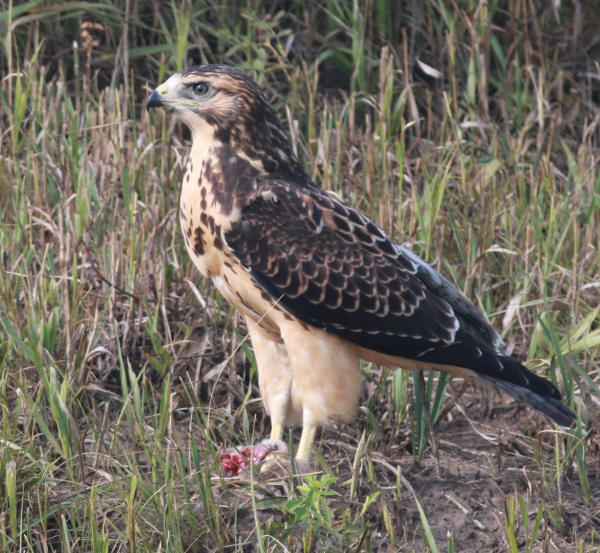 The scalloped coloring of the upper wing feathers are evident in this side photo of the young hawk.
I was a little surprised to see my first fledgling Swainson's Hawk of the season Wednesday afternoon, but I was really surprised that it appeared to have caught its own young Northern Pocket Gopher – a big feat for a new fledgling. I had almost forgotten how beautiful fledgling Swainson's Hawks can be, and this point was further emphasized by the two fledglings I saw Sunday afternoon. One was similarly colored to Wednesday's fledgling, but the smaller of the two was lighter colored with fewer markings on its breast – beautiful. Without screaming adults overhead, I always have better luck photographing fledglings.
Woodpecker Fledglings – Thursday I enjoyed observing all three fledgling Red-headed Woodpeckers that I'm aware of to date – the two fledglings near the Bald Eagle nest, and the fledgling from my photo location nest. These sightings provided an opportunity to study the differences between the individual fledglings, especially the two adjacent to the eagle nest. One was larger and dominant, but it was also colored darker gray than the other fledglings. I also noticed that the single fledgling at the photo location appeared to have some reddish feathers growing next to its eyes – a very big surprise. It will be interesting to see if more red feathers appear and if this is a molt feature that will appear on other fledglings.
Even more interesting was the fact that all three of the woodpecker fledglings were foraging on their own, on tree trunks and branches, dropping to the ground to capture insects, and even pursuing flying insects on the wing. They obviously are able fliers now, and I came very close to getting some quality photos of each of the three fledglings. I'm hoping my photo luck continues to improve, and I'm wishing the fledglings continue to stay in the area for as long as possible to facilitate more observations, answer more questions, and provide some fine photo opportunities.
Surprise Escape – It's always much easier to see when new birds arrive in an area, than it is to notice when they leave. I was reminded of that fact when I stopped by a favorite "lone tree wetland" Thursday. My first visit was pretty normal, but only during a quick second visit did I realize that all phalaropes and gulls, numbering about 100 and 75 respectively a couple days before, had left this invertebrate-rich wetland. Perhaps they moved a mile, or a couple miles; or perhaps they're already in another state (South Dakota is only about 15 miles south of this marsh).
Late Duck Broods – I'm still seeing new duck broods often, but the species have been limited to late season nesters – Redheads, Ruddy Ducks, and Gadwalls. It's so fun to see the downy ducklings surrounding hens as they feed or rest.
Raptor Watches – I wanted to update you about the fledgling Bald Eagles, which can still be found near or at the nest, which acts as a feeding station. Hunger is an important ingredient to inspire young raptors to begin hunting on their own, and considering that the adults haven't been obvious lately, they may be trying to encourage hunting behavior in the young eagles now that they can fly well.
As for hawk fledglings, in addition to the aforementioned Swainson's Hawks, the Ferruginous Hawk fledglings have been more wide-ranging than last week, and I usually only see one or two during a given observation. Sunday, I did see an adult bring a small prey item to a location about 250 feet southwest of the nest site, which attracted two calling fledglings, but I could not see any other interactions when the three hawks dipped behind a low hill.
Also on Sunday, I enjoyed seeing a beautiful light-colored Red-tailed Hawk fledgling take flight from the ground to a low tree branch about 160 feet north of an active nest that I monitored this spring and summer. Was it hunting? I look forward to seeing more of this fledgling and any others in the area of this tall cottonwood nest site.
Bleak Backyard Action – Only one immature Baltimore Oriole was visiting my feeders last week, but considering that I haven't seen that or another oriole for the past three days, my oriole days may be over about five weeks earlier than last year (I haven't seen any Orchard Orioles for about 10 days). Even the robins have been scarce since last week, although the House Finches consume ever more grape jelly, even in the absence of other jelly-eaters. Nonetheless, I'm hoping more orioles, along with other species, will appear as post-nesting movements continue.
Right now, I'm doing some scrambling to plan my next feeding station move – it's that time of summer to make some changes. I think a little experimenting is in order to try to attract birds I prefer while trying to avoid attracting starlings, House Sparrows, and blackbirds. I'll keep you posted.
Article and photos by Paul Konrad
Share your bird sightings and photos at editorstbw2@gmail.com