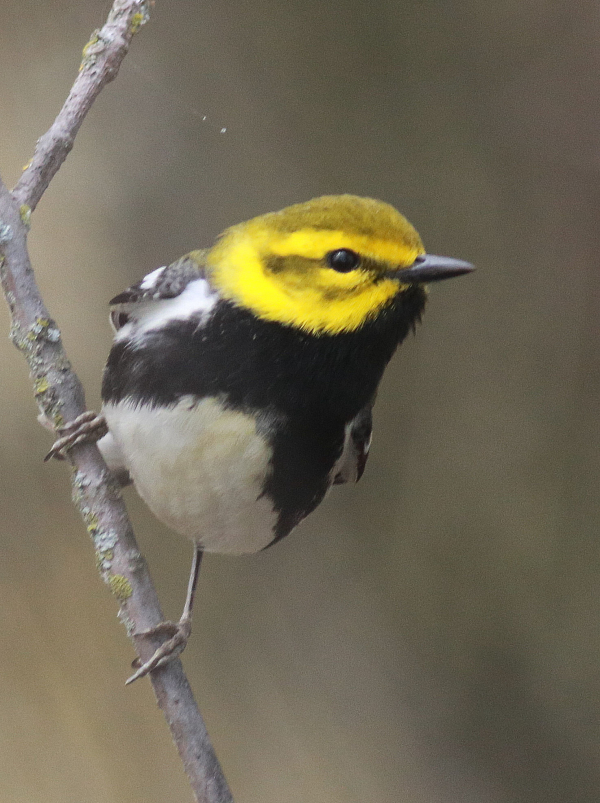 Emblematic of the hundreds of bird species being highlighted and protected by efforts of Audubon's Bird-Friendly Communities team is a Black-throated Green Warbler, a neotropical migrant (photo by Paul Konrad).
With an exciting level of success, earlier this year Audubon's Bird-Friendly Communities (BFC) team designated the week of April 19-24 as Bird-Friendly Week to coincide with the Earth Day theme, "Restore Our Earth." As a result, several Audubon chapters and centers worked to secure PROs (proclamations, resolutions, ordinances) that support bird-friendly buildings and lights out activities. The value of these efforts can be appreciated as examples of what other communities can accomplish.
PROs help to raise awareness about the importance of birds to communities and they can also include policies to protect birds. Between January and March of this year, Audubon's BFC team in concert with national staff and chapter leaders designed and hosted training sessions that included instruction about how to draft a proclamation, how to reach out to elected officials, and team building and partnerships. To help hone their communication skills, participants also learned how to best use social media to promote PROs, the power of storytelling, and the importance of recognizing the land stewardship of Indigenous people.
As a result of their PRO efforts, Audubon leaders from across the country successfully obtained bird-friendly proclamations and resolutions in a number of states:
In California, the Redbud Audubon Chapter successfully appealed to the Board of Supervisors in Lake County to have April declared "Bird Appreciation Month."
In New Jersey, Princeton University's campus Audubon chapter secured a proclamation from the Princeton Birding Society designating this year's Earth Week as "Bird-Friendly Campus Week."
In Washington, the Vancouver Audubon chapter persuaded the city mayor to declare Earth Week as "Bird-Friendly Week 2021."
In Connecticut, the Lichfield Hills Audubon chapter worked with their town to have April declared "Bird-Friendly Plants Month."
In Missouri, the St. Louis Audubon chapter worked with the St. Louis County Council to pass a "Lights Out Resolution."
In Utah, the Bridgerland Audubon chapter secured a proclamation from the mayor of the city of Logan to declare Earth Week as "Lights Out for Birds Week."
Working to secure PROs has benefits for birds and for the local organizations. In essence, PRO work does 3 things: It brings attention to the cause, builds partnerships, and grows the organizations and their capacity as they attract more people that may want to join their efforts.
To learn more about how you and your birding group can create bird-friendly communities see https://www.audubon.org/bird-friendly-communities
To learn more about individual projects listed above, you can refer to the original Audubon article at https://www.audubon.org/news/audubons-network-achieves-local-wins-earth-week