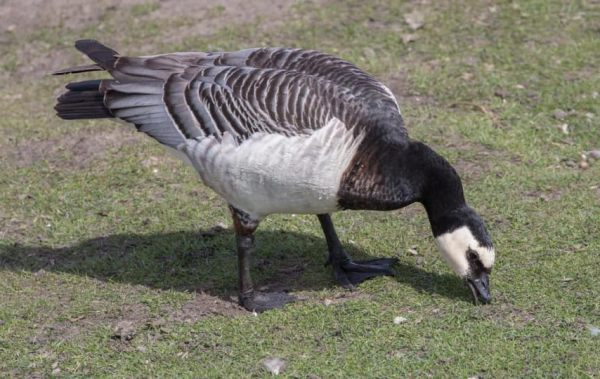 A striking Barnacle Goose has thrilled birders in Schererville, Indiana, establishing a Second State Record (photo by Gil Patmore).
An unusual swallow-like bird has created quite a stir in Brooklyn, where it has provided many birders with a first look at a Gray-breasted Martin, a First State Record for New York. A stunning Barnacle Goose has been well-documented and much appreciated in Indiana, where it represents a Second State Record for the state. And a striking male Western Spindalis is being photographed by lucky Florida birders. Other rare bird sightings included a Eurasian Wigeon in Kansas, a Varied Thrush in North Dakota, and a Mew Gull in Connecticut.
STATE & PROVINCIAL RECORDS
First State Record Gray-breasted Martin – Brooklyn, New York
Second State Record Barnacle Goose – Schererville, Indiana
REALLY RARE SIGHTINGS
Eurasian Wigeon – Lake Scott, Kansas
Western Spindalis – Pelican Island Refuge, Florida
Varied Thrush – Jamestown, North Dakota
Mew Gull – Bridgeport, Connecticut
CONTINUING RARE BIRDS
Blue Bunting – Texas
Red-legged Thrush – Florida
Black-faced Grassquit – Florida
Northern Jacana – Arizona
Streak-backed Oriole – Arizona
For more information, refer to the American Birding Association's Rare Bird Alert at https://www.aba.org/rare-bird-alert-march-19-2021/ Special Thanks to the ABA, and Nate Swick, who does such a great job of compiling the ABA's Rare Bird Alert, which we use to prepare this weekly replay.
You can often find more information about individual rare bird sightings from the state rare bird alert listserves that you can access at http://birding.aba.org/ or at https://www.facebook.com/groups/ABArare/