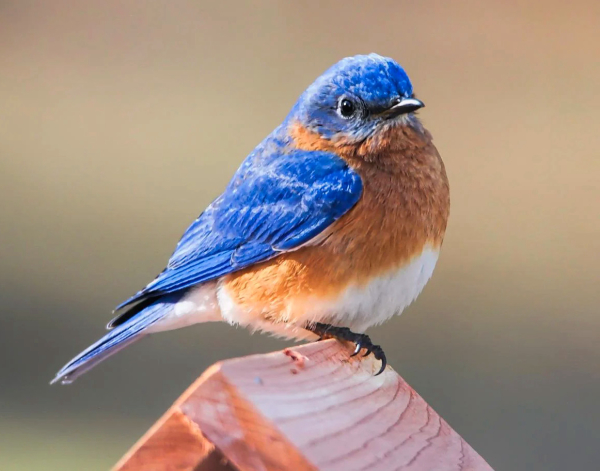 It's easy to make a big difference for cavity nesting birds, including Eastern Bluebirds.
As the nesting season progresses, we wanted to share a short story that shows that even if you start small, if you react to simple observations with a minimum of material and time, you can make a real difference and give a big boost to a small population of songbirds – specifically Eastern Bluebirds, a species of concern. Starting with just 3 nest boxes, urban birders with the help of a number of other interested people and organizations, initiated a successful effort to benefit nesting bluebirds in middle of the 4th largest city in America.
As early as 2018, members of Houston Audubon began surveying birds on a golf course that was deeded to the Houston Botanic Garden. The birders immediately noticed there were a number of Eastern Bluebirds on site, which was interesting because although Eastern Bluebirds are sometimes found in urban areas, they are not usually seen in the middle of a city the size of Houston. However, the property provided good bluebird habitat – open fields with scattered trees and plenty of low perches, with mowed grass where the birds could easily forage for insects. Because Eastern Bluebirds are a "species of concern" due to reduced numbers due to habitat loss and competition for nesting cavities from non-native European Starlings and House Sparrows, survey participants wanted to encourage the bluebirds to remain on the property.
That's when Mary Anne Morris, the Houston Audubon education director, and Charlona Ingram, a Houston Audubon volunteer, proposed installing a "Bluebird Trail," a series of nest boxes built for bluebirds to use as nesting cavities on the new property of the Houston Botanic Garden. In March 2019, the Houston Botanic Garden generously agreed to the project and even funded the purchase of bluebird nest boxes. Next to assist was the Wild Birds Unlimited Nature Shop in neighboring Pearland that supplied eco-friendly bluebird nest boxes made of recycled plastic, along with installation poles and predator guards, which provided a perfect set-up for the nest boxes. Initially, 3 bluebird nest boxes were installed on the south side of the Botanic Garden's property.
Although Covid restrictions affected the first year of monitoring the nest boxes during 2020, all of the nest boxes were used by pairs of Eastern Bluebirds, and at least 9 nestlings fledged, although there may have been more fledglings. During the second year of nest box monitoring, weekly visits from February 2021 to the end of August showed that each of the nest boxes was used by a pair of bluebirds for 2 nesting attempts, and a total of 24 bluebirds fledged!
In the future, participants plan to install more nest boxes for Eastern Bluebirds, with the potential that some other cavity nesting birds might use nest boxes too, which may include Tree Swallows, Carolina Chickadees, and House Wrens. Covering 132 acres, the Houston Botanic Garden is an excellent area for many species of birds to prosper in this piece of vital urban habitat in the midst of the sprawling metropolis.
What You Can Do:
This impressive success story shows what a difference adding and monitoring just 3 nest boxes can make. Anyone can install and monitor 3 nest boxes. Just use the formula to success described above, which we outline here: 1) Find a location where bluebirds are already present; 2) Contact the landowner about installing a few nest boxes; 3) Build or purchase nest boxes built using the correct dimensions for bluebirds; 4) Install the nest boxes in concert with a predator guard for each nest box to insure the bluebirds are protected when inside the nest box; 5) Monitor the nest boxes at least weekly to evict House Sparrows or European Starlings; 6) Enjoy the successes of your efforts and appreciate how important any nest box is that provides an option to natural cavities that remain in short supply.
While this article features nest boxes for Eastern Bluebirds, western birders can provide nest boxes for Mountain Bluebirds and Western Bluebirds, and there are 85 other cavity nesting species that nest in the United States and Canada. They range from small songbirds like House Wrens to much larger birds that include Wood Ducks, American Kestrels, Western Screech Owls, Barn Owls, and Barred Owls to name a few. Providing nest boxes is an exciting aspect of birding, it's especially rewarding, and it's an important addition to continent-wide conservation efforts.
Now is a great time to plan and prepare; to install a new nest box, to begin a new bluebird trail, or to add new nest boxes to an existing bluebird trail. Bluebirds and other cavity nesting birds are incubating eggs or feeding nestlings this very moment, and new fledglings are joining local populations across the continent. Enjoy the progress of these specialized birds – the cavity nesters – big and small. For more information about nest boxes and the birds that use them, refer to NestWatch a great resource at NestWatch | NestWatch - Where Birds Come to Life
To learn more about bluebirds, access the extensive information provided by the North American Bluebird Society at North American Bluebird Society (nabluebirdsociety.org) and to learn more about Houston Audubon and to access the original article about the bluebird trail described above, see Bluebird Trail – How Houston Audubon & Houston Botanic Garden partnered up to protect Eastern Bluebirds – Houston AuduBlog
Share your backyard birding experiences and photos at editorstbw2@gmail.com