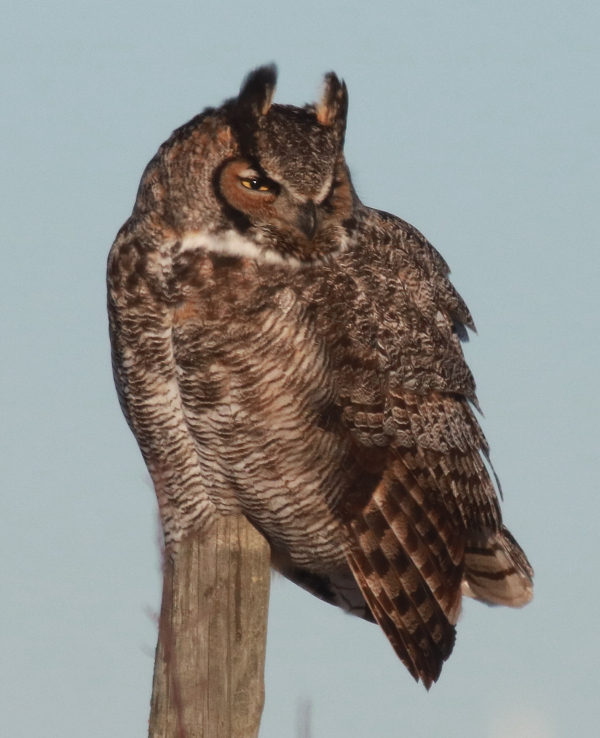 Just a mile south of home, this impressive Great Horned Owl shared some time with a neighbor with his camera and lens (Paul), before making a low gliding flight to strike at a small rodent.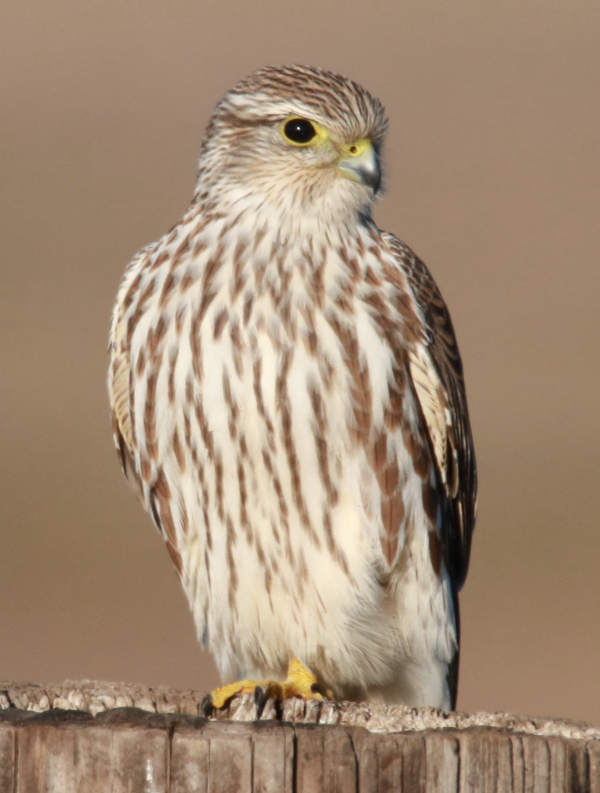 The innocent look of a young prairie Merlin belies the intense hunter of small birds on the wing.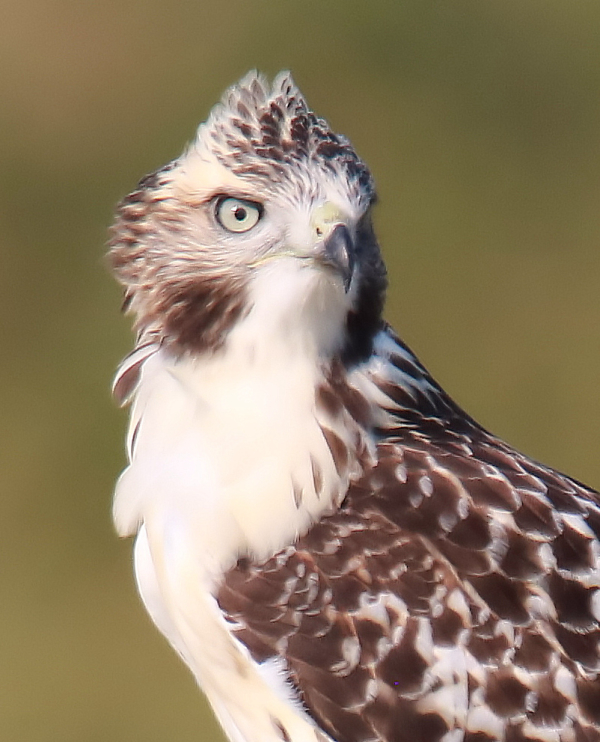 A brisk summer wind blew the nape feathers of this young Red-tailed Hawk into a crest that made it resemble a species of tropical hawk eagle.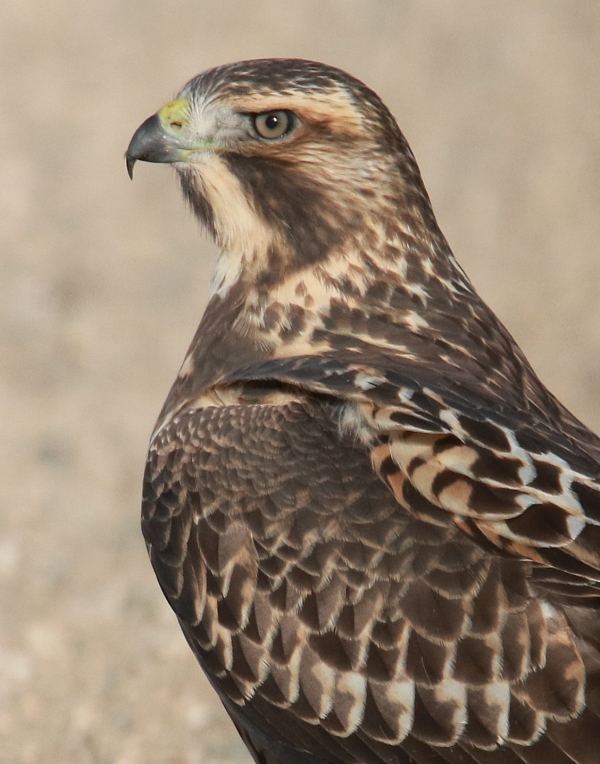 As Swainson's Hawks hunt across the grasslands of northern Argentina, memories of a bold-looking fledgling on the hunt come to mind in this close portrait.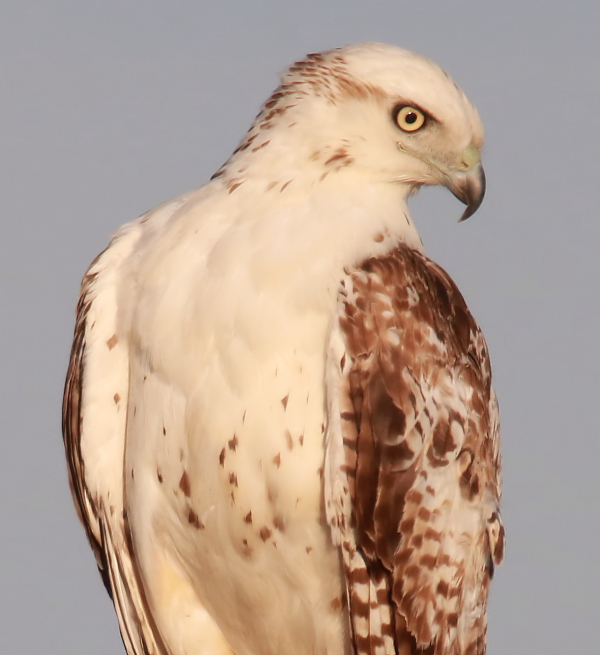 During late spring, a Krider's Red-tailed Hawk provided a number of observations within a mile of Paul's office that included a couple opportunities to photograph the light-colored raptor of the northern plains.
Winter reality in the northern plains settled in last week, providing days of blizzards and double-digit temperatures below zero. Not great birding weather, and birds were already in short supply. My one hope for a birding jolt was a super Sunday trip to SoDak to survey wintering birds of prey and check on wintering ducks. Everything looked good for a sunny day in the Pierre area with temps about 25 degrees warmer, but Saturday about sundown I had to take a reality check after a day of 30 mile per hour winds blowing snow across North Dakota highways.
The conditions would be fine in the Pierre area, but could I get there safely and in a timely fashion? I figured county snow plows wouldn't be active before sunrise Sunday, and with predicted local morning temps at –10 degrees, I had to force myself to scrap my exciting day of birding in SoDak. It was a tough call, but too often I don't consider the emergency-level conditions that tough North Dakotans face day to day from December through February, and often into March. Up to that point my birding mileage was held to a minimum by the afore-mentioned blizzard days, but I did see a Great Horned Owl during a foray north of home, along with a flock of about 25 Snow Buntings, a few pairs of Horned Larks, and a feeding flock of Ring-necked Pheasants – 2 females and 3 males.
California Dreamin'
But just after I returned from my highway check Saturday at sunset, which emphasized my decision to scrap my SoDak plan, I received an excited text from my friend Kristine. She had just returned from a field trip to the Palo Alto Baylands Nature Preserve south of San Francisco in search of the Curlew Sandpiper that migrated south from Siberia on the wrong side of the Pacific Coast. That's always a great opportunity for birders to score a new life bird – as the Asian sandpiper was for Kristine. It was one of 30 species of birds she tallied at the Baylands, and since my birding list was pretty light this week, I thought it would be fun to share Kristine's bird list with you.
Kristine's tally of shorebirds was impressive enough, with the Curlew Sandpiper at the top of the list that included Dunlins, Western Sandpipers, Least Sandpipers, Long-billed Dowitchers Black-necked Stilts, American Avocets, Killdeer, Marbled Godwits, and a Long-billed Curlew. Other West Coast wintering birds included Western Bluebirds (12), Marsh Wrens, a Golden-crowned Sparrow, White-crowned Sparrow, Song Sparrow, Yellow-rumped Warblers, Bushtits, American Crows, Turkey Vultures, Ring-billed Gulls, American Coots, Snowy Egrets, Ruddy Ducks, Canvasbacks, Green-winged Teal, American Wigeons, Northern Shovelers, Gadwalls, and Mallards. Great field trip Kristine – I shoulda been with you.
Bay Window Watch
Back home, blizzards and all, Common Redpolls continue to grace my feeding station. But I noticed early last week that the male and 2 females that usually gathered there increased to a male and 3 females – great. But the next day I noticed 3 males and a female; hmmm. Just what I was looking for to ascertain there were more than 3 redpolls visiting; indeed, there were at least 6, and probably more. Downy and Hairy Woodpeckers, White-breasted Nuthatches, and House Finches round out my feeder birds, and the very wary Blue Jay grabs some shelled peanuts every once in a while; and just as I am writing it called loudly to announce it had returned for more. I last saw the Sharp-shinned Hawk last Tuesday, as reported in last week's issue, but I'm keeping an eye pealed for it to return too.
Arctic Birds: Sunday–Monday
During daily breaks from my office Sunday and Monday afternoons, I drove a few area roads to check for avian survivors of recent snow and wind storms that carved the snowy landscape. The temperatures were still mighty cold, hovering south of zero Sunday, and just north of zero Monday. Birds were sparse at best, but it was great to get out, and people living in other areas of the country would be excited by some of the "Arctic species" I encountered.
To the north on Sunday I found a couple flocks of Common Redpolls numbering about 20 and 40, and a flock of about a dozen Horned Larks. To the south, no birds. So Monday I figured, head west young man, and just 8 miles into my drive an adult Snowy Owl materialized in flight low above the snow next to the highway. Its long white wings pumped up and down to the top of the hill where it perched on a low post. As I passed the big Arctic owl, I could see it was almost all white with just a few light-brown markings on its folded upper wings – probably an adult male.
After driving out of its sight, I made a U-turn and returned with the cold sun at my back with the hope of photographing the Snowy, but it flushed long before I was even close, this time perching on a remote hilltop. I continued a very circuitous route through the wild white landscape of rolling hills without seeing another bird, until I was circling back toward where I left the white owl. Six miles north the first owl's location I spied a large bird in the distance perched at the top of a cottonwood tree. To my glee it turned out to be another Snowy Owl, this one covered with dark-brown markings, indicating it was a first-winter bird – on the hunt. This owl was very trusting as I approached it for photos, but there were a number of budding branches that made a photo attempt impossible aside from the long-distance documentary photo of the young Snowy I settled for.
Keep in mind, I haven't seen a Snowy Owl since my initial back to back sightings on November 30 and December 1st. Monday's second Snowy was only 6 miles north of the first, less than 14 miles from my office. Well, when you least expect it …! I almost gave up on finding more Snowy Owls, so that was a great jolt back to the reality of winter birding in the northland. Between the 2 Snowy Owl locations, a huge flock of more than 100 Snow Buntings flushed, then simultaneously banked in flight to reflect the white flash of the underside of their wings and body in the sunlight – an impressive and memorable sight.
Photo Review 2021
In the Bird Photography feature of this issue I am sharing some of my favorite photographs from 2021, which I hope you enjoy in a big way. However, there were a number of photos of birds that didn't fit into the best of the best images I selected for that feature, so with a minimum of bird photo opportunities last week, I thought I would include some of them in this article – a few portraits of a memorable owl, a small falcon, and a few summer hawks I took near home. I hope you enjoy these close views of some of trusting birds I crossed paths with last year too.
Well, weather permitting I will get away for a mid-January SoDak raptor survey and winter duck photos, and I'm watching for a break in the cloudy sky that has dominated the Sax-Zim Bog for a potential return trip, and the Gulf Coast and southern California are always calling. I hope you are near a winter birding hotspot to visit, like Kristine's, or even better.
Article and photos by Paul Konrad
Share your bird sightings and photographs at editorstbw2@gmail.com