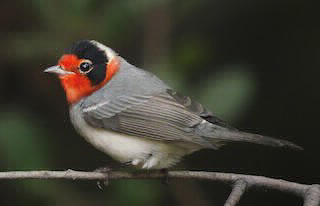 A dramatically colored Red-faced Warbler has been thrilling birders in the San Diego area (photo by Derek Mameister).
Three Second State Record birds were discovered last week, including a Canada Warbler in Washington, a Short-tailed Hawk in Georgia, and a Great Crested Flycatcher in Idaho. Add a Red-faced Warbler and Common Ringed Plover in California, Long-tailed Jaegers in Iowa and Missouri, a Black-legged Kittiwake in Connecticut, plus the Asian gems of a Middendorf's Grasshopper Warbler, 2 Dusky Warblers, and 3 Siberian Accentors on Gambell Island, Alaska, and you have a stellar week of rarities, but there's more.
STATE & PROVINCIAL RECORDS
Second State Record Canada Warbler – near Ephrata, Washington
Second State Record Short-tailed Hawk – Loundes County, Georgia
Second State Record Great Crested Flycatcher – Montour Wildlife Area, Idaho
REALLY RARE SIGHTINGS
Red-faced Warbler – San Diego, California
Middendorf's Grasshopper Warbler – Gambell Island, Alaska
Dusky Warbler (2) – Gambell Island, Alaska
Siberian Accentor (3) – Gambell Island, Alaska
Common Ringed Plover – Lake Tolowa, California
Purple Gallinule – Detroit, Michigan
Swallow-tailed Kite – Earlham, Iowa
Roseate Spoonbill – Gibsonburg, Ohio
Black-legged Kittiwake – New Haven, Connecticut
Pomarine Jaeger – Saylorville Lake, Iowa
Long-tailed Jaeger – Saylorville Lake, Iowa
Long-tailed Jaeger – Smithville Lake, Missouri
Red-footed Booby – Morro Bay, California
Townsends' Warbler – Brooklyn, New York
Ovenbird – Ritzville, Washington
CONTINUING RARE BIRDS
Little Stint – California
Common Shelduck – Quebec
Little Egret – Delaware
Berylline Hummingbird – Arizona
For more information, refer to the American Birding Association's Rare Bird Alert at https://www.aba.org/rare-bird-alert-september-10-2021/ Special Thanks to the ABA, and Nate Swick, who does such a great job of compiling the ABA's Rare Bird Alert, which we use to prepare this weekly replay.
You can often find more information about individual rare bird sightings from the state rare bird alert listserves that you can access at http://birding.aba.org/ or at https://www.facebook.com/groups/ABArare/