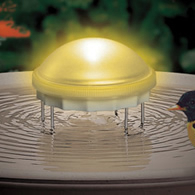 The lighted Aurora Water Wiggler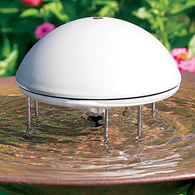 The Water Wiggler
Fresh water attracts more kinds of birds than any single bird food, and moving water is all the more attractive to birds, especially birds new to your area as they begin migrations from northern nesting territories. The Water Wiggler from Duncraft keeps water moving with a rippling action and runs on two DD batteries. A unique lighted version is the Aurora Water Wiggler that features a dome that illuminates in a cycle of 6 different colors at dusk.
For more information about the Water Wiggler from Duncraft, see https://www.duncraft.com/Water-Wiggler And to learn more about the alternating lighted option – the Aurora Water Wiggler – see https://www.duncraft.com/Aurora-Water-Wiggler
For more information about a variety of bird bath and water feature accessories, see the Backyard Birding article in this issue of The Birding Wire.