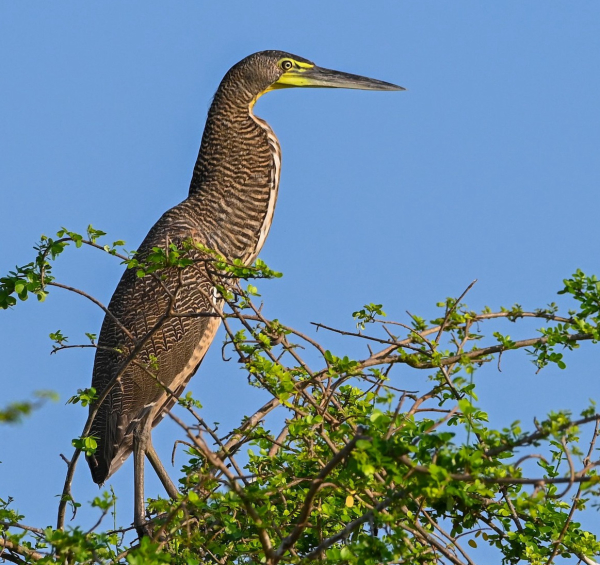 While searching for Brown Jays at Santa Margarita Ranch near Cotulla, Texas, birders identified a Third North American Record Bare-throated Tiger Heron, which also established a Third State Record for Texas (photo by Michael Gladysz).
Weekly Rare Bird Highlights
A super-rare Bare-throated Tiger Heron was sighted at Santa Margarita Ranch in southwest Texas, creating a Third North American Record and a Third State Record! Birders also established a number of state records including a First State Record Broad-tailed Hummingbird in Illinois, a First State Record Eastern Towhee in California, a Third State Record MacGillivray's Warbler in Philadelphia, Pennsylvania, a Sixth State Record Groove-billed Ani in Nevada, and a Sixth State Record Limpkin in Nashville, Tennessee. And there are many other exciting rare bird sightings to report.
NORTH AMERICAN RECORD
Third North American Record Bare-throated Tiger Heron – Santa Margarita Ranch, Texas
STATE & PROVINCIAL RECORDS
First State Record Broad-tailed Hummingbird – Champaign, Illinois
First State Record Eastern Towhee – Jacumba, California
Third State Record Bare-throated Tiger Heron – Santa Margarita Ranch, Texas
Third State Record MacGillivray's Warbler – Philadelphia, Pennsylvania
Sixth State Record Groove-billed Ani – Henderson, Nevada
Sixth State Record Limpkin – Nashville, Tennessee
Ninth State Record Black-throated Gray Warbler – Accokeek, Maryland
REALLY RARE BIRDS
Roadside Hawk – Resaca de la Palma Park, Texas
Roadside Hawk – Bentsen Rio Grande Valley Park, Texas
Fork-tailed Flycatcher – near Langdon, Kansas
Great Skuas (2) – offshore Nauset, Massachusetts
Curlew Sandpiper – Baltimore, Maryland
Pomarine Jaeger – Green Valley, Arizona
Swainson's Hawk – New Haven, Connecticut
White-tailed Kite – near Glencoe, Oklahoma
Gray-crowned Rosy Finch – near London, Ontario
Brown Booby – Peggy's Cove, Nova Scotia
CONTINUING REALLY RARE BIRDS
American Flamingos – Florida, Louisiana, Texas
Large-billed Tern – Florida
Blue Bunting – Texas
Nutting's Flycatcher –Texas
LaSagra's Flycatcher – Florida
Brown Jays – Texas
Golden-crowned Warbler – Texas
You can often find more info about individual rare bird sightings from the ABA state rare bird alert listserves that you can access at Birding News brought to you by American Birding Association - (aba.org) or at ABA Rare Bird Alert | Facebook