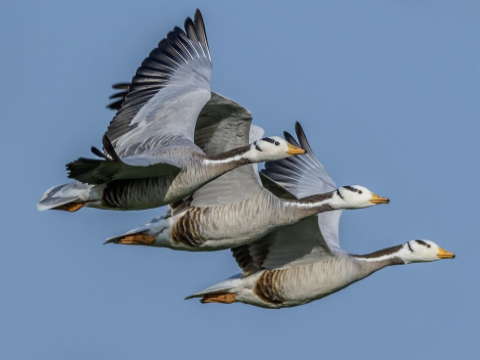 During one of the Migration Celebration webinars, you can Learn about Birds of the World and their remarkable migrations, including long-distance waterfowl migrations such as those undertaken by Bar-headed Geese in Asia (photo by Nitin Chandra).
The Cornell Lab's annual Migration Celebration offers a full schedule of Free Live Events for birders of all ages September 13-24. Please register in advance to enjoy a variety of events, including Amazing Migrations, Riveted by Raptors, Masters of Flight (K-12), Ruby's Birds (family story time), Migratory Journeys Mapped, In the Illustrator's Studio, and much more. Included in the mix of great programs you can join Bird Academy instructor Dr. Kevin McGowan on Friday September 17 at noon Eastern Time, as he investigates birds of prey and their migrations.
Also join science illustrator Jane Kim in her studio as she share insights into her work, which includes the famous Wall of Bird mural, and includes an audience Q&A session. Join Jane Wednesday September 15 at noon Eastern Time.
In addition to the live webinars, there is also a wealth of reading material referenced about birds for you to utilize and enjoy. Learn more about the Migration Celebration at the Cornell Lab of Ornithology at https://www.birds.cornell.edu/home/visit/migration-celebration/