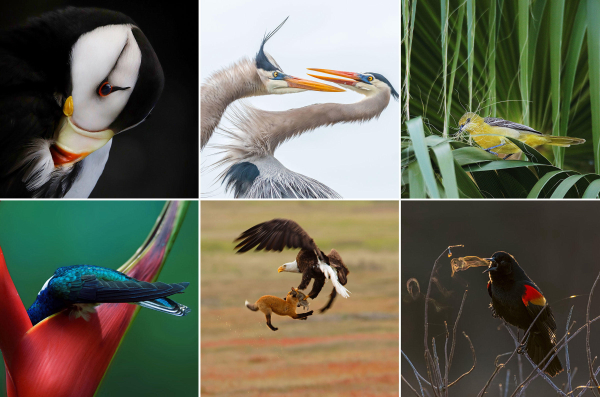 A collage of the six 2019 winning photos. Who will win the six 2020 contest categories of the Audubon Photography Award Contest
Monday, the National Audubon Society and Nature's Best Photography announced the 2020 Audubon Photography Awards Contest open from January 13 through April 6. So get your best bird photos ready, or start planning for your next photo field trip get your next best bird photos and get in the spirit to enter the contest by April 6th. Contest judges will score eligible photographs on technical quality (30 percent), originality (30 percent), and artistic merit (40 percent).
The 2020 Audubon Photography Awards Contest will feature six categories, six winners, and six prizes: one Grand Prize, one prize in each of the four Divisions (Professional, Amateur, Youth, and Plants for Birds), and one Fisher Prize. The Youth Division is open to entrants who are 13 to 17 years of age.
To find out how to enter and other imperative criteria, you can get all the official rules and information about the 2020 Audubon Photography Award Contest, including the impressive prizes that will be awarded at https://www.audubon.org/get-outside/audubon-photography-awards-official-rules