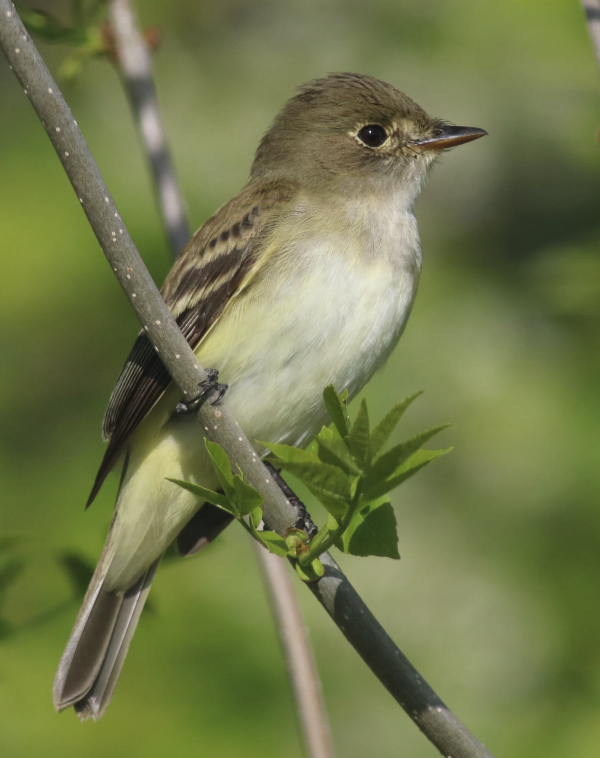 You need quality optics to correctly identify small flycatchers you encounter, and great optics improve every birding experience (Least Flycatcher photo by Paul Konrad).
As birders, our binoculars tend to be our most important equipment in the field and in our yard, but when shopping for binoculars and other optical equipment, we tend to be confronted with terms that mean little to most of us, and we wish for a definition of such terms as we read product descriptions. What are "Phase-Corrected Coatings" and how do they help binocular quality? And how about such terms as Extra-Low Dispersion Glass (ED Glass), and Internal Coatings. What is Chromatic Aberration?
When you are next confronted with such optics tongue-twisters, give Optics4Birders a call, and you may have a chance to visit with Steve Sosensky, who provided the following information for quick reference.
Phase-Corrected Coatings help to increase the sharpness of your binocular view. In the late '90s, phase correction was only found on more expensive binoculars. Now, every binocular priced at more than $100 has phase-correction coating.
Chromatic Aberration is caused by the edges of an objective lens acting like a triangular prism, splitting the light into its component colors. When the light emerges from the eyepieces, the colors focus at distances away from the lenses. This makes your eyes and brain try to eliminate the problem by constantly refocusing, which causes eye fatigue when you use your binoculars for extended periods of time. To the rescue: ED glass.
Extra-Low Dispersion Glass (ED Glass) is used to reduce chromatic aberration. ED glass reduces the spread of the prism effect. Made with a variety of materials that provide a wide range of costs and success at fixing the problem, ED glass or crystal that contains fluorite compounds are the best of all.
High-Definition (HD) – What about "HD" binoculars? The term "HD" is actually a marketing term that doesn't reference the quality of the glass (no optics glass has HD in its name). Some manufacturers use the term HD for optics that have ED glass, while other companies use HD to describe improved versions of lower quality binoculars. Whenever you see the term HD used, be sure to read the description carefully, or ask a pro.
More Internal Coatings
There are a wealth of new internal and external coatings. The most important internal coating is one that is applied to the prisms. Made of aluminum (good), silver (better), or dielectric material (best), these coatings improve the amount of light reflected through the internal prisms of binoculars.
External Coatings
The most important external coatings are given a different name by every manufacturer, but all these coatings do essentially the same thing: They resist scratching and repel water, dirt, and oil, helping to keep your binocular lenses clean and water-free, even when you're birding in the rain.
Each of these features increase the price of a binocular, and top of the line binoculars have them all. If you have a problem with your current binocular, look for a binocular that addresses that problem specifically. And always read the binocular model descriptions to discover which binoculars fit your needs and your budget best.
Article by Steve Sosensky from Optics4Birding (toll free 877-674-2473)
To explore the world of birding optics, including an amazing variety of brands of binoculars, spotting scopes, and a wealth of accessories, all in one place, see https://www.optics4birding.com/
Share your birding experiences and photos at editorstbw2@gmail.com