Common Goldeneyes, among the most attractive diving ducks, were a dominant cold-weather duck in the area.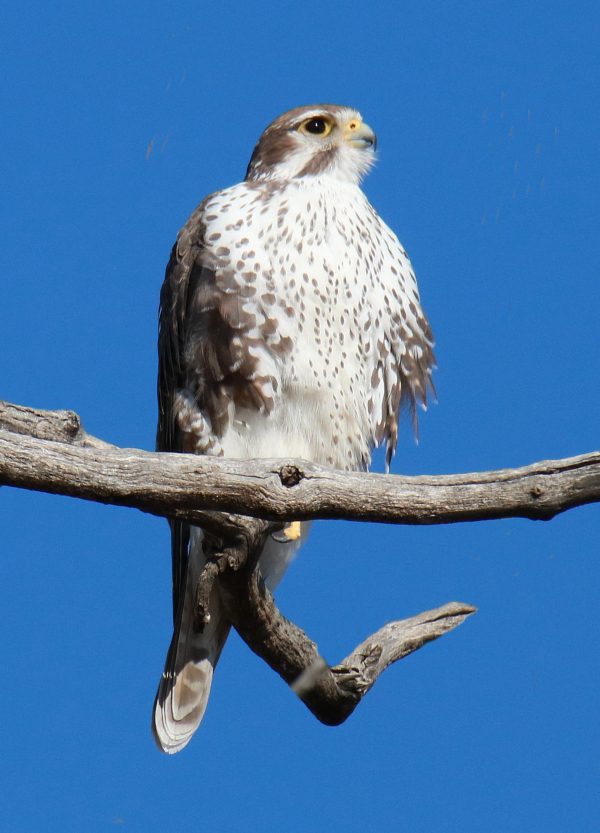 The huge Prairie Falcon added a surge of excitement to the SoDak raptor hotspot trip last Thursday. You can learn more about this photo in this issue's Bird Photography feature.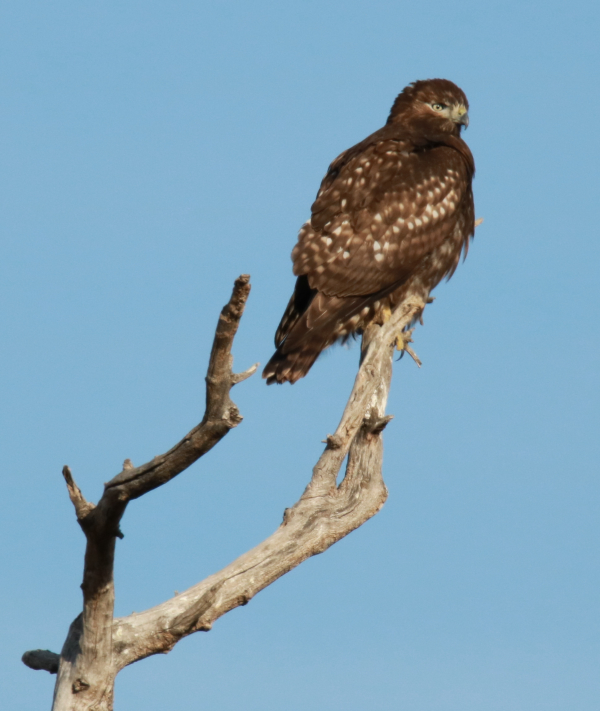 The original photo of the dark morph Harlan's Red-tailed Hawk that is also featured in the Bird Photography feature this week.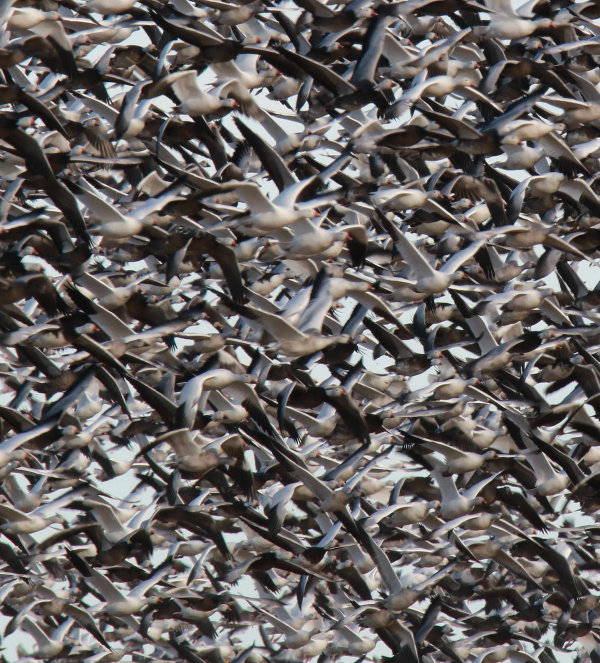 A very small portion of a "wall of geese," created when a Bald Eagle flew toward a cloud of geese foraging in a harvested cornfield.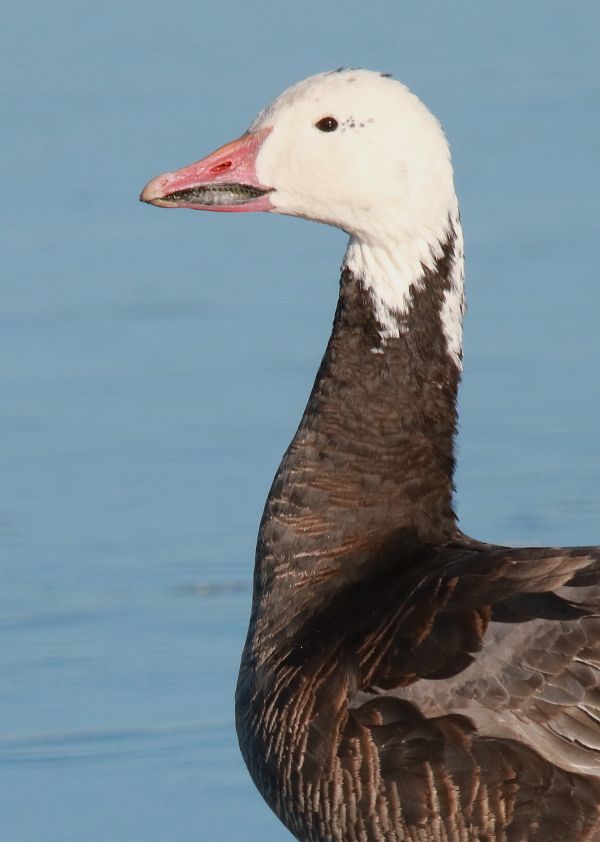 At the opposite end of the spectrum, a close portrait of a regal blue morph Snow Goose examines the features of a single bird apart from a cloud or wall of geese.
On my inaugural trip to my SoDak winter raptor hotspot, a personal hope was to get some photo opportunities, especially with falcons. After only seeing a few Rough-legged Hawks and 2 Red-tails before reaching the capitol city of Pierre, I hit the jackpot when from a distance I thought I was seeing a Red-tail beaming its white breast into the sunshine; it was a big raptor, perhaps even a rarer Ferruginous Hawk. So I was doubly surprised to see it was a really huge female Prairie Falcon perched high in a grand gnarled cottonwood – beautiful bird!
The falcon permitted me to take a series of photos before taking flight, propelled on pointed wings as it gained momentum, then flashed into a thrilling slicing dive a few feet off the ground to flush scattered sparrows and larks from the grasses. The sleek falcon circled and found another lone cottonwood in which to perch. Raptors were thankfully more abundant thereafter, with a total of 34 exciting birds of prey made up of 7 species sighted along the familiar route.
My interest in going early in the season was to get a baseline impression and count of eagles, falcons, and hawks along my regular transect from home to 100 miles beyond Pierre, South Dakota – 300 miles total one way. Realistically though, raptors are usually rare until I get within 40 miles of Pierre. Checking my records for when I made a similar early season trip, I found that 2 years before my raptor total was 35 birds (November 19, 2019), which is about 30 percent of potential peak numbers from mid-December through January. A personal hope was to get some photo opportunities, especially with falcons, so the big Prairie Falcon helped there. But the biggest difference was in the eagle department. In 2019, my November Golden Eagle total was a single bird, but last Thursday I managed to find 7 adult Goldens along the way. One was especially trusting on its low perch, but the only cloud in the sky robbed me of quality lighting during that particular 10 minute period.
My other best photo opportunity Thursday afternoon was a dark morph Harlan's Red-tailed Hawk on a low wooden power pole, but it quickly took flight to reposition to a sun-bleached branch that provided a far more pleasing photo setting. That particular dead cottonwood branch has provided many photo ops with a number of Bald Eagles, Red-tailed Hawks, and a couple Golden Eagles perching there over the years. Rough-legged Hawks seemed elusive Thursday, although I did have another opportunity to photograph another dark morph Harlan's Redtail with and interesting blackish tail bordered with a brown terminal line.
Overall, my count for the day included 13 Rough-legged Hawks including 2 dark morph birds, 10 Red-tailed Hawks including 2 dark morph Harlan's Red-tails, 7 Golden Eagles, only 1 Bald Eagle, the big female Prairie Falcon, a small male Cooper's Hawk, and a male Northern Harrier. Of course, there were many other birds along the way, including a Northern Shrike, 6 Hooded Mergansers, a male Common Goldeneye, 3 Greater Prairie Chickens, and 3 Ring-necked Pheasants (that must be the minimum count for the South Dakota state bird).
There were also a couple huge flocks of Snow and Ross's Geese on each side of the Dakota border, and at a wetland in northern South Dakota a good number of White-fronted Geese, Cackling Geese, Canada Geese, and a trio of Tundra Swans. There were also huge numbers of Canada Geese in the Pierre area with a minimum of Cackling Geese mixed into some groups. A trio of Western Meadowlarks, a few scattered Blue Jays, and a western red-shafted Northern Flicker rounded out the birds of note.
Geese, Eagles, Merlin
Back home Friday, after getting a start on this week's issue of The Birding Wire the windless sunshine inspired me to try a midday survey of the area. Within my usual home range, not more than a few miles from home, I found 4 "clouds" of geese including percentages of 5 species, but mostly composed of Snow Geese. There were also 6 Tundra Swans on a goose lake, while Mallards could be seen feeding and loafing on the edges of the huge flocks of geese. On a lake just 2 miles north of my office there was a new scattering of ducks in the ice-edged water – about 120 Common Goldeneyes, the first of the freeze-up season. With all but the largest lakes frozen, and only one ice-free, geese have formed a "super-cloud" on that ice-free lake numbering in the 5 digits, but whether its 15,000 or 40,000 it's frankly hard to tell, but the sights and sounds are phenomenal.
Some of the flocks had attendant Bald Eagles that flush the geese periodically; I counted 5 eagles Friday, but that number will continue to grow as temperatures drop during forthcoming nights. I also caught sight of a small falcon; I expected it was a Merlin, but wasn't willing to count out a kestrel. I followed in the direction of its flight, and when I stopped and scanned with binoculars I was able to pick up the mini-falcon's flight as it landed on a sapling branch – a Merlin for sure, a male. The previous day in SoDak I was expecting more Bald Eagles and a Merlin or 2, but it turns out my home range still holds some late-season raptor potential.
On my way home I appreciated seeing a flock of 8 Snow Buntings flash white as they banked into the sunshine. Each day the weather seemed to get colder, the ice seemed to be increasing, and some geese seemed to be moving on, even though there were still a couple big flocks in the area plus the reduced super-cloud to the north. Sunday there was a break-through when I sighted the first late-season flock of Common Mergansers, 7 in all, swimming along the edge of the ice in an opening on a big lake to the south. I also counted 2, 12, 30, and 16 Common Goldeneyes in similar lakes with some open water surrounded by ice. The big flock of 120 Goldeneyes I counted Friday appeared to have relocated, perhaps to the south.
Little changed Monday, except there were 5 Bald Eagles perched in dead cottonwoods adjacent to the super-cloud lake – 2 adults, 2 first-year immatures, and 1 white-belly Bald (2 or 3 years old). That's the biggest group of eagles in the area to date, but high counts during previous years have been above 30, so there are more to assemble, no doubt.
Up here in the northern outback, we're entering the period when special avian things can take place overnight, and when a single bird can make the biggest impression. But it's important to get out there and find those special birds and the huge flocks of waterfowl that November brings. We will all be busy over this Thanksgiving week, but make a personal effort to enjoy some birding, getting into our great outdoors. Share your birding interests with family or friends, and enjoy some personal time with your binoculars in hand and your camera within reach. Happy Thanksgiving!
Article and photos by Paul Konrad
Share your bird sightings and photographs at editorstbw2@gmail.com