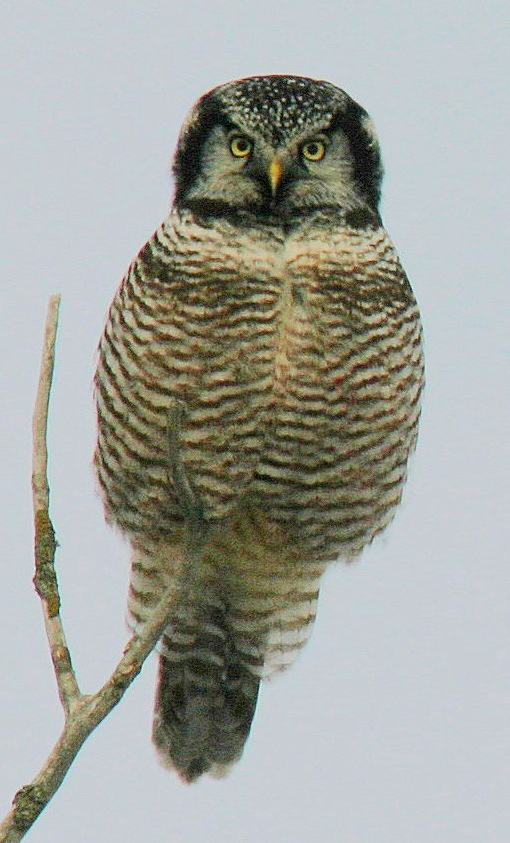 The first of two life bird experiences, was provided by an active Northern Hawk Owl.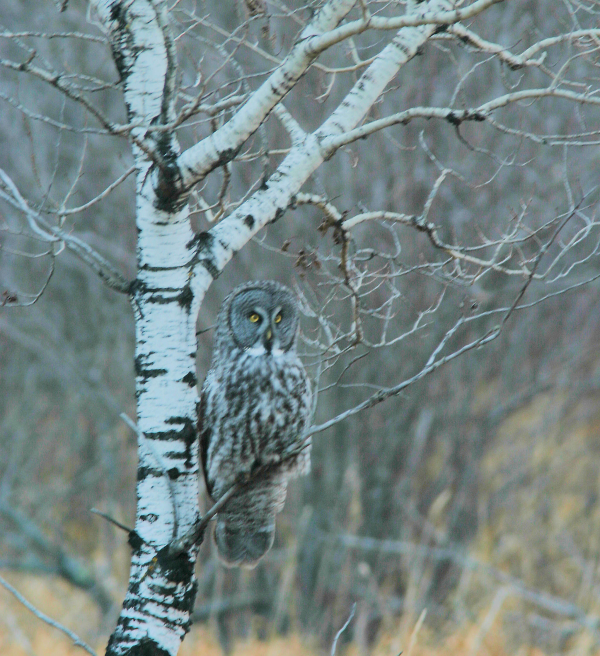 Among a variety of wintering birds of the pine forests and bogs, a total of five Great Gray Owls made this a memorable Minnesota Northwoods experience.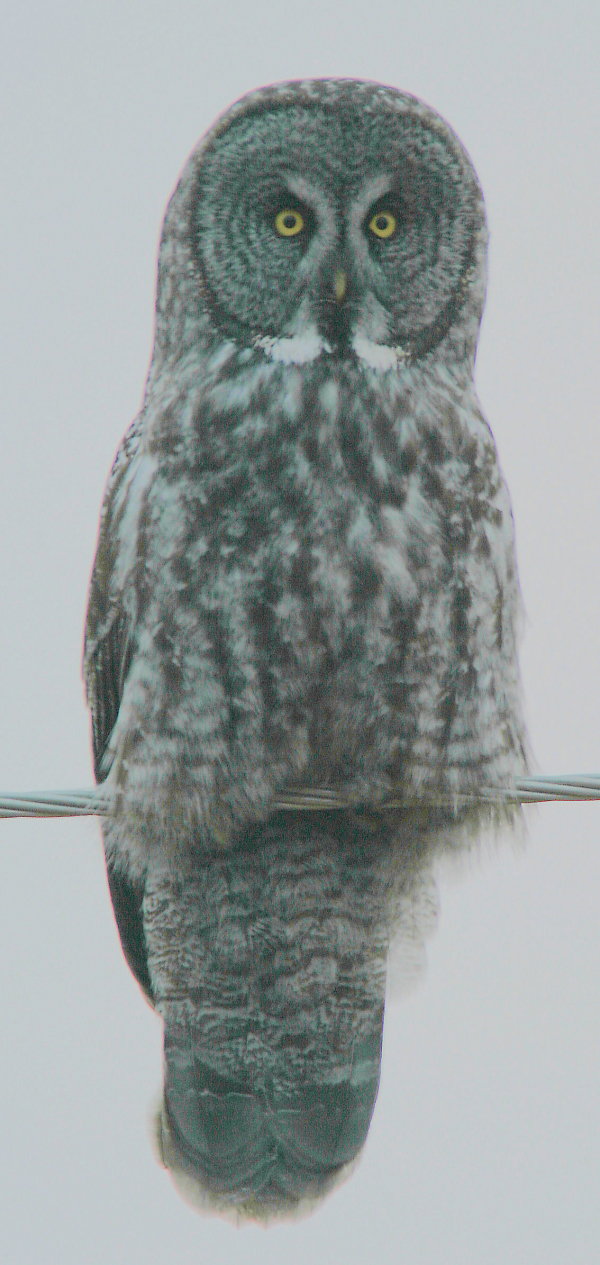 With an inch of new snow glistening in the morning sun, adding to the three feet of cold white stuff piled below it, I packed my car in suburban Minneapolis for a Minnesota Northwoods owl adventure. Although it was an opportunity to find a number of special winter species in the boreal forest, I was focused on finding two birds – a Northern Hawk Owl, one of the tougher birds to find in the continental United States, and a Great Gray Owl, another rare owl that ranks among the largest owls in the world. I had never seen either of these spectacular owls before, so they would be "life birds" if I could find them. In all honesty, if I could find one of the two I would be thrilled.
In moments I was headed for the bog, the Sax-Zim Bog, and didn't look back 'till I was beyond the town of Coquette, just west of the eastern edge of Lake Superior. By then, the temperature was climbing toward zero and the sun was shining, so this was just the break in the unusually cold winter weather that I was waiting for.
As I approached the Bog, the first bird I saw turned out to be one of my target species – a Northern Hawk Owl was perched atop a dead snag 50 yards north of the road. I stopped and verified my hunch through my 8x binoculars, which revealed a classic view of a Northern Hawk Owl with its small yellow eyes beaming toward me.
Suddenly, the mid-sized owl took flight – not in fright, but to search for prey. To my delight, the hawk owl flew low in my direction, which offered me an excellent opportunity to see it in action. As it dipped down to about seven feet above the deep white snow, its long wings and characteristic long tail offered a classic view as it winged across the road in front of me. It landed atop a tall pine on my side of the road, so I pulled my car into position below the "life owl" to view it at close quarters, as well as photograph it in the winter light. What a treat!
This region of the state is the heart of the Minnesota Northwoods where pine forests dominate the landscape. It's a beautiful winter wonderland, and even though I was in search of owls, I was also watching for Moose, Wolves, and other wildlife. An adult Bald Eagle provided my next photo opportunity, and a Canada Jay and Northern Shrike presented themselves before I encountered a flock of colorful Pine Grosbeaks – true winter gems. After these interesting boreal birds, I spied a fine adult Northern Goshawk, which is always a rare find. The Gos took flight, propelling in a half-circle as though hunting, coursing just above low willows and slipping between short tamarack trees in typical Accipiter fashion. What a great sightings in the Northwoods!
As I resumed driving, from fully a half-mile away I sighted a big silhouette that I imagined was my true point of interest this cold winter day. Indeed it was, and even as I pulled over near the big owl, I noticed a second Great Gray Owl perched near it, in the heart of the famed Sax-Zim Bog. I stopped within 12 feet of the first owl and began focusing my camera's 400mm telephoto lens on the life bird. The distinctive owl eventually looked directly at me with piercing eyes that held my attention until, suddenly, the big owl launched itself forward and I instinctively photographed it, a move I would later celebrate when I saw the fine action photo that resulted.
The owl stopped its flight just in front of my car where it hovered buoyantly, as if its stocky body was weightless. It fluttered over the cover of snow, waiting for the right moment to plunge feet-first toward potential furry food – a mouse or vole. But the chance to intercept a small rodent evidently passed, and the owl returned to its perch to resume its search for winter sustenance.
The second owl attracted my attention down the road, and then I noticed a third Great Gray – three Great Gray Owls hunting within 100 yards! In retrospect, this area turned out to be an amazing owl hotspot; along a five-mile drive I found five Great Grays and four Northern Hawk Owls active in the area as the sun began dipping low in the winter sky.
As I rounded a corner just down the road, I left the open bog habitat and passed into a mystical forest of pines laden in a thick cloak of snow. From the depths of the snowy northern forest a white wolf slipped into view, its head held low, as if on the track of a fresh scent. Amazing, this white wolf – until I realized it was a large white wolf-shaped dog. Even so, today the call of the wild was not the howl of a wolf or the call of an owl, but the magnetic attraction that lured me to a new location in search of birds I'd never seen before on a day when the mercury would never warm to zero. That's a true call of the wild.
Article and photographs by Paul Konrad
If you are interested in a Northwoods birding experience, the upcoming Sax-Zim Bog Birding Festival will take place February 14 to 16 with a great mix of events and field trips in which to participate, not to mention the super list of birds you can find in this unique birding location, just west of the birding hotspot, Duluth. For more information, see the festival website at http://www.saxzimbirdingfestival.com/birding-festival/field-trips/