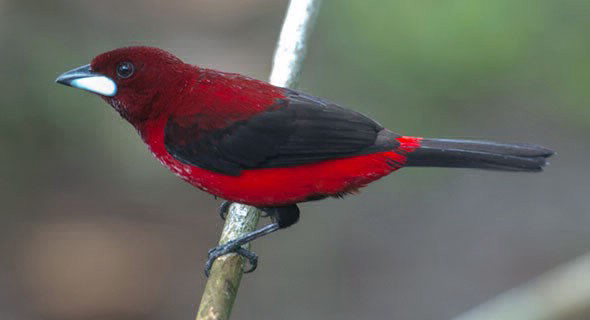 A Crimson-backed Tanager is among a multitude of tropical species and neotropical migrant birds featured in The Birders, filmed in northern Colombia.
The Birders, an enjoyable documentary film about birding in northern Colombia, shows the impressive diversity of birds found there – a destination of many North American neotropical migrants such as warblers, vireos, orioles, tanagers, and more. The film brings you along for the highlights of days afield with Colombian birding guide Diego Calderon-Franco and National Geographic photographer and videographer Keith Ladzinski as they traveled through one of the most bird-diverse regions in the world to film a variety of birds including some rare endemic birds.The Birders leads you through the northern Colombia landscape, highlighting several of its top birding locations, along with aspects of local culture and music related to birds.
"Birding in Colombia is a real adventure, and the guides and biologists are always finding new things," says film director Gregg Bleakney; and Diego Calderon agrees, "Being a birding guide in Colombia is absolutely crazy; we are basically living the Victorian times of exploration. You can choose a remote corner of the country and almost for sure you will find surprises: New species, new subspecies, new range extensions. Colombia is a box of surprises!"
Today, you can enjoy a birding trip to northern Colombia and never leave your favorite easy chair by viewing The Birders online at https://www.youtube.com/watch?v=T-jn1_thxK8
See spectacular manakins, toucans, quetzals, tropical tanagers, amazing hummingbirds, owls, falcons, euphonias, antbirds, and many more.
The team will show you highlights from their trip, including the birds of El Dorado Bird Reserve in the Santa Marta Mountains, including the Minca area; Tayrona National Nature Park, Los Flamencos Sanctuary in the Guajira Peninsula, and El Chamicero Bird Reserve in the Perija Mountains. Along with the remarkable birdlife and exquisite landscapes, The Birders incorporates an original score from local musicians inspired by bird songs featured in the film – a real treat.
Share your birding experiences anytime at editors2tbw@gmail.com