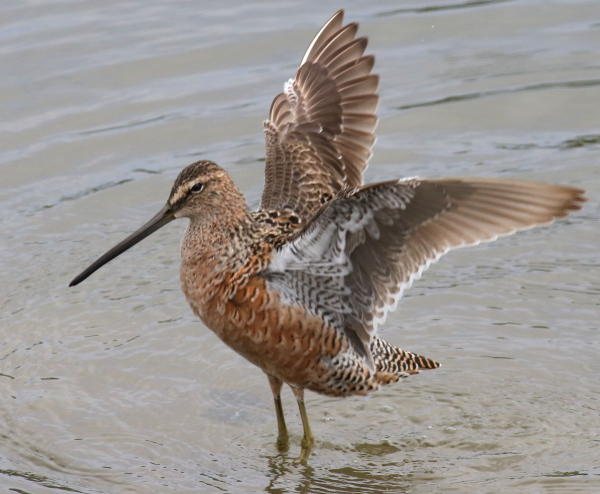 Birds are migrating by the millions some nights, and you can track nightly migration activities and migration forecasts at BirdCast (Long-billed Dowitcher photo by Paul Konrad).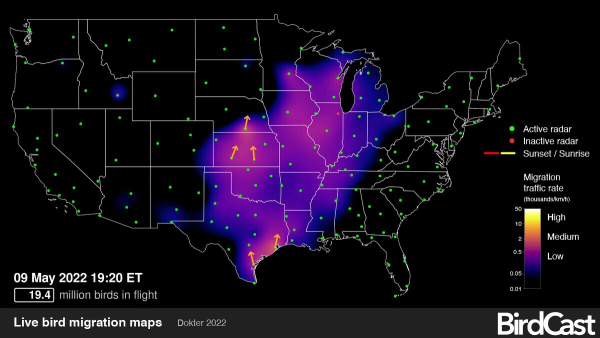 This live bird migration map recorded May 10 shows a strong migration across much of the eastern half of the Lower 48 States (illustration by the Cornell Lab of Ornithology and Colorado State University).
Be sure to take advantage of the remarkable bird migration information available at BirdCast, which provides real-time maps that show the intensities of overnight bird migration as detected by the US weather radar network across the Lower 48 States from local sunset and sunrise each night. It's exciting to see these maps in action, and you can check back on maps from past nights throughout the season. BirdCast also provides 3-Day Local Bird Migration Forecasts for the night you check in and the next 2 nights, which can be very helpful when planning migration-based birding trips.
The BirdCast radar maps and associated webpages are remarkable tools for birders! Whether you are at home, on a field trip, or planning a birding trip, you can check the migration potential for coming nights, or refer back to previous nights to study the pulses of fall migration. What a great information source for birders.
To view BirdCast's live migration maps for the Lower 48 States, see Live bird migration maps - BirdCast
Access 3-Day Local Bird Migration Forecasts at Local bird migration alerts - BirdCast – just type in the name of the city and state you are interested in.
To see Forecast Maps that illustrate the projected 3-Day migration levels across the Lower 48 States, refer to Bird migration forecast maps - BirdCast
And to get an in-depth analysis of the numbers of birds that pass over your county or state, including some information about what species will be migrating during the current period, just type the name of your county or state into the Dashboard at BirdCast - Bird migration forecasts in real-time