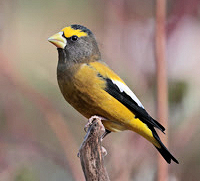 Evening Grosbeaks are among the exciting "finches" that move from the Boreal Forest to areas of southern Canada and some northern states.
This should be a good season to see northern finches in traditional hotspots such as Ontario's Algonquin Park, New York's Adirondack Mountains, and Quebec's Laurentian Mountains, as well as Atlantic Canada and the northern New England states. According to finch mavin Tyler Hoar, this year's finch migrations won't be an irruption year, but some southward movements of crossbills, grosbeaks, finches, siskins, and redpolls should be observed into their normal wintering areas in southeastern Canada and the northeastern United States.
Movements of most northern finches will vary by species and their location in the Boreal Forest with respect to weather and seed production. Birders should be able to find most species, but it won't be like last year when they came to so many people's yards and neighborhoods; this year birders will very likely need to search for finches in prime hotspots.
For more information, including species by species forecasts for winter finches, along with 3 irruptive non?finch passerines with movements that are often linked to finches (namely Blue Jays, Red-breasted Nuthatches, and Bohemian Waxwings). To learn more, follow the news and updates provided by the Finch Research Network at WINTER FINCH FORECAST 2021-2022 By Tyler Hoar – FINCH RESEARCH NETWORK (finchnetwork.org)