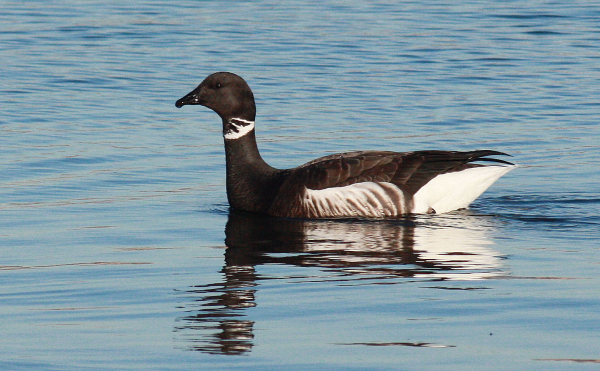 A Brant was photographed at Lake Park in West Valley City, Utah, a suburb of Salt Lake City. This Brant is apparently the first recorded in Salt Lake County, and the first Brant sighted in Utah in more than a decade.
Last week Hammond's Flycatchers and Pink-footed Geese dominated the rare bird sightings, along with a diversity of other off-course birds. Florida's Third State Record Hammond's Flycatcher was photographed at Corkscrew Swamp Sanctuary in southeast Florida – with some deliberation of its true identity. Pink-footed Geese were reported at two locations in Pennsylvania and one in Connecticut, and a Redwing was found in Newfoundland. California also received a second winter visit from a Garganey, which returned to a West Sacramento pond – and it's the second Garganey teal in the state with another wintering teal that has been monitored for several weeks on the edge of the Salton Sea!
STATE RECORD
Third State Record Hammond's Flycatcher – Corkscrew Swamp, Florida
REALLY RARE SIGHTINGS
Redwing – Lumsden, Newfoundland
Garganey – West Sacramento, California
Pink-footed Goose – near Philadelphia, Pennsylvania
Pink-footed Goose – near Fogelsville, Pennsylvania
Pink-footed Goose – near New Haven, Connecticut
Fork-tailed Flycatcher – near Santa Rosa, Texas
Hammond's Flycatcher – Martha's Vineyard, Massachusetts
Bullock's Oriole – Pineville, South Carolina
Brant – Salt Lake City, Utah
Red-necked Grebe – near Cross Plains, Texas
Slaty-backed Gull – Half Moon Bay, California
Mew Gull – Port Aransas, Texas
CONTINUING RARE BIRDS
The following ultra-rare birds were first sighted and reported here during previous weeks, but they continue to be monitored by birders, just in case new people wish to see them, and to add to records about these birds that are so rarely found in North America:
Garganey – Salton Sea, California
La Sagra's Flycatcher – Everglades National Park, Florida
Rare birds are gems among our familiar avifauna that add a high level of excitement among birders week after week. Be alert throughout 2020!
For more information, see the American Birding Association's Rare Bird Alert at http://blog.aba.org/ and scroll down to reach the Rare Birds report. Special Thanks to the ABA, and Nate Swick, who does such a great job of compiling the ABA's Rare Bird Alert, which we use to prepare this weekly replay.
You can often find more information about individual rare bird sightings from the state rare bird alert listserves that you can access at http://birding.aba.org/ or at https://www.facebook.com/groups/ABArare/