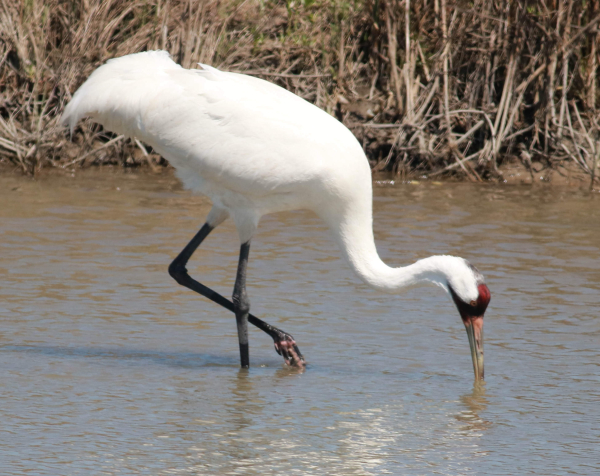 The latest winter census indicates 543 Whooping Cranes, including 31 first-year juveniles, wintered along traditional Texas coastal areas (photos by Paul Konrad).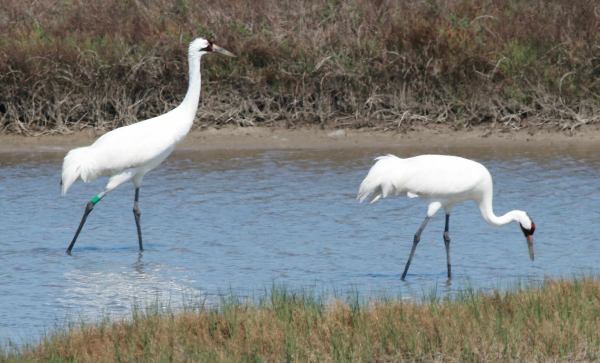 Whooping Cranes are one of the rarest and most endangered species of birds in North America. Last winter, biologists conducting aerial surveys estimated that 543 Whooping Cranes, including 31 first-year juveniles, arrived on their coastal Texas wintering range after migrating 2,500 miles from their nesting territories in and near Wood Buffalo National Park in Canada. US Fish & Wildlife Service biologists conducted the census in the coastal area covering about 160,125 acres centered on Aransas National Wildlife Refuge near Austwell, Texas.
This is very welcome news that indicates this native Whooping Crane population has increased since the last winter survey conducted during the winter of 2019-2020, when it was estimated 506 Whoopers were present. "It is exciting to see another record year as Whooping Cranes continue to increase in number and expand their winter range," said Wade Harrell, the Whooping Crane Recovery Coordinator.
Each fall the birds migrate south to Aransas National Wildlife Refuge and surrounding Texas coastal areas, where they spend the winter. Most years, biologists with the US Fish & Wildlife Service census the endangered cranes during arial surveys to monitor Whooping Crane population trends and recruitment rates in the Aransas-Wood Buffalo population.
To refer to the report provided by the US Fish & Wildlife Service, you can refer to Record High Number of Whooping Cranes Wintered in Texas | U.S. Fish & Wildlife Service (fws.gov) and for more information about Aransas National Wildlife Refuge, see Aransas National Wildlife Refuge | U.S. Fish & Wildlife Service (fws.gov)