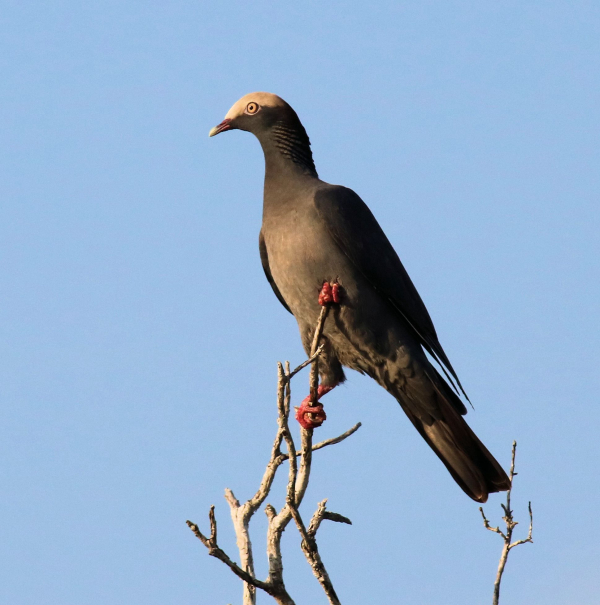 White-crowned Pigeons are among 269 species listed as Birds of Conservation Concern by the US Fish & Wildlife Service (photo by Paul Konrad).
To help protect migratory birds, last week the United States Fish & Wildlife Service (USFWS) released its new report: Birds of Conservation Concern 2021. The publication identifies 269 species of birds that are considered high conservation priorities for the Service that deserve proactive attention. This science-based information will be used for cooperative research, monitoring, and management actions that can directly or indirectly affect migratory birds with the help of federal, state, tribal, international, and private partners.
With such seemingly common birds as Western Grebes, Marbled Godwits, Pectoral Sandpipers, Bobolinks, Allen's Hummingbirds, Black Terns, and Western Gulls, every birder should be aware of the extensive list of birds included in this new report. So what happens now?
The Neotropical Migratory Bird Conservation Act (NMBCA) was passed 21 years ago, which spurred new opportunities for innovation in bird conservation that continues today. This year, birds and people throughout the Americas will benefit from a new round of projects under the Act that utilize more than $27 million in federal grants and matching funds across 23 countries in the Western Hemisphere.
There are 386 species of neotropical migratory birds that migrate to and from and through the United States each year. In addition to their role in pollination, seed dispersal, and pest control, birds also provide early warnings of the effects of climate change and environmental contamination, and contribute billions of dollars to the economy through the birding and bird feeding industries.
The NMBCA provides critical support each year for bird conservation and research across the Western Hemisphere. It is the only source of federal funding solely dedicated to the conservation of our shared migratory bird heritage. This year, more than $4.8 million in federal funds will be matched by more than $22.5 million in partner contributions going to 30 collaborative conservation projects in 23 countries across the Americas.
"Birds bring millions of Americans joy and a connection to nature. Migratory bird conservation extends beyond our borders and depends on partnerships with other nations as well as states, tribes, conservation organizations, and corporations here in the United States," said USFWS Principal Deputy Director Martha Williams. "What happens in Latin America and the Caribbean affects many of the birds that visit our yards every spring and summer. These grants will support cooperative conservation projects and research throughout the hemisphere."
For a full list of birds listed in the Birds of Conservation Concern, refer to the Tables in the PDF provided at https://www.fws.gov/migratorybirds/pdf/management/birds-of-conservation-concern-2021.pdf
To learn more about the benefits of the Neotropical Migratory Bird Conservation Act, see https://www.fws.gov/news/ShowNews.cfm?ref=more-than-$27-million-announced-to-fund-the-protection-of-migratory-b&_ID=36911