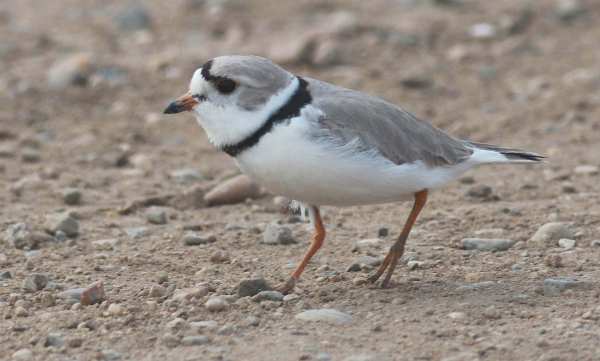 Observing and photographing a pair of Piping Plovers was one of the highlights of Friday's birding extravaganza.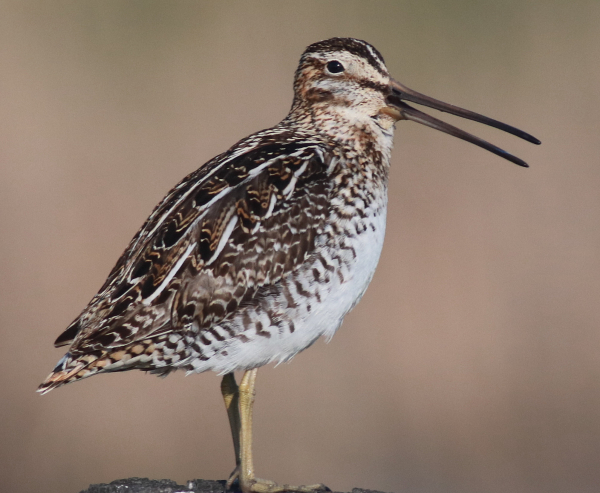 With the area alive with the haunting calls of Wilson's Snipe day and night, it was fitting to have a snipe trusting enough to call territorially in this birder's company.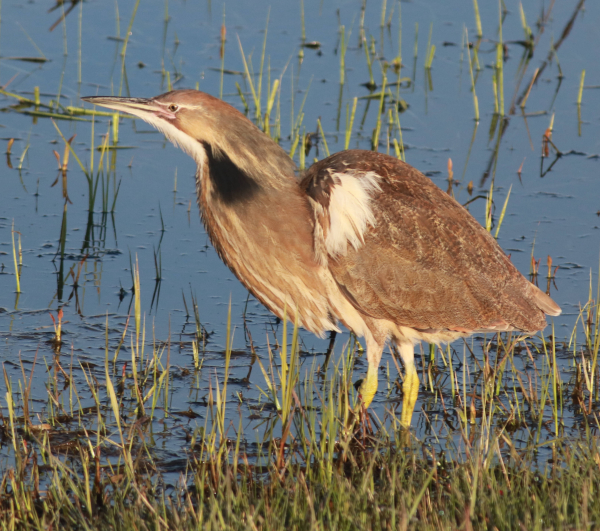 After several minutes of not moving a feather, a male American Bittern let loose its booming call while performing a dramatic display that propelled its neck and head upward, then back, twice in rapid succession.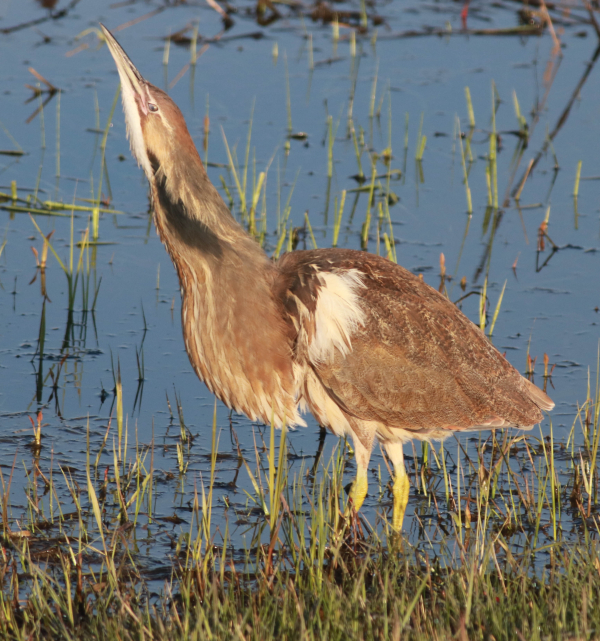 Although the male American Bittern was displaying for a smaller female several yards away, not even this dramatic peak of its display seemed to affect her. Nonetheless, it did not go unnoticed or unappreciated by the photographer.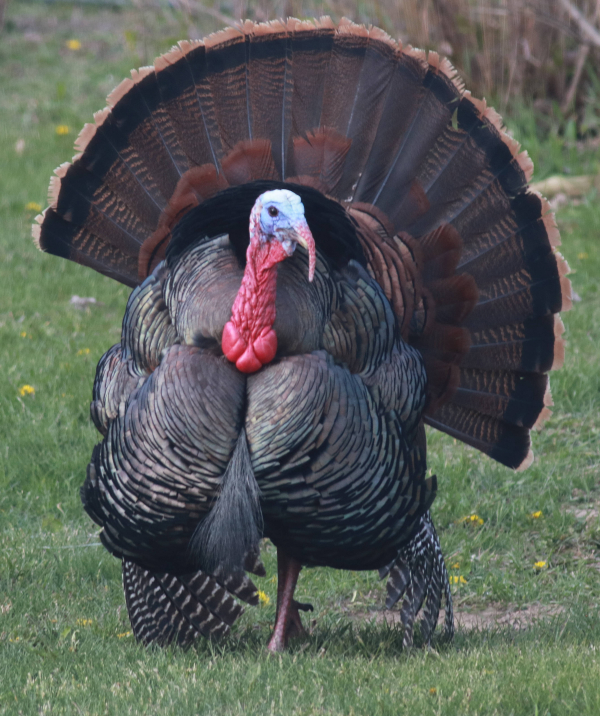 After searching for an opportunity to photograph a displaying Wild Turkey throughout this spring season, a quick unplanned drive provided an exciting observation of a gobbler in a full strutting display, complete with a few "gobbles."
After a remarkable day photographing warblers Thursday, I enjoyed a spectacular day of birding Friday that was filled with surprising photo events that made me think this duo of days must compare among some of my best days afield in Dakota. After the intense wind Thursday that helped keep the warblers, thrushes, and flycatchers near ground level, Friday was virtually windless with glassy wetlands reflecting blue sky and memorable birds.
Just a mile south of home, I found a displaying male American Bittern in beautiful morning light, with a less obvious smaller female was standing about 20 feet down the shoreline. The female took a several steps away from the male that never moved a feather for a couple minutes. But suddenly he sparked into an almost mechanical series of head and neck movements during which he emitted the characteristic bittern call, which I enjoy but often describe as the glugging of bad plumbing. But the accompanying head and neck display was an exciting surprise to view and photograph. I was ready for the action and took a series of photos of the display, which was repeated twice in uninterrupted succession.
I sometimes wish I was a videographer when such behavior breaks out in front of my camera, but I'm a bona fide still photographer, and I've found that works best for me. Even so, considering the amount of action photography I've enjoyed lately – the fighting pheasants, the displaying pair of Western Grebes, the American Bittern displays, and more – it makes me think twice. I left the bitterns to their beautiful Dakota morning and headed 14 miles southeast to the Schoolhouse Grove for a check on the warbler action.
The day before this migrant trap was engulfed by warblers, so I was a bit surprised the little songbirds were almost all gone from the grove, apparently off to the next stopover farther north. There were a very few Yellow-rumps foraging high in the tree tops with the absence of a wind. That was a bit of a setback; there I was with beautiful morning light and no photo ops. Plan B was simply to continue on my regular birding route.
Morning's Array
Another bittern, Redheads, Ruddy Ducks, and Hooded Grebes denied me any photos, but a little farther along an active Wilson's Snipe was perched next to the road. I stopped and photographed it, then appreciated him calling as I took a series of images. After a couple calls, I continued to the next stop – a rare first-year Swainson's Hawk, which was nowhere near as photo-helpful as the snipe. Along the edge of a circular lake, were mixed species groups of White-crowned Sparrows, Harris's, Clay-colored, Chipping, and Song Sparrows; plus a few warblers including a couple Common Yellowthroats, a colorful Palm Warbler, and a few Yellow-rumps.
I have had hopes of getting some photos of adult White-crowned Sparrows this spring, so was happy to get a couple chances. I pursued the palm, a yellowthroat, and some Harris's Sparrows without luck, but it's always worth a try when conditions are perfect amid the windless scene that featured the lake that showed not a ripple, but harbored a variety of ducks, Giant Canada Geese, and Double-crested Cormorants.
I retraced my route homeward, but didn't find anything to make me stop until I neared the morning bittern photo site. I didn't see a bittern near their original location, but across the road I saw what appeared to be the male hunched over the little female in mid-copulation. It was quite a sight with the male looking absolutely monstrous compared to the female, both in size and appearance.
Bismarck Bound
After such a full morning, I still intended to drive to Bismarck as soon as possible, but after my sunrise start I knew I needed a short siesta before hitting the road. Luckily, a catnap was all that was required, and soon I was driving northwest with my next intended stop at McKenzie Slough, 17 miles east of Bismarck. The infamous McKenzie site has produced remarkable birding photo opportunities each of the past two week – third time's a charm, they say. The light wasn't great and I didn't really begin the drive through the expansive wetland with a lot of hope. After all, I had such spectacular times the past two weeks that these hit-and-miss quick stops couldn't continue forever, could they?
Halfway down the road my mobile blind was enveloped by an swirling frenzy of Black Terns flying low from just above ground level to about 20 feet high, obviously prompted by a concentration of small flying insects. Many Yellow-headed and Red-winged Blackbirds added to the pandemonium of the scene, but I didn't linger, hoping for other photo options. Realistically, this scene would have bested "The Birds" film depictions by a longshot.
There was a wealth of birdlife along the way, although none that would produce quality photos, even as the light improved with the thinning clouds. As usual, I turned around at the south end of the marsh and returned north toward McKenzie. The tern and blackbird frenzy had subsided a bit midway, and amid the swirling chaos something caught my eye. Among the black birds, a couple small mostly-white long-winged birds flew swiftly and directly through the other birds. I followed their flights with special interest, initially thinking they might be Least Terns. Then something clicked; they were even rarer than Least Terns – birds I have not encountered for decades – Piping Plovers!
Another McKenzie Thrill
I watched the Piping Plovers land on the gravel road in front of me, on the edge of the feeding frenzy. I checked them out with binoculars and wished for the chance to photograph them with more than a documentary image. The little plovers quickly blended in with the earthen road, barely discernable until they moved. At first it was tough to inch ever-closer as the plovers moved away in similar increments as they gleaned fallen insects from the ground. The male provided a much-appreciated breakthrough when he turned tail and began walking directly at me, grabbing insects along the way.
When the it veered to my side I was thrilled to get some nice photos of the rare plover, including a couple with short green grass in the background. I spent more time observing the pair as they foraged, and was interested by the female's apparent pre-nesting and pre-copulation displays. She simply laid down in a location of her choice, rustled her belly back and forth to make a makeshift depression before the male. Then she tipped her closed wings outward and elevated the rear points of the wing feathers while lowering her head and lifting her tail upright – that looked like a pre-copulation display to me.
A Piping Plover nest site is merely a little depression in the sand, usually on a sandbar or island shore. This could be part of the pre-nesting behavior, and the male showed some interest in the female's display from a distance. He crouched a bit to hold his head and body horizontally as he walked nearby, then stopped to do what seemed to be a distraction display, during which he picked up invisible food successively. At times he would also act territorially and aggressively chase Yellow-headed Blackbirds that came too close to the female, running low with its throat feathers expanded to look like jowls; then stretching up in a "tall" stance with his tail spread and wings held apart from its body in front of the blackbird. During the most intense interactions the male finished the aggressive run by taking a short flight consisting of a few wingbeats in the blackbird's direction. The male also appeared to expand the feathers of his black neck collar to make it twice as wide during some interactions with blackbirds, which was revealed in my photos.
I have seen Piping Plovers nest on the edge of a remote gravel road that was being inundated by high water before, but this road seems to be too well-traveled to be used for nesting (although only two vehicles drove by per hour). At the end of my observations, the male approached my position again, providing a nice photo interaction; then he ran past me and took a short flight a few yards down the road. The female followed in similar fashion, so I thought it was a good time to leave the plovers on their own.
Oh yes, during my time along the big marsh drive-through there was another birder photographing birds. I was happy to see her and stopped to visit a moment when our paths crossed. In the wide open spaces of Dakota, you don't get to see many other birders in the field, and that's always a favorite way of meeting people.
Turkeys Too
I had all but given up on bird photography for the day, just because I needed to do some quick shopping in Bismarck before businesses closed. But when the Thai restaurant said my takeout order would be 40 minutes and the sun was shining in south Bis, I drove toward the Missouri River beyond the southwest end of town to take a quick look for Wild Turkeys. I have been hoping to find a displaying gobbler this spring, but it was evident I was early when I checked on turkeys in the area a couple times during April. With all the seemingly heightened avian sexual activities going on Friday, I figured maybe the timing is right, even though my time was limited if I wanted a warm Thai dinner.
Even so, the first turkey I saw was a displaying gobbler, although the location prevented me from getting anything but a very long-range image, and his tail wasn't fully expanded. But as I began to return for Thai, I saw a turkey cross a side road, so turned in that direction, only to be surprised by a big displaying tom turkey on the opposite side of the roadway. Wow! I turned around and positioned myself to take advantage of the sun, and the turkey did the rest. There was a hen nearby that showed faint interest, but the gobbler did his thing in earnest, turning this way and that, and gobbling a couple times in the process. It was great fun during a quick side trip – but that's the way my Friday was progressing, and it was a great way to end such a memorable day of birding!
Article and photos by Paul Konrad
Thursday's birding highlights are chronicled in the Bird Photography article in this issue. Share your birding sightings and photos at editorstbw2@gmail.com