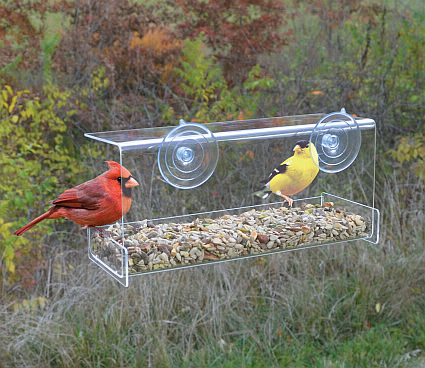 The Songbird Clear View Deluxe Open Diner Window Bird Feeder
Window feeders are great for introducing kids to birds – up close – although we all enjoy close looks at favorite birds. Songbird Garden offers a variety of see-through window feeders, including the Clear View Deluxe Open Diner Window Feeder, which features a durable polycarbonate construction that provides an unobstructed view of birds. The twin suction cup mounting style and size of this feeder make it perfect for larger windows. The open tray seed reservoir holds more than 4 cups of the seeds of your choice in the 4¾ x 11¾ x 6 inch feeder.
It's easy to fill and clean, and a clear roof overhang protects the seed tray from rain or snow and has ample drainage slots in the base to ensure seeds remain dry during inclement weather. Birds that use this feeder include cardinals, chickadees, goldfinches, grosbeaks, nuthatches, siskins, redpolls, sparrows, titmice, and woodpeckers.
For more information about Songbird Garden's Clear View Deluxe Open Diner Window Bird Feeder and many other window feeders, along with many other birding products, see https://www.songbirdgarden.com/store/scripts/prodlist.asp?idCategory=215