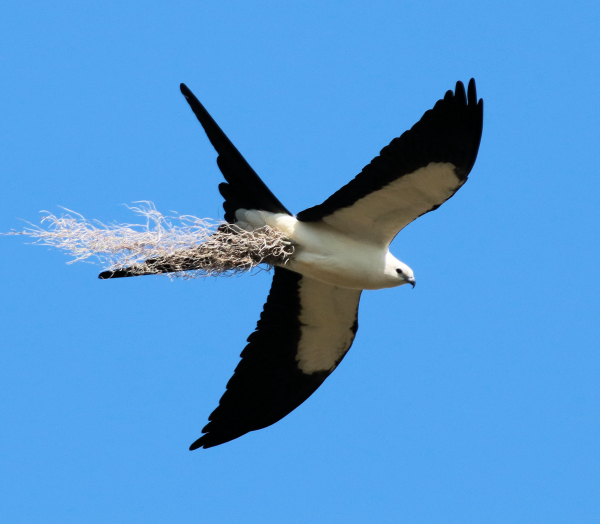 Deep in the Everglades, a Scissor-tailed Kite carried some Spanish moss, a common nest material, perhaps as a display for a perspective mate.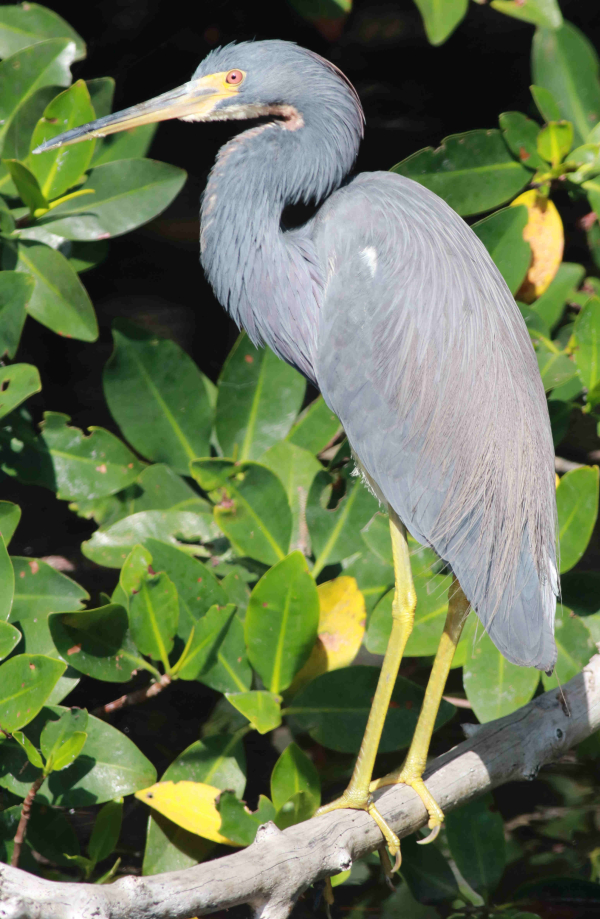 A tranquil setting for a Tricolored Heron on the edge of mangroves at Sanibel Island.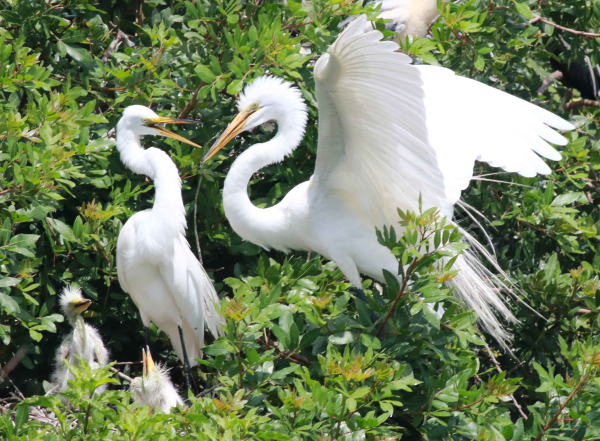 Although some Great Egrets were still gathering nesting material at the Venice rookery, this pair and others were already busy feeding and protecting nestlings.
Deep in the heart of the Everglades, I reveled at the opportunity to study Wood Storks as they began their nesting period at their annual rookery, along with Roseate Spoonbills and Great Egrets, possibly in the company of Tricolored Herons, White Ibis, and Anhingas that were present but possibly yet to begin nesting. The rookery was about 200 yards away, so it was hard to ascertain all the activities among the trees and other vegetation, but the Wood Storks provided a wealth of exciting opportunities to photograph them as they flew by and overhead – what a thrill!
Other birds included an occasional Osprey, Swallow-tailed Kite, Green Heron, Great Blue Heron, Snowy Egret, White Pelican, Double-crested Cormorant, and Red-shouldered Hawk, plus the ever-present Turkey and Black Vultures. This location and its birds left me in awe the first morning, so how could I resist returning Saturday morn? Conditions were similar, but the second visit was much more tranquil; the birds weren't as active. But it provided an opportunity to appreciate another of the joys of birding; and I wrote:
"How lucky to be sitting on the edge of a quiet pond in the depths of the Everglades. What a lucky morning! So many shades of green, so many shades of blue in the water and sky; with the sky broken by occasional tropical birds. This was my ultimate destination for this trip – my fourth Everglades visit, and a rare chance for contemplation and cleansing – deep breathes of fresh air, feeling the morning sun's warmth, appreciating the silence, broken only by the periodic sounds of birds – true relaxation amid nature at its best."
A swish of air suggested the passing Belted Kingfisher zipped by very close as it veered behind the nearest mangrove. It rattled its favorite call as a Green Heron flew from north to south just above the water. Perhaps I was partly satiated by the productive day of bird photography the day before, which is highlighted in this week's Bird Photography article near the end of this issue. I soaked in all the meditative vapors I could before resuming my never-ending search for the next bird (ha-ha).
Only a few hundred yards south, I found the bird of my daydreams – a Swallow-tailed Kite – gliding low with a stringer of Spanish moss in its talons. It snapped me into action as I began taking a series of photos of its elegant flight. The moss is often used as nesting material by Swallow-tails, and this bird may have been advertising to another out of my vision, or it may have been wishfully thinking about attracting a mate.
Another Swallow-tail stopped me as it glided above the trees lining the last stream that leads to the south end of the Florida peninsula. I followed the buoyant circling flight of the kite through my telephoto lens and marveled at the unequalled beauty of flight these aerodynamic birds seem to create so effortlessly. That's when I realized why I have such an affinity for these beautiful birds – their flights are unparalleled. They are mesmerizing; you get caught in their enchantment, then they vanish. You want more, and you seek other kite flights, and there are always more, as long as you look in the right places.
This was one of those places; another kite did appear, gliding, dipping, circling, then diving; with another gliding into view to join the first. What fun view! Suddenly there were 6 or 7 – what was happening? They were all within a very small area of air space, so close, and making my pulse jump – and then they were gone again, all of them! After a couple minutes of searching the sky, another appeared and I watched as it soared and circled and I wondered about the others as the last kite sailed into the distance above the coast. It was time to reverse course and drive north from the southernmost mainland coast now; onward, onward.
Across Florida
My first Florida field trip was from the Gulf Coast to the Atlantic Coast, from Tampa to Merritt Island National Wildlife Refuge. I have long been interested in visiting Merritt Isle, but the last time I was in the area, it was pouring rain as I reached the area, and that's when I received a telephone call from work, asking me how quick I could return to California – Ha! So this time I put it at the top of my list, and the weather (sunlight) turned out to be much better than predicted. For the most part, the birds were pretty predictable too, but exciting nonetheless – until I found the mystery bird!
Across an open expanse of water, I spied an unusually colored wading bird with pied white and gray feathers. It was an intriguing bird and one I immediately wished I could get some photos of, but for the rest of the story, I will refer you to the Birding Lifestyles article in this issue – or maybe you have already had a chance to see it by now. Along with the mystery bird, Tricolored Herons seemed to be the dominant waders, along with White Ibis, plus a few Little Blue Herons (mostly white morphs), Snowy Egrets, Great Blue Herons, and Great Egrets. There were also Common Gallinules, large rafts of American Coots acting very socially, a few ducks including single Mottled Ducks, perhaps suggesting females were incubating, plus Northern Shovelers and Blue-winged Teal. Ospreys were common, and a few Red-shouldered Hawks were present too, and among this array of birds were scattered Greater Yellowlegs.
Nearby I visited Cape Canaveral National Seashore, where I hoped to find some interesting southern shorebirds, but only Willets availed themselves during my quick view of a stretch of the Atlantic shore. I did however see many Glossy Ibis in adjacent wetlands that were absent from the refuge, plus a couple Florida Scrub Jays in the more inland scrub woods,
During the drives from one side of Florida to the other, most birds seemed to be in the stretch south of Orlando, where I observed the first of my Florida Sandhill Cranes, a few young Wood Storks – the first of the trip – and pairs of Wood Ducks in a couple duckweed-covered ponds. Oh yes, and several flocks of Cattle Egrets too, several with their cinnamon-colored accents on white alternate plumage.
The weather report showed that Friday was going to be the best sunny day of the week, so I wanted to be in the Everglades for that, but knew it would take me many hours to get down to the national park entrance west of Miami, especially because I would make a few stops along the way. Thursday as I finished packing it began raining, as predicted, so I drove south from Tampa with some sketchy weather, but reached my first stop – the Venice Rookery – in time to have lunch before the sun broke through the variable clouds and sprinkles. The Venice Rookery is a favorite stop for bird photographers – located in a little island in a pond on Audubon property on the south side of the city of Venice.
A variety of colony nesting birds was present, with some species deep into the nesting process already while others were in the midst of nesting and others were just beginning to display in advance of nesting. All in one view you could see young Great Blue Herons that were ready to fledge from the nest, with Anhinga tending downy or partly feathered nestlings. The most obvious birds were the Great Egrets, with some pairs feeding half-grown nestlings while others were still bringing sticks to their selected nest sites with much displaying ongoing. A lone Snowy Egret displayed from a lower location, as a Glossy Ibis preened amid the bright green leaves of a willow tree and a Black-crowned Night Heron slipped in and out of some of the lower vegetation. Ospreys and vultures were regular sights overhead, and periodic groups of White Ibis did flybys. On a neighboring pond, about 2 dozen Black-bellied Whistling Ducks were loafing along the shore. It was a great place to stop and absorb the rites of spring at the rookery, while photographing some of the action.
Next stop was Sanibel Island, off the coast of Fort Meyers. This was one of my favorite birding hotspots in the nation to visit during the 1990s, but during my past 2 trips it was terribly disappointing to be blunt. During this visit to the national wildlife refuge, I only observed a few birds – 2 lone Reddish Egrets on the hunt quite a distance into the water, a Swallow-tailed Kite that toyed with me as I tried to get into position to photograph its hunting flights, and a Tricolored Heron that was especially open to my photo advances as it perched on the edge of some mangroves. A flock of Willets, a flock of Double-crested Cormorants, and a few Anhinga and Osprey flyovers rounded out the birds of the day at Sanibel.
Then it was on to the Everglades, as described at the beginning of this article, and the Bird Photography feature in this issue. Whew, Florida sure is a remarkable birding state! And it's big, with plenty of locations to explore, visit, and revisit. The birds are ever-changing it seems, year to year and day to day – heck, hour to hour. And that the fun of any birding location, hang in there and you never know what will transpire next!
Back in Tampa, I completed this issue of The Birding Wire and enjoyed the company of Blake, Casey, and Krista. Their neighborhood is filled with the sights and sounds of Florida birds, including Northern Cardinals, Northern Mockingbirds, Black-bellied Whistling Ducks, White Ibis, Laughing Gulls, Red-shouldered Hawks, Ospreys, and I even heard a Florida Sandhill Crane the first day I arrived. I was most taken by the fact that little Blake, only 14 months old, seemed to sense my interest in birds and was excited to point out a mockingbird to me – showing his good eyesight at picking out the bird, then following it as it flew to a nearby perch, pointing at it the whole time. A moment I won't forget! Thanks Blake.
Article and photos by Paul Konrad
Share your bird sightings and photographs at editorstbw2@gmail.com