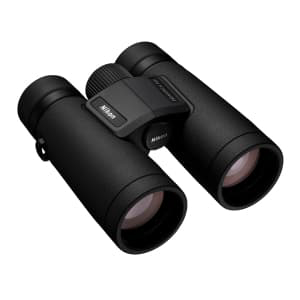 The Monarch M7 8x42 Binocular.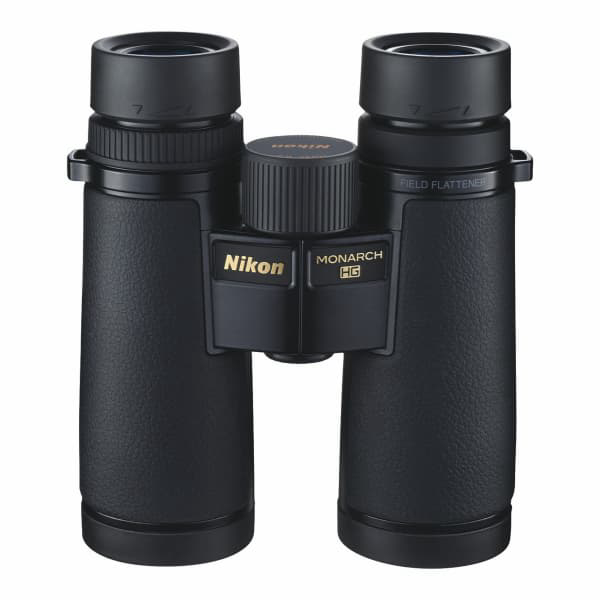 The Monarch HG 8x42 Binocular.
Take a look at Nikon's impressive duo of Monarch Binocular models, with 2 levels of quality and price to serve the greatest variety of birders – the Monarch M7 and Monarch HG Binoculars. Starting with the Nikon Monarch M7 Binoculars that use Nikon's ED glass for reduced distortion and chromatic aberration, the lenses are fully multicoated and have phase-coated BAK-4 prisms. The Nikon M7 8x42 Binocular's field of view has been increased to 435 feet at 1000 yards, and they weigh less than 24 ounces. The M7s feature the addition of hydrophobic coatings on the outer lens surfaces to repel water and other liquids so they bead up and roll off the lens, making the binocular easier to use in wet weather and easier to clean. They are also waterproof and nitrogen-purged to prevent fogging.
The Monarch HG Binoculars are the best in the Nikon line and boast an even higher quality optical system with a 92 percent light transmission rate through the fully multi-coated ED lenses with field flatteners and dielectric-coated, phase-corrected BaK-4 prisms. The Monarch HGs feature an extra-wide field of view of 435 feet at 1000 yards, a locking diopter and twist-up eyecups with detents. The magnesium alloy chassis protects the Monarch HGs Binoculars, along with the scratch-resistant coating on the external lenses; plus they are waterproof and nitrogen-purged to make them fogproof.
For more information about Nikon's best birding binoculars, the Monarch M7 Binocular Nikon Monarch M7 8x42 Binoculars - Optics4Birding and the Monarch HG Binocular, see Nikon Monarch HG 8x42 Binoculars - Refurbished - Optics4Birding (Optics4Birding provides Free Shipping for these models in the Lower 48 States).