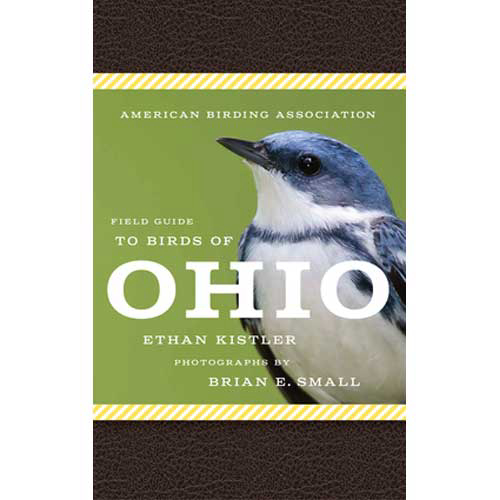 The American Birding Association's Field Guide to Birds of Ohio
As the newest state publication in the impressive photographic field guide series, the American Birding Association's Field Guide to Birds of Ohio is expertly written by Ohio birder Ethan Kistler and filled with exceptional color photos of each species taken by Brian Small, one of the best bird photographers in America. This ABA series of state field guides is considered the top option for anyone interested in learning more about the natural history and diversity of Ohio's birds, along with when and where to find each species. Already, 17 state guides have been published in this exciting ABA Field Guide Series.
The Birds of Ohio photographic field guide features one species per page, each with a concise species account that includes identification descriptions, songs and calls, behaviors, and habitat use. Like its birds, Ohio offers a variety of forms, from the shores of Lake Erie in the north to the winding Ohio River on the state's eastern and southern borders; from the wooded Appalachian region in the southeast to the northwest region that harbors the Great Black Swamp, and along the shore of Lake Erie you will visit one of the most famous birding sites – the Magee Marsh Wildlife Area. Known as the "warbler capital," many thousands of warblers and other birds stop there during spring and fall migrations.
In addition to the American Birding Association's Field Guide to Birds of Ohio, you can review the 17 volumes already published for many states across America, including California, Minnesota, Texas, Florida, Illinois, New York, Oregon, New Jersey, Arizona, Wisconsin, Massachusetts, Michigan, Colorado, Pennsylvania, and the Carolinas. These state field guides are impressive and each one is authored by a state birding pro, plus the constant throughout the entire ABA Field Guide Series – the inspiring photographs by Brian Small fill the pages with helpful and memorable images of remarkable birds.
Published by Scott and Nix, you can learn more about the photographic ABA Field Guides, state by state, at https://scottandnix.com/collections/american-birding-association-field-guides