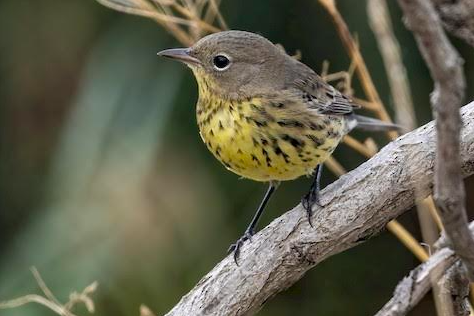 A species rarely encountered during migration, a first fall Kirtland's Warbler was photographed at Swann Park in Baltimore, Maryland and created a First State Record (photo by Matt Felperin).
Four First State Records and a First Provincial Record were established last week when local birders found a Golden-crowned Warbler in Louisiana, a young Kirtland's Warbler in Maryland, a Kentucky Warbler in Saskatchewan, a Fork-tailed Flycatcher in Georgia, and Nelson's Sparrow in Nevada! Birders also found birds that created Second Provincial Records, including a Yellow-crowned Night Heron in Alberta and a MacGillivray's Warbler in Ontario. A Third Provincial Record Steller's Eider was also found in Quebec – and there's more!
STATE & PROVINCIAL RECORDS
First State Record Golden-crowned Warbler – Peveto Beach Woods, Louisiana
First State Record Kirtland's Warbler – Baltimore, Maryland
First Provincial Record Kentucky Warbler – Saskatoon, Saskatchewan
First State Record Fork-tailed Flycatcher – Cockspur Island, Georgia
First State Record Nelson's Sparrow – Lake Meade near Henderson, Nevada
Second Provincial Record Yellow-crowned Night Heron – Calgary, Alberta
Second Provincial Record MacGillivray's Warbler – Toronto, Ontario
Third Provincial Record Steller's Eider – La Haute-Cote-Nord, Quebec
Tenth State Record Black-throated Blue Warbler – Lucky Peak, Idaho
REALLY RARE SIGHTINGS
Dusky Warbler – Corte Madera, California
Crested Caracara – Saltcoats, Saskatchewan
Emperor Goose – near Las Flores, California
Emperor Goose – Seattle, Washington
Swainson's Hawk – Cape Breton, Nova Scotia
Kirtland's Warbler – Valle Crucis Park, North Carolina
Black-throated Blue Warbler – Huntington Beach, California
Blue-winged Warbler – Cappahayden, Newfoundland
Varied Thrush – Sands Point, New York
Great Crested Flycatcher – St. Pierre et Miquelon
CONTINUING RARE BIRDS
Inca Tern – Hawaii
For more information, refer to the American Birding Association's Rare Bird Alert at https://www.aba.org/rare-bird-alert-October-8-2021/ Special Thanks to the ABA, and Nate Swick, who does such a great job of compiling the ABA's Rare Bird Alert, which we use to prepare this weekly replay.
You can often find more information about individual rare bird sightings from the state rare bird alert listserves that you can access at http://birding.aba.org/ or at https://www.facebook.com/groups/ABArare/