Singing birds are the highlight of this period, with species ranging from Yellow Warblers to Orchard Orioles adding avian music, colors, and action to the verdant green landscape.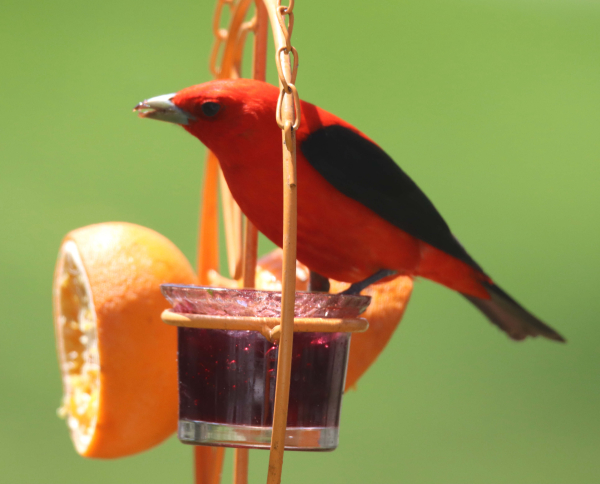 Wooowee! Suddenly a bright red adult male Scarlet Tanager in all its glory landed and began to eat jelly at the oriole feeder! What a terrific surprise!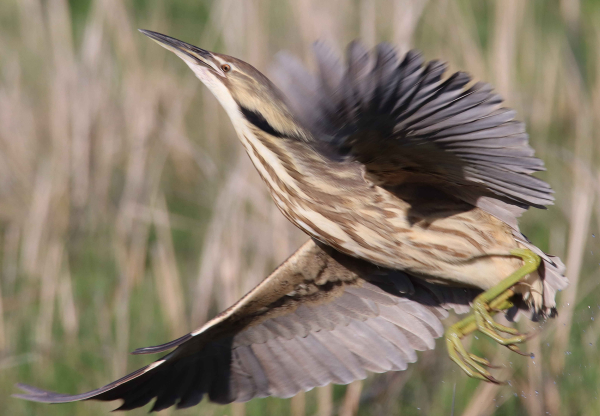 With a flurry of wings, an American Bittern took flight from the edge of a small marsh, representing the first bittern sighting of the season.
Wooowee! Suddenly a bright red adult male Scarlet Tanager in all its glory landed and began to eat jelly at my oriole feeder! Not to diminish the excitement of having at least 18 Baltimore and Orchard Orioles visiting my 3 feeding stations last Wednesday, this Scarlet Tanager was only the second I've seen west of the Mississippi River; the other appeared 5 years ago at Melody's Grove a couple hundred yards away. But after eating grape jelly, it perched in one of my ash trees about 10 feet high for an extended period, seeming to rest; then repositioned to a couple ever-higher perches – and then it was gone.
Meanwhile, as I awaited the third wave of songbird migration, I visited Melody's Grove each morning and many evenings, checking for the telltale increase in variety and numbers of warblers and other songbirds. But through Sunday, the composition of birds remained pretty static, with Yellow Warblers, Gray Catbirds, and Least Flycatchers most common and Orchard Orioles, Cedar Waxwings, and Warbling Vireos adding some spice to the mix. Plus, each day there are 1 or 2 surprises, a Red-eyed Vireo, a Wilson's Warbler, Tennessee Warbler, or a Common Yellowthroat.
Sunday morning was especially slow, but I spied a flash of olive plumage at ground level that vanished without another trace, for about 20 minutes. My first thought was that it might be a Common Yellowthroat, but I also knew it could be a Mourning Warbler, a favorite species I hadn't seen for about a week. When I did see the bird in question, it flew from thick cover 10 feet from where I saw the olive plumage in question. The small bird only reached about 5 feet in flight, and at first I could see the olive color on its back; but as the small warbler showed its underside I could see a yellow belly, gray head, and telltale black base to the gray bib – a definite Mourning Warbler! But now it was gone.
I didn't see how far it flew to the south, or where it went, but after a moment I decided to back up my mobile blind to get into what I perceived to be a better position to see any Mourning Warbler action near ground level. But after about 15 minutes I decided to return to my original location to see what else might appear. About 10 minutes later, while methodically searching the trees, bushes and ground, the grasses, branches, and ever-increasing leaves – there, to my left was a Mourning Warbler standing in full open view 7 feet away, less than a foot above ground; Wooo, what a beautiful sight in the morning sun (mourning sun?). It took a step right as I found it in my camera's viewfinder, then another step right took it out of sight – nice try, but what a great view of the little sprite. That added up to 2 fine looks at a Mourning Warbler within a half-hour; one the best look at the species in flight that I've ever had, the other among the best looks I've had of a perched Mourning, brief as it was.
With the days ticking away toward the first week of June, as I write this Sunday afternoon I'm still convinced a third wave of warblers will stopover for a couple days, including the most spectacular warblers and accompanying songbirds that grace this area – for some hours or a couple days. Or has the series of overnight rainstorms and Memorial Day rainstorm pushed their northern migration farther east this week? Monday's holiday rain persisted throughout the daylight period, measuring 1½ inches total, and followed by strong winds Tuesday, the last day of May. I've had warbler fallouts during the first days of June before, but not for many years; yet, everything is running late this spring, why not the final push of warbler migration?
Riverside Birding Hike
There are no rivers along my 130-mile drive to Bismarck, but that's where the mightiest of them all flows deep and wide, and it's the kind of river that nourishes a beautiful floodplain filled with almost-ancient trees along with new saplings, grasses, and plants. While hiking along the edge of the Missouri River with my friend Vicki last Thursday, many trees and plants were covered in flowers, while birds added action and colors as we hiked a few feet from the rushing waters' edge. It was quite a perfect day for a woodland hike with the bluest sky and a slice of nature devoid of mosquitos for the moment.
The birds we observed were an expected variety that was fun to share with Victoria: Yellow Warblers provided her with an appreciation for the focus of my recent daily birding activities, and we studied the difference between Tree Swallows and Bank Swallows. We viewed a Spotted Sandpiper, American Robins, Least Flycatchers, a Downy Woodpecker, and Northern Flickers, but it was interesting that no migrants were among the species present – all the above species are local nesting species. We enjoyed that perfect weather hike through the emerald woodlands dotted with flowering trees; took a rest stop on a convenient log; and Vicki only found 2 dreaded wood ticks (Paul found none).
Saturday Plums
As if to break up a normal morning, as I reached the south edge of the Grove Saturday, an Orchard Oriole clash erupted between an adult male, colored deep chestnut and black, and a yearling male with olive-yellow plumage and a black mask that were consumed in chasing one another from an especially green area of bushes adjacent to a giant cottonwood. I was already positioned on the sunny side of the bushes so tried to photograph the action, and while the few images I took of the one-on-one tussle were too blurred to share, there would be plenty of oriole photo action for me that morning.
A parade of Orchard Orioles kept me actively photographing – females, adult males, and yearling males – or at least trying to photograph them. Realistically though, I was only actually able to photograph 2 adult males, but they provided all the excitement I could hope for on another beautiful blue sky morning. In fact, I share a variety of the photos I took in this week's Bird Photography feature at the end of this issue of The Birding Wire.
While at the Grove, I checked out the other side of the trees where a stand of wild plum trees was in full bloom. Wild plums are not very tall, and some people might even refer to them as bushes, but they are a special part of native areas in this region, and a boon to birds when they bloom in May and fruit in August. Seeing the wild plums in bloom made me plan an evening visit to the largest wild plum grove that I know of, which has 3 smaller stands of wild plums within a few hundred yards in a remote prairie area a dozen miles south.
My evening on the edge of the wild plum trees was interesting and fun as I tried to photograph Orchard Orioles, Yellow Warblers, Willow Flycatchers, Eastern Kingbirds, and Chipping Sparrows among the sea of white flowers that covered the plum trees inch by inch. In fact, it was so interesting and productive that I returned Sunday evening too, knowing that the plum blooms would not last long with the coming rainstorm followed by strong winds. Sunday evening was an even better photo event, and I'll share the photos from that birding session next week.
Prairie Notes & Oriole Action
As the sun hung low in the western sky I took an added circle drive that led me down the Lost Road. Along the way, I found my first American Bittern of the season – obviously late. That made me begin thinking about the other birds yet to appear: Red-headed Woodpeckers, Bobolinks, Dickcissels, and Grasshopper Sparrows. And seeing only a single Common Nighthawk and 2 solo Upland Sandpipers, it makes me think there should be more to come. But this year even Swainson's Hawks are a rare sight; I've only seen one during the past week, 3 miles south of home, and found none across their prime Missouri Coteau habitat during my Thursday drive to Bismarck. It's a late spring, a bit of a crazy spring, but I'm still hoping there are more birds on the way in the coming days of June; I'll keep you posted.
In the meantime, at home the last week of May has been filled with lots of orioles – and this year Orchard Orioles far outnumber Baltimore Orioles. Today (Tuesday May 31), I have at least 4 Baltimores coming to my 3 grape jelly feeders, at least 2 males and 2 females; possibly 2 pairs. But I have as many as 3 female Orchard Orioles visiting at a time, 3 yearling males at once, and 3 adult males at times – representing a minimum of 9 Orchards, but there must be more than that. My best estimate a week ago was 18 between the 2 colorful species, although there may be a couple fewer now. It's been my best oriole spring, and with a few Ruby-throated Hummingbirds, Gray Catbirds, House Finches, and American Goldfinches stopping by, it's been a joy to monitor the action around my feeding station. Enjoy the birds around you – they are spectacular this time of the year!
Article and photos by Paul Konrad
Share your bird sightings and photographs at editorstbw2@gmail.com