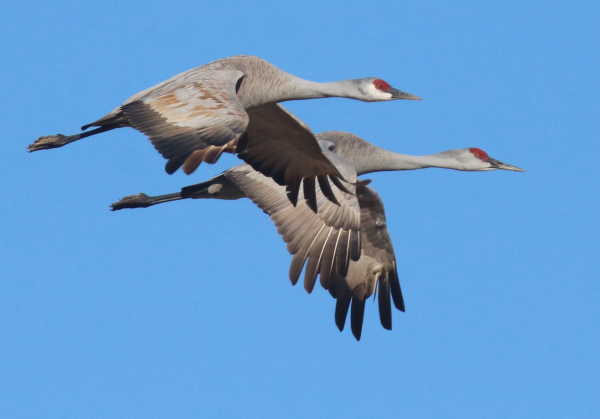 Check back periodically to the Sandhill Crane live-stream camera site to get interesting views of these exciting birds.
Sandhill Cranes have returned to southeast Arizona and the live-streaming camera provided by the Arizona Game and Fish Department is again trained on a winter roost site for you to monitor the action. "Whitewater Draw Wildlife Area has again sprung to life with thousands of Sandhill Cranes," explained Watchable Wildlife Program Manager Jeff Meyers. Each year Sandhill cranes migrate to Whitewater Draw from as far away as northern Canada, Arctic Alaska, and eastern Siberia to winter in southern Arizona.
"It's a true pleasure to offer this high-definition camera to bring an unfiltered view of our state's wildlife directly to the public," Meyers added. The live stream camera offers birders and everyone interested in a glimpse into the wintering habits of up to 14,000 cranes that spend part of the day at the wildlife area. The live camera stream is offered through March or early April when the birds begin migrating north to nesting ranges.
The best time to view the Sandhills is a half-hour before and after sunrise, just before they leave to feed during the morning, and when they return around noon. The cranes typically remain at the wildlife area for the remainder of the day, and now, with the addition of infrared technology, the camera allows you to see the cranes at night if they are within view. Also, it's fun to listen to the cranes – night or day – to hear the chorus of adult Sandhills calling, and the occasional peeps of young cranes that accompany their adult pair until spring.
While The Birding Wire staff watched Monday afternoon before sunset, about a dozen Sandhills suddenly began a communal dance that continued for almost a minute – the best we could hope for during a short visit to the live camera feed.
Throughout the season, the Arizona department will do its best to keep the camera focused on flocks of cranes, but there will be times it isn't possible due to the unpredictability of wildlife. Viewers who don't see activity when they visit the website camera are encouraged to routinely check back.
To view the live-streaming camera visit at www.azgfd.gov/sandhillcranes and click the green bar. You can also see some primo crane action at the site in a video provided at Download Sandhill crane camera b-roll
Cranes are wary birds that prefer to feed and roost in open areas where potential danger can be seen from a distance, so it's sometime hard to get close looks at them; but with the aid of the live-stream camera, your view is well-improved and the behavior of the cranes is natural. The Sandhill Crane live-stream feed is supported by the Wildlife Conservation Fund, which is financed by tribal gaming and the Wildlife Viewing Program, and the cameras are supported in part by public donations.