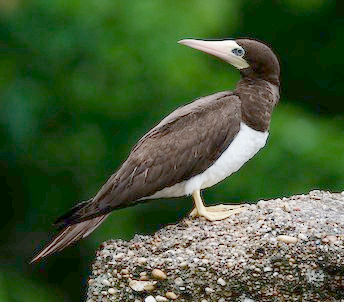 Far from an ocean, an adult Brown Booby photographed at Lake Malone is the First State Record for Kentucky.
Birders documented 3 First State Records last week, including a Brown Booby in Kentucky, a Bermuda Petrel offshore North Carolina, and a Cassin's Kingbird in Michigan! Garden City birders found a Third State Record Hepatic Tanager in Kansas; and there was a Third State Record Garganey sighted near Sea Grit Beach, New Jersey, while another Garganey was reported near Edmonton, which created a Seventh Provincial Record for Alberta. Check on the rest of recent reports of rare birds from Alaska to Florida too.
STATE & PROVINCIAL RECORDS
First State Record Brown Booby – Lake Malone, Kentucky
First State Record Bermuda Petrel – offshore Hatteras, North Carolina
First State Record Cassin's Kingbird – Sleeping Bear Point, Michigan
Third State Record Hepatic Tanager – Garden City, Kansas
Third State Record Garganey – near Sea Grit Beach, New Jersey
Seventh State Record Garganey – near Edmonton, Alberta
REALLY RARE BIRDS
Redwing – Utquiagvik, Alaska
Common House Martin – Gambel, Alaska
Nazca Booby – offshore Laguna Beach, California
Neotropic Cormorant – Newburgh, New York
Yellow-crowned Night Heron – St. Pierre et Miquelon
Great-tailed Grackles – Steigerwald Lake Refuge, Washington
CONTINUING RARE BIRDS
Pine Flycatcher – Arizona
Tufted Flycatcher – Arizona
Nutting's Flycatcher – Arizona
Social Flycatcher – Texas
LaSagra's Flycatcher – Florida
Bahama Mockingbird – Florida
For more information, refer to the American Birding Association's Rare Bird Alert at Rare Bird Alert: June 3, 2022 - American Birding Association (aba.org) Special Thanks to the ABA, and Nate Swick, who does such a great job of compiling the ABA's Rare Bird Alert, which we use to prepare this weekly replay.
You can often find more info about individual rare bird sightings from the state rare bird alert listserves that you can access at http://birding.aba.org/ or at https://www.facebook.com/groups/ABArare/