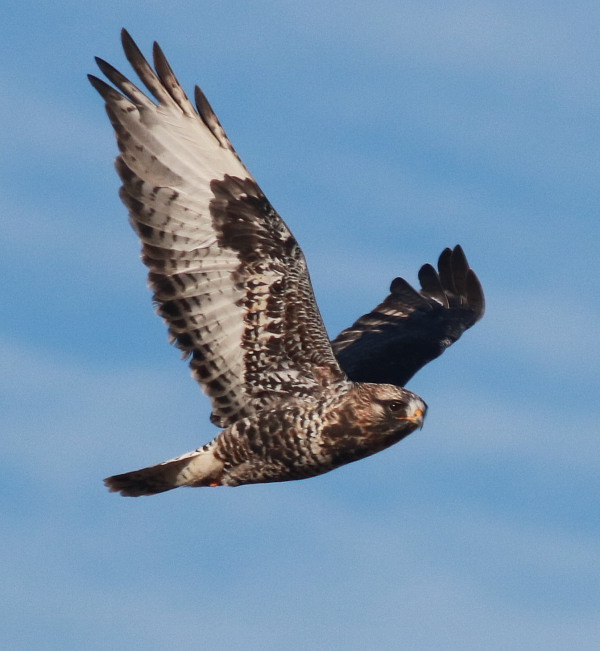 Paul's luck photographing male Rough-legged Hawks improved when this impressive raptor flew toward his position while it was hunting for small mammals.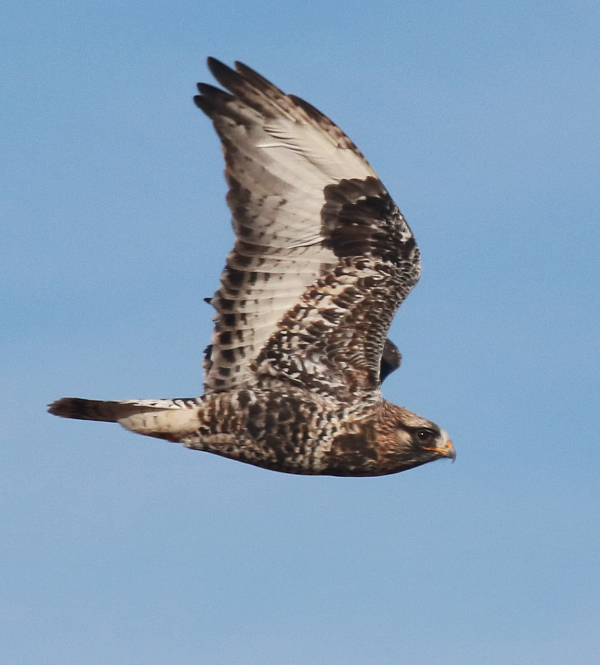 Rough-legged Hawks nest in Arctic landscapes in North America, Asia, and Europe, but migrate south during winter months.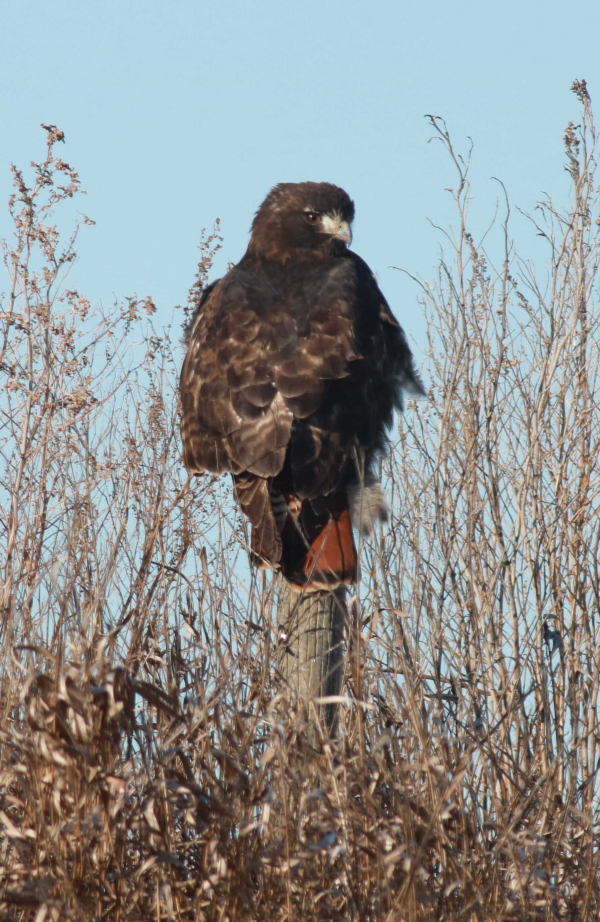 A documentary photo of the dark morph Harlan's Red-tailed Hawk that has frequented an area four miles south of Paul's office the past two weeks.
I've been leaning southward recently, wondering if raptors have begun concentrating in the winter birding hotspot surrounding Pierre, South Dakota. The scarcity of birds in my area and the promise of a sunny day led me to hit the road soon after sunrise last Tuesday, southbound. A drive to the Pierre area would reveal if hawks, eagles, and falcons were already present in the area, and give me an insight into what birds are present at this point during late fall migration. I hoped it would be a fruitful trip; and indeed, it was an exciting and insightful outing during which I observed a total of 35 hawks and eagles.
Overall, my count included 3 primary species – 19 Red-tailed Hawks, 9 Rough-legged Hawks, and 6 Bald Eagles. There was also a lone adult Golden Eagle, one of the most northern sightings of the day, but Goldens were obviously absent from their usual hangouts farther south. It appears they haven't migrated so far south from their probable nesting areas in northern Canada, and possibly Alaska. During mid-winter, I have found more than 20 Golden Eagles some days, although a dozen is a more likely total to find. Then too, I found no falcons, a slight disappointment considering my wish for the day was a Prairie Falcon or two. And no Ferruginous Hawks . . . nonetheless, there was plenty of variety and excitement among the hawks I observed and photographed.
The biggest surprise was the number of dark morph Harlan's Red-tailed Hawks I observed along the way – 6 of the 19 Red-tails I observed were dark Harlan's, about 30 percent. Usually, to find one or two Harlan's on a winter drive through the area is the norm, so my Tuesday sightings may indicate these hawks are moving through the central plains at this time, or even along the greater Missouri River region considering that 4 of the 6 were within 5 miles of the river just north of Pierre. It's also interesting that all the dark Harlan's were observed north of Pierre, while during winter observations, all the Harlan's I have seen during recent years have been 30 to 40 miles south of Pierre.
Half of the Harlan's Red-tails were first-year birds, and although these dark Harlan's were all chocolate brown in color, they tend to look black from a distance or in less than optimum light. Some of the dark Harlan's had some white coloration across their breast, some didn't show much or any white. Their tail feathers seem to be most variable in pattern and color, and one had a mostly white tail on the dorsal side with some orange and black markings toward the end; others tails had a varied amount of orange and black markings with little white coloration or markings. They are attractive hawks, and normally they are quite rarely encountered, so 6 Harlan's in one day is exceptional; in fact, it's a personal high count (I don't know that I've ever seen 3 in a day before).
Equally exciting were the varied plumages of Rough-legged Hawks I observed, especially the coloration of the 3 males I encountered. Some males have no obvious brown coloration mixed into the gray, black, and white speckled plumage mixes; but all 3 males I observed Tuesday had varying amounts of brown to tan coloration mixed with the 3 primary colors. The first male I observed proved to be fairly trusting and provided a nice series of flight photographs as it repositioned from perch to perch, apparently during a hunting session. The accompanying photos here show a distinct color mix in its plumage that includes something of a black mask around its eyes, which is quite attractive, as is the mix of brown shades.
I tried to at least take documentary photographs of each of the Harlan's and male Rough-legs, along with a dark morph Rough-leg, all of which provided added insights to the plumages and colors of individual birds. While reviewing the photos on my laptop computer, I was reminded how invaluable a photograph is to get the true details of a bird's features. Regardless of how good our binoculars and spotting scopes are, under field conditions, we just cannot discern the details that become relatively obvious in a photograph, especially when the birds are moving and flying. In short, a digital photo that can be enlarged on a computer can be invaluable when identifying and studying any bird in the field.
During the past five winters, I have found there is a surprising, somewhat gradual change of climate that is indicated by the presence of ever-larger numbers of birds of prey during winter weather, beginning about 60 miles south of my home. I see very few raptors north of Highway 212 – which bisects the state of South Dakota – but south of that line, raptor numbers increase dramatically. During winter, I periodically enjoy driving what has become a regular route, mostly along Highway 83, then on backroads north and south of Interstate 70 between the small towns of Vivian and Presho. I've done a fair amount of surveying beyond my route in the past, but I found few raptors beyond the route and I now concentrate on driving along a specific "transect" through the best areas in search of wintering birds of prey.
On the best birding days in mid-winter I have counted as many as 110 raptors including up to a dozen species, although many days the high counts are in the 60s. I refer to this birding hotspot as "SoDak," and judging from the exciting raptors I encountered this early in the season, I'll be giving you regular periodic reports this winter from this SoDak hotspot. It's especially interesting to note that I have found that some of these raptors return to the same location winter after winter. These are "marked" birds that have unique or rare plumages, such as Harlan's Red-tails, dark morph Rough-legs, dark morph Ferruginous Hawks, and certain Golden Eagles. Most raptors in the area are quite trusting, and while some seem to frequent the same areas, others may be constantly moving in and out and around the hotspot.
From Pierre southward, wetlands were free of ice that locked all water to the north, and the Missouri River was ice-free, which provided a few cold-weather waterfowl sightings. Individuals and pairs of Common and Hooded Mergansers, some Mallards, and a lone adult Snow Goose were present along with many Canada and Cackling Geese, primarily in the Pierre area. Other interesting birds included a flock of a dozen Greater Prairie Chickens, a Northern Shrike, a couple Western Meadowlarks and American Robins, a Northern Flicker, and a few Horned Larks. Oh yeah, lots of Ring-necked Pheasants too – South Dakota's state bird.
Bismarck Bound
Last Thursday I decided to drive to the other state capitol in the Dakotas, Bismarck, and although I only saw a fighting duo of cock pheasants and another small flock of hens across the first 70 miles of broad plains landscape, more birds began to appear as I drove northward along the Missouri River. First, a hunting Merlin zipped across my path, flying low along the rolling topography, but offering no fulfilling view. Bald Eagles were perched solo and in a pair along the way, with one flying above Apple Creek heading toward the Mighty Missouri River just south of Bismarck. A Northern Shrike was a fine find, as was a Cooper's Hawk, and I tallied yet another dark-morph Harlan's Red-tailed Hawk perched in a lone cottonwood southeast of Bismarck.
Along the river route, flocks of Canada Geese were flying from the Missouri to harvested ag fields to feed, with one feeding area possibly hosting a thousand geese. These Missouri River Canadas remain through the winter, enlivening the greater Bismarck-Mandan skyway. Last but not least, I watched as a mega-flock of Wild Turkeys assembled to feed together, numbering about 60 by the time they moved out of sight.
Area Sightings
I'm especially happy to report that I observed my local dark morph Harlan's Red-tailed Hawk through Friday, and I'm glad to have had an opportunity to get my best photo of the bird Thursday before I headed for Bismarck, which I share with you here. First thing Thursday, a female Purple Finch was feeding at my platform feeder, but that was my one and only sighting of her – what's with the quick stops by the Purple Finches this season? And now that I think of it, the House Finches have left too, so I guess it's a finch thing.
Throughout the week, I sighted between one and three Bald Eagles during short area drives, and Friday I found another Northern Shrike. Over the weekend though, I did not find the dark Harlan's, which may suggest it's moved south, although I'm holding out hope that it will reveal itself to me again. Enjoy a Happy Thanksgiving; and try to plan some birding activities to add to the holiday weekend festivities; I know I will.
Article and photos by Paul Konrad
Share your bird sightings and photos at editorstbw2@gmail.com