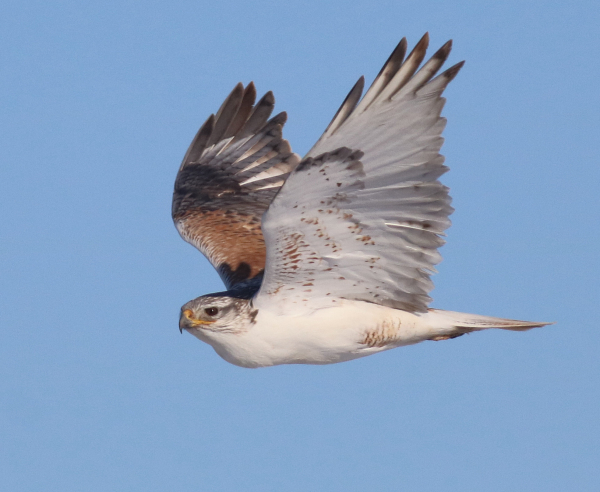 An adult Ferruginous Hawk provided dedicated Indiana birders with good views of this western raptor southwest of Indianapolis.
The rare bird flash of the week came from northwest Montana, where a young Ivory Gull was observed on the shore of Flathead Lake – a First State Record! Another super-rare species for the Lower 48 was a Siberian Accentor, an Asian species photographed in southwest Washington. Bird feeders attracted a high percentage of the rare birds found last week, including a First State Record Black-chinned Hummingbird in Maryland, a beautiful adult male Scott's Oriole that is thought to be among the first five records for Georgia, and a colorful male Painted Bunting visiting a feeder in Connecticut.
An adult Ferruginous Hawk, very rarely seen east of the Mississippi River, wowed Indiana birders for a few days. Plus an interior sighting of a Mew Gull in Kansas and a rare Little Gull found in Louisiana rounded out the new rare bird sightings.
STATE RECORDS
First State Record Ivory Gull – Flathead Lake, Montana
First State Record Black-chinned Hummingbird – Compton, Maryland
Third State Record Siberian Accentor – Woodland, Washington
State Record Scott's Oriole – Warner Robins, Georgia
REALLY RARE SIGHTINGS
Ferruginous Hawk – Bear Run Mine, Indiana
Mew Gull – Quivira Refuge, Kansas
Little Gull – Shreveport, Louisiana
Painted Bunting – New Canaan, Connecticut
CONTINUING RARE BIRDS
Still continuing rare birds last week included:
Garganey – Salton Sea, California
La Sagra's Flycatcher – Everglades National Park, Florida
Keep especially alert rare birds during the Great Backyard Bird Count and the rest of the week!
For more information, see the American Birding Association's Rare Bird Alert at https://www.aba.org/rare-bird-alert-february-6-2020/ Special Thanks to the ABA, and Nate Swick, who does such a great job of compiling the ABA's Rare Bird Alert, which we use to prepare this weekly replay.
You can often find more information about individual rare bird sightings from the state rare bird alert listserves that you can access at http://birding.aba.org/ or at https://www.facebook.com/groups/ABArare/