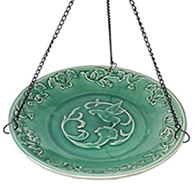 Duncraft's Ceramic Hanging Bird Bath.
Water attracts the most birds to your yard, as well as the greatest variety of birds. This stylish Ceramic Hanging Bird Bath from Duncraft features an embossed hummingbird feeding at a flower blossom and provides the perfect depth for drinking and bathing, especially for smaller birds like finches, warblers, and bluebirds. The 1¼-inch deep textured basin provides the perfect depth for smaller birds, and it's used by larger songbirds too.
The natural green-colored glazed ceramic bird bath features an embossed rim and basin to provide birds with stable footing, and it's decorated with embossed flowers and hummingbirds. Measuring 12 inches in diameter, this attractive ceramic hummingbird-themed bird bath is fitted with a hanging chain that positions the basin 14 inches below the hanger – and it's easy to clean & fill with fresh water.
To get all the details about Duncraft's Ceramic Hanging Bird Bath, see Duncraft.com: Hummingbird Ceramic Hanging Bird Bath